Ed Schultz reaches down, as the hot sun blazes down on him, to inspect under each leaf in a patch of tobacco plants. He's looking for tobacco worms, a pest that can quickly decimate a tobacco crop.
Plant after plant, row after row, Ed will gently pull each leaf back to look for this little critter that could deplete his family's purchasing power.
It's hot. It's repetitive. It hurts his back.
But it must be done each and every week. No tobacco, no money. After all, in Colonial America, tobacco rules the economy.
It is the economy.
HISTORY COMES ALIVE
Ed Schultz leaves the 21st century behind every day when he arrives for work at Great Hopes Plantation. This living history farm is part of Colonial Williamsburg, VA, a reconstruction of the colonial capital where America's Founding Fathers Thomas Jefferson, Patrick Henry, and dozens more helped shape democracy in the United States.
History comes alive at Colonial Williamsburg, where visitors can watch a re-enactment of British Redcoats seizing the city and announcing the rules of occupation or a farmer simply making a living.
At Great Hopes, Ed and fellow interpreters, including Wayne Randolph, tend livestock, work the fields, and build the necessaries — outbuildings, corrals, fencing, troughs — to operate this "middling plantation," which represents part of the area's 18th century rural middle class. Such farms belonged to those who weren't shopkeepers, tavern owners, or trades people in town.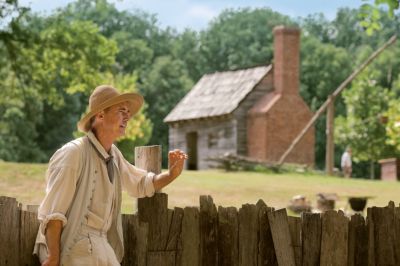 These interpreters immerse themselves in the 18th century as much as they can to educate visitors about the life of their forebears and how they lived off the land in the early days of this country. Indeed, the closest we'll ever get to that part of American history is most likely through interpreters such as Ed and Wayne, who get to actually live it — and show the rest of us what it's like.
"I'm not a person of the past; I represent a person of the past by doing the things they did," Ed says. "It's like being in a foreign country; an interpreter understands and helps you understand."
Many middle class farms of the time Ed represents consisted of 150-800 acres, a 1½-story, 18x28 home, a few head of livestock, one or two cash crops — such as tobacco — and eight to 10 slaves.
Great Hopes, at 10 acres, is a "microcosm" — or miniature copy — of a colonial plantation, Ed says. This may be just a small slice of the real thing, but they strive for accuracy and authenticity.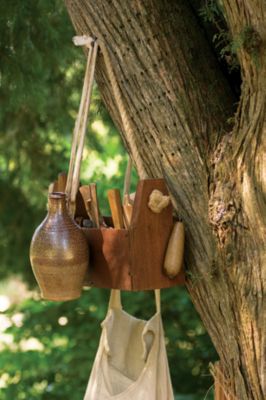 That's why Great Hopes interpreters work these acres like the 18th-century farmers once did — using only the tools of the day.
The corncrib, smokehouse, and barn were constructed by hand, as was the fencing. A kitchen has been completed — they were separate from the rest of the house because food smells were considered socially unbecoming — and the house is under construction.
A vegetable garden and water well are near the house, for the convenience of the farmer's wife.
While the farmer, his sons, and slaves were in the fields, the mistress' domain was the house, kitchen, smokehouse, and garden, Ed says. "The mistress had her hands in horticulture, not agriculture," he says.
'TO-DO' LIST
Ed's day at Great Hopes always begins with chores.
"You have to feed your stock first," he says. "They're relying on you. Their whole lives are timed around that, so you have to be respectful."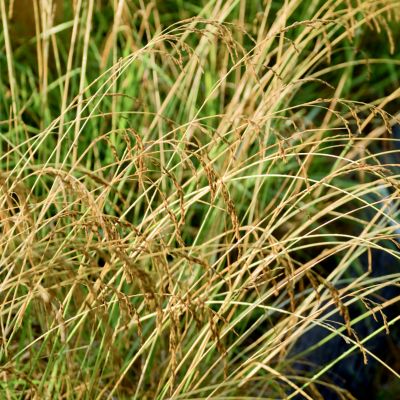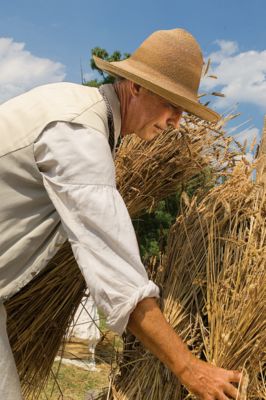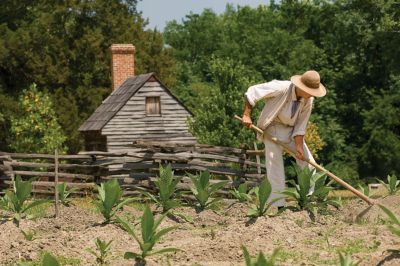 Animals include hogs, sheep, chickens, Toby the horse, and Dan and Duke, a mighty pair of 1,000-pound oxen who easily respond to Ed's taps and verbal commands. These gentle giants, a Devon-Lineback cross, are responsible for the heavy work of hauling logs out of the woods or pulling a plow or harrow.
Despite their size and might, Ed keeps a careful watch over them. "Like any athlete, they tend to want to go a little more," he says. "That's my job to know their limits."
Indeed, his livestock are so important to a farmer's operation that it's crucial he keep them healthy and hearty.
The 18th-century farmer's "must-do" list fluctuated daily, but crops always came first, Ed says. When wheat was ready for harvest, time was of the essence, and all hands were in the wheat field for about two weeks, cutting, tying, and stacking.
"You have to pull it out of its natural cycle by getting it out of the field before it drops its natural seeds," Wayne Randolph explains. "We need the seeds."
Other crops demanded attention at certain times. "If the tobacco is getting eaten up by worms, then you do that," Ed says. "It was a constant reshuffling of the deck."
Repair work, such as fixing a fence or repairing the smokehouse door, also demanded a farmer's time.
Most maintenance, however, was postponed for the winter months when crops weren't growing, Wayne says. "They would do mending or building — tasks that you normally don't have time for," he says.
Farming was labor-intensive because everything was done by hand, so every minute was put to good use. "There was no down time," Wayne says. "The times they weren't outdoors, like when the weather was nasty, they were always busy."
Many visitors come to Great Hopes with an idealized view of farming, which the interpreters try to dispel.
"(They've) got a romantic vision of agriculture, but it was all about making a living," Ed says.
"It's not fun out there," Wayne says. "It's really tedious work, but that is what was normal then."
The truth about Colonial farming is what Great Hopes tries to impart on its guests.
"People seek authenticity," Ed says. "We live in a lot of smoke and mirrors these days and they seek authenticity."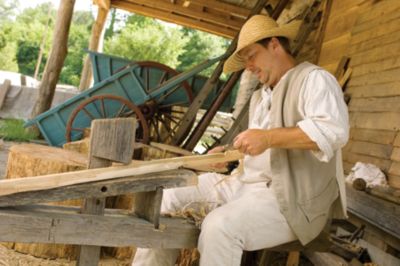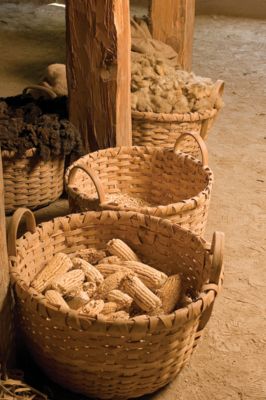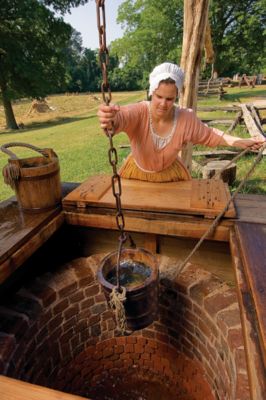 His very first day at Great Hopes was spent building a fence. A visitor who had been watching approached Ed and asked, "After the day's over, you guys take that down and build it again tomorrow, right?"
That question, or some variation of it, is asked of him nearly every day. "People ask, 'Are you really doing that or is it just for show?'" he says.
CYCLE OF THE SEASONS
A farmer may have owned several hundred acres, but it wasn't necessarily filled with crops; much may have remained fallow, or uncultivated. "The tilled ground was relative to the manpower, the amount of labor," Wayne explains.
Each man was capable of tending to a fixed amount of ground, depending on the crop, he says. One man could cultivate 2-3 acres of labor-intensive tobacco, consisting of 5,000-10,000 individual plants, and 5-10 acres of corn or wheat.
If the only farmhands were a farmer and his sons, then the cultivated ground totaled much less than a farmer who owned several slaves.
No matter the number of hands, the planting and growing seasons were the same for everyone.
Springtime — late February, March, and April — found them preparing their tobacco beds for seed and planting corn. In May, they transplanted tobacco seedlings into fields. Shortly thereafter, in June, the winter wheat planted in November was maturing and ready to be harvested.
Tobacco was harvested in August and hung in the barn to dry, or cure, for 4-6 weeks. It was packed — all of it — into large hogshead barrels and shipped to England, where there was a ready market.
Surplus wheat and corn also were valuable cash crops, sold not only up and down the Colonial coast, but also to southern Europe, Portugal, and the Caribbean.
"The highest worth was a man in agriculture," Ed says. "It was the way to wealth."
And it was also the way to self-determination.
"The plantation owner was a free and independent man, beholden to no one, and that was a big part of the culture," Ed says. "If you owned your own land, you were the master of your own destiny."
Carol Davis is editor of Out Here.