Tony Fleishmann originally planned to be a veterinarian but as head of Breyer, he's helped more horses than he ever would have as a vet.
Breyer creates some of the world's most iconic model horses. And now Breyer, spurred on by Fleishmann and the other horse lovers who work there, is supporting real horses with a slew of philanthropic efforts. The company's projects range from promoting equine therapy for the disabled to fighting laminitis, the painful foot condition that ends the lives of many horses, including Kentucky Derby winner Barbaro.
"One of our goals or missions is to try to continue to increase the overall awareness of and appreciation for horses," says Fleishmann, who is president of Reeves International, Inc., Breyer's parent company. "That's certainly one of our overall drivers here."
He's also driven to capture the soul of horses in the company's models, choosing sculptors from around the world and going so far as to fly them to visit a particular horse.
"Looking into the eyes of the horse is very important," Fleishmann says. "It's just the effort that goes into the detail on all levels."
Perhaps for that reason, Breyer's models remain hugely popular with adults and children 58 years after the company started making them.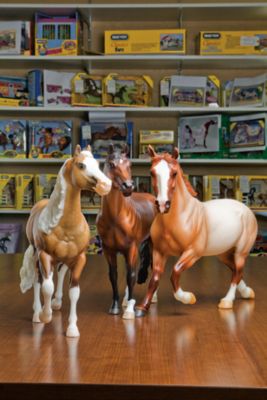 The company makes several different lines of horses, and has made models representing the best of a breed or individual horses, including famous racers such as Secretariat and Cigar. The company has also made models of Hollywood horses such as the Lone Ranger's Silver and Roy Rogers' Trigger and famous literary horses such as the Black Stallion and Misty of Chincoteague.
The company, based in Pequannock, N.J., is even turning the relationship around, working with a publisher to create children's books based on Breyer's line of winged horses called Wind Dancers.
But for Fleishmann, whose family's company bought Breyer in the 1980s, the true joy is in the giving. Each year, Breyer chooses a benefit model and gives proceeds from the sales of that horse to a specific cause. This year's benefit — actually two models, a liver chestnut and a Palomino — goes to the Equine Land Conservation Trust, an organization dedicated to preserving disappearing open spaces so horses have room to run in the future.
Last year's horse was a Nakota, a rare breed descended from wild horses, and proceeds from sales are helping efforts to save the remaining mustangs. The company also funds scholarships for high school students interested in animal science.
Perhaps the firm's greatest success was its Barbaro benefit. When the Kentucky Derby Champion was fatally injured during the 2006 Preakness, the company created a portrait model and decided to donate most sales to the New Bolton Center at the University of Pennsylvania, where he was treated. Breyer has since given more than $240,000 to the school's fund to fight laminitis, the disease that ultimately killed Barbaro.
Next up, the company is looking at possible projects to honor the memory of Theodore O'Connor, the spunky eventer who was euthanized in May following a barn accident, and who also was a Breyer model.
"Horses have such an incredible relationship with and impact on man," Fleishmann says, "and we'd like to make sure people are aware of that, understand it, and don't forget it."
Hannah Wolfson lives and works in Birmingham, AL.