When the air turns crisp and leaves start turning, you can bring autumn's beauty into your home, making it a place of warm and cozy comfort.
Greet guests with a festive autumn door hanger this season. A bundle of Indian corn gathered together with ribbon and a "Welcome Fall" sign is sure to make them feel right at home. Door hangers aren't just for doors, however; use them to add color to your kitchen or living room walls, as well.
The inside of your home becomes an inviting place to be with a few simple, inexpensive, personal touches. Rearrange comfortable chairs in a corner to create a spot for cozy chatting. Arrange a jewel-toned throw on one of the chairs, or the couch. Change the look of throw pillows and baskets with a few autumn-colored ribbon bows. Or stow away your current throw pillows and swap them temporarily with earth-toned replacements.
Baskets, with all their sizes, shapes, and colors, can be used many ways to decorate for fall. Fill a basket with a recent harvest of crisp apples and set them on a buffet table or hutch. Or build a beautiful autumn nest by lining the basket with straw or dried grasses and tucking in small pumpkins, gourds, fallen leaves, and nuts. Place the basket on a pretty doily for a charming centerpiece or end-table décor.
Centerpieces can dress up a dining, kitchen, or coffee table. Create a simple table runner using pinking shears and a long strip of deep red or rich green flannel. Place a cake plate in the center of the runner and pile it high with small pumpkins. Scatter colorful leaves all along the runner, and place small candles among them. For an elegant touch, spray paint the leaves gold.
The warm glow of candlelight creates instant ambiance. Best of all, candles are relatively inexpensive, depending on the kind you buy, so you can bring lots home and set them at several spots around your home.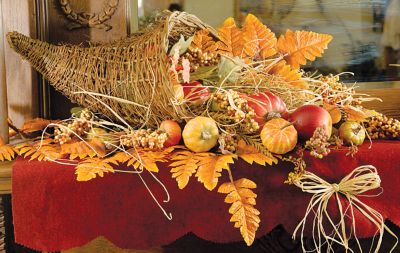 Take a seasonal candle tray — or any kind of decorative tray, for that matter - and arrange pillar candles of varying heights and colors. Then add mini grapevine wreaths and berry sprigs for beautiful candle rings. Light the candles and soak in the warmth.
Add more autumn nuance by filling a glass jar with popcorn kernels and nestling in a tea-light candle. A raffia bow finishes off the look.
For fireplace mantle décor, place a large pumpkin in the center of a bed of fall leaves, with candles arranged on each end of the mantle. Use small branches, pinecones, acorns, and mini-pumpkins to fill in the blank spots.
Extra pumpkins can be used to brighten up your bookshelves. Line pumpkins up along the shelves, several inches apart, and swirl orange ribbon in between each one.
Start with these ideas and add your own to suit your tastes. You'll enjoy the benefits of bringing autumn's beauty indoors.
Kelli Winn is publisher of Seasonal Delights magazine.