Growing up, Christine Sullivan, never thought she was artistic. "My sister and my mother were the crafty people in the family," she says. "Not me."
She was perfectly happy working a 9-to-5 secretarial job in a microfilm company. Then, she visited her sister in Maine.
"My sister had a small candle business in her home that she was giving up because she was moving, and she asked me if I wanted her equipment and supplies," Christine recalls. "My fiancé said, 'Go ahead; it might be a way to make a little extra money.' I've hardly seen him since," she laughs. "I've been so busy in the shop."
And so she became owner of Scents of New England Candles in Raymond, NH.
At first, things didn't go very well. "My sister made it sound so easy," Christine says. "She said, 'just pour some wax and stick a wick in it.' That's what I did, and it was horrible. The oil floated to the top and the wick was off-center."
Trial-and-error quickly became her business model. "I had to learn about getting the right weight of wax for different size candles and how to add the right amount of fragrance oil to achieve the scent I wanted," she says. "In some cases I'd make 40 or 50 test candles before I came up with one I liked."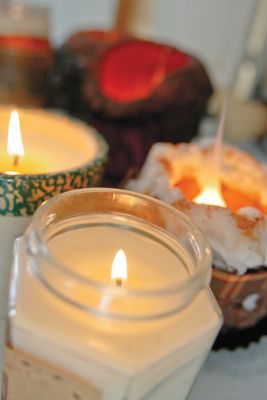 Christine read everything she could find on candle making and began a system of experimentation that continues today. She tested various waxes, sampled dozens of fragrance oils, and made templates to center the wicks just right, all to create candles that burn well, look pretty, and smell great.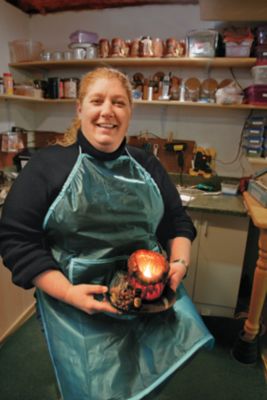 She was having so much fun that time flew and in the process she discovered something about herself: there was a talented craftsperson hidden inside of her.
CREATING ATMOSPHERE
Eventually, Christine found ways for her candles to stand out from others. She formulated her own wax blend and developed New England-inspired designs such as snowflake luminarias and primitive "Grubby Colonials." Her aromas include maple syrup, apple pie, and White Mountain pine.
"The bakery scents are my favorites," she says. "They remind me of being in my grandmother's kitchen as a little girl."
Indeed, such personal connections to scents are a large reason why candles have become so popular, Christine theorizes. "People like to create certain atmospheres in their homes and candles help you do that," she says.
Christine's infectious sense of humor drives many of her designs, including her bestselling candle, the colonial electric.
"I loved electric candles, but most of the designs I saw were boring, and I started thinking, 'Wouldn't it be cool if it looked like the candle was melting down the outside?' I did some funky experimentation and came up with this design and it's been a huge hit."
Initially, she sold her candles at crafts fairs. Now, Christine markets directly to individual customers online and wholesale to retail stores nationwide.
Gone is her 9-to-5 workday, and she's never been happier.
She begins her day at 7 a.m. in her shop in her home's basement and frequently works well into the evening, turning out an average of 60 candles a day.
"I love working from home and being with my three dogs during the day, and I have wonderful customers who know that this business is run out of my home so there are no 11-o'clock-at-night phone calls," she says. "Most of the retail stores I sell to are run by women, too, and it's fabulous because we're all women working together. I couldn't imagine doing anything else."
Laura Flynn McCarthy is a New Hampshire-based freelance writer.
BUY A QUALITY CANDLE
Most people buy candles because they like the way they smell," candle maker Christine Sullivan says. "You can't tell if a candle is going to burn well just by smelling it."
She offers four tips for buying a high-quality scented candle:
Open the lid and look at the wick. It should be centered in the middle of the candle. A centered wick ensures an even melt pool on the top, which helps release the scent.
If the candle jar's diameter is 4 inches or more, buy it only if it has a double wick.
Avoid candles that have oil on the top — an indication that the ingredients aren't mixed properly and the candle probably won't burn well.
Don't buy candles filled right to the top; they could overflow when you burn them. There should be

¼

inch to

½

inch space between the top of the wax and the top of the container.