Grooming your horse routinely not only keeps his coat, mane, and tail in top condition, but it helps you bond with him and keep a close eye on his health.
The first step in grooming is to securely tie the horse; attempting to groom a loose horse is not a safe idea. It's also important to remember to work quietly while you groom, because unexpected motions or rapid movements may startle your horse.
Start with a rubber currycomb, loosening up the dirt and dust in your horse's coat by using the currycomb in a circular motion. Next, use a stiff-bristled brush to remove the dirt and dust in your horse's coat.
Then, you will want to use a softer brush to remove the finer bits of dust and to help lay your horse's coat flat.
For your horse's face and legs, a soft brush or cloth is a good choice. Never use a stiff brush or a currycomb for grooming your horse's face or legs. These areas are much too sensitive and might be damaged by a hard brush.
Pay special attention to your horse's eyes, ears, and nostrils, wiping them clean with a soft cloth or sponge.
Manes and tails require careful grooming. They tangle easily and can quickly become messy if they are not attended to frequently.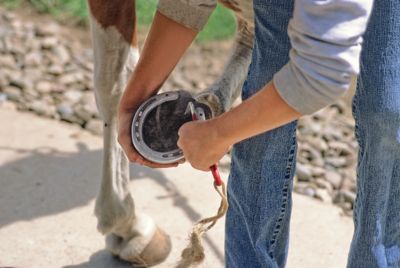 Once the brushing and combing is done, it's time to move on to the hooves. Use a hoof pick to carefully remove mud, manure, or other debris that is lodged inside.
While you're cleaning each hoof, take the time to carefully check for cracking, cuts, or infections such as thrush or abscesses.
Such inspections are, in fact, part of the health benefits of frequent grooming. Daily examinations of your horse as you brush him allow you to promptly spot and treat minor injuries that might otherwise be overlooked, such as small cuts, bug bites, bumps, or bruises.
It's a good time to remove burrs from his mane and tail before they start to irritate him. And you'll be much more aware of changes in the horse's weight and body condition.
Grooming allows you to bond with your horse in a gentle way. Most horses enjoy the attention and feel of being groomed and you may find that it's a relaxing way to spend quality, quiet time with your horse after a hectic day.
Samantha Johnson, co-author of How to Raise Horses: Everything You Need to Know is a certified horse show judge.