When the patients are horses, veterinarians' house calls can be a little unpredictable. The vet school textbook doesn't always apply out on the farm, and the perfect instrument may not fit in a doctor's little black bag.
Just ask Dr. Steve Miller. For 35 years, Miller has been a large-animal vet in Waynesville, Ohio. Since 2000, he's been in practice with his son Josh at Covenant Animal Clinic. Josh specializes in small animals. Miller still takes on the oversized patients.
Over the years, he's had his share of memorable patients — even a lion. But for Miller, who grew up around animals on the family farm, horses are his love, and over the years they've brought him lots of stories, sometimes heartwarming, sometimes heartbreaking, sometimes a little of both.
"Working with horses all those years as a kid, you just learn what each horse is like," Miller says. "They each have a different personality. I think I'm pretty good about being able to get along with them and read them."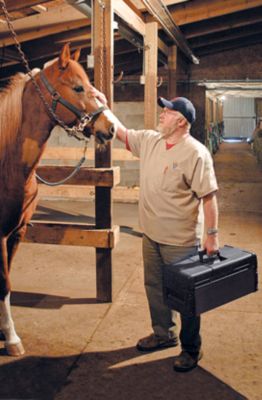 DEALING WITH IT
His horse sense has served him well over the years, in some trying conditions. In one case, a horse had strolled out onto a frozen pond, then broke through nearly halfway out, neck-deep in frigid water. When Miller arrived at the scene, he found himself deep in a conundrum.
"I'm thinking, 'it's the first time for one of these situations,'" Miller says. "How do you deal with it?"
The answer, it turned out, was with a little ingenuity and a lot of moxie. At the side of the pond, Miller noticed some pipe gates lying on the ground waiting to be used to close off a fence. Thinking quickly, he pressed them into service, wiring them together and using them as a sort of sled to push himself out onto the ice.
With bystanders shoving him along, Miller used the gates to spread out his weight so he could get close to the horse, thrashing wildly in the frigid water. The makeshift sled got Miller near enough to toss a rope around his neck. "A lucky catch," he says.
With the other end tied to a tractor, Miller hoped to pull the horse to safety. It was a long shot, Miller thought, but it was the only shot they had. And it worked. As the rope tightened, the horse pulled up out of the lake, onto the ice, then safely to shore.
"It was kind of a semi-miracle," he says.
Years later, he dealt with a similar situation. He was preparing to put down an aging horse, a sad but straightforward house call, he thought. A backhoe had dug a grave, which quickly had filled with water from recent rains. Miller was drawing the massive dose of anesthesia and was preparing to inject the horse when he heard a splash. While family members were saying their last goodbyes to the old horse, it turned out, another had escaped through an open gate and tumbled in the pit.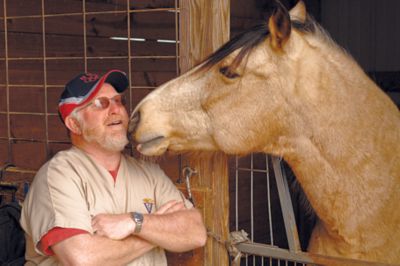 The longer it stayed stuck, the more it started to shiver in the bone-chilling water. Miller worried he may have two dead horses on his hands soon. He fashioned a halter out of a rope and slipped it around the horse's neck. Tying the other end to the backhoe, he rescued that horse. Meanwhile, the horse intended for the grave temporarily gave him the slip.
"An easy trip," Miller says, "turned into a fiasco."
ON-THE-JOB TRAINING
Backhoes? Pipe gates? They're not exactly standard veterinary gear, but unusual circumstances call for unusual measures. When a horse stepped through a cement block, Miller set it free with some sedatives and a careful chisel tap. Problem solved.
Sometimes it's not that easy, though. Treating an injured horse in a lab may not be so hard. But what about when a colt has gouged itself on a fence in a blizzard so cold the blood forms icicles and the anesthesia freezes in the syringe? When one flashlight, then another, goes dark? You adapt to the conditions, Miller says. Fire up the truck headlights, heat up some towels, bring out hot water, and sew up the wound. These are the conditions they don't tell you about in vet school.
And what about when a horse fills up with air like the Michelin Man? They don't teach that in vet school either.
Miller was called out for a randy stallion who cut his shoulder wide open as he was cavorting in the field. The cut didn't slow him down, though, and he kept running. As he did, air rushed through the gaping cut, blowing him up like a balloon down to his hocks. Who knew that could even happen?
"He looked like the Goodyear Blimp," Miller says. "It literally blew up his whole body."
"I was shocked," he adds. "I was just standing there with my mouth open."
How do you treat an over-inflated stallion? Cut holes in the skin and let him deflate? Better not, Miller decided. Instead, he treated the cut and hoped, somehow, the air would go away on its own. After a few days, it did.
The stallion never seemed to notice, but it left its impression on a vet who thought he'd seen just about everything.
David Frey writes in Carbondale, CO.