When Chuck Knibbe makes his way among Texas Hill Country shrubs, persimmon and cypress trees, meadows, and live oaks to check his cattle, he's continuing a ritual performed for 150 years by generations of Knibbes before him.
Knibbe Ranch, at 1,000 acres, is part of a much larger parcel of land bought in 1852 by Chuck's great-great grandfather, Hans Heinrich Dietrich Knibbe. The German immigrant was the first to settle this territory some 30 miles north of San Antonio, Texas, and, in fact, named the settlement Spring Branch.
Hans Knibbe's original 22,000-acre ranch has been divided among heirs with each passing generation, but on Chuck's piece of ground, most things remain constant: the rolling landscape, occasional droughts, grazing cattle.
And a commitment to the land.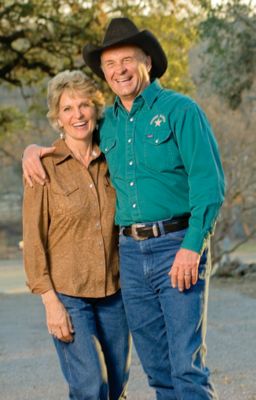 'THEY BUILT THIS COUNTRY'
Knibbe Ranch's landscape hasn't changed much over the generations — but the inhabitants have. The F-1 Tiger Stripe cattle that now forage the land were brought on by Chuck about 15 years ago.
"My dad was a stalwart Hereford man; that and black Angus," Chuck says. "They built this country."
But Herefords and Angus are European cattle, bred for lush pastures and plentiful rainfall. "You take cattle like that and bring them to Texas, well, they're not used to little rain and rocks everywhere," Chuck says. "We expect a cow to survive on a ranch; she has to make it on her own," he says, "but European-type cows have problems when times get rough, like when we have a drought."
As a rancher, he says, you want trouble-free livestock because veterinary bills and other expenses lower profits.
"When I took over with Herefords, I had to pull at least three calves," Chuck says, meaning that he had to assist cows in birthing.
"Until you've had to pull a calf in 27-degree weather, you have not had a bad experience," he says with a laugh.
So Chuck sought out a way to produce hardy cattle that would sell well to buyers. The answer, Texas cattlemen have found, lies with the Brahman breed.
Brahman cattle, brought to Texas in the mid-19th century because of their ability to withstand the heat, don't taste much good on a plate, but they add hybrid vigor, Chuck says. "They're the toughest animal," he says. "They survive better."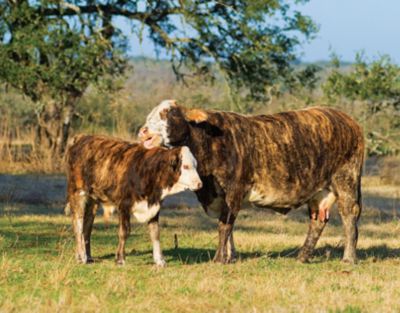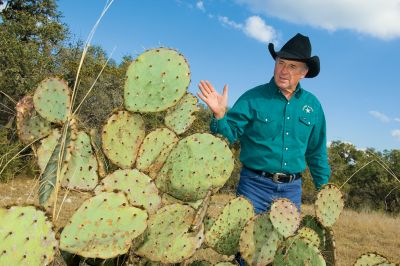 Crossing a hardy Brahman with a Hereford — known for their flavor — results in a Tiger Stripe, so called because of unique striping down its back.
The Brahman influence on the European cows produces smaller calves, so birthing is much smoother. "I haven't had to pull a calf since 2000," Chuck says.
A first-generation offspring of a purebred Brahman and purebred Hereford is referred to by the industry as an F-1 Tiger Stripe.
"That first cross creates the highest degree of hybrid vigor and they adapt quite well to the Texas Hill Country," he says.
An F-1 female is born with environmental adaptivity, increased milk production, higher fertility, and the heat and disease resistance of her Brahman parent, he says. These traits also bring an optimum price at market.
GOING HOME
Chuck becomes animated and enthusiastic when conversation revolves around his cattle, but there was a time when he had no interest in following in the footsteps of Knibbes who came before him.
"I grew up working this ranch and during the drought in the 1950s, I had decided that ranching wasn't for me," he recalls.
That decade's seven-year drought devastated the region's agriculture and excessive temperatures and low rainfall scorched grasslands that the Knibbes and other ranchers used for grazing.
Ranchers — including Chuck and his father — turned to Texas' prevalent prickly pear cactus to feed their cattle. By burning off the sharp needles, the cows could forage on the cactus, which is extraordinarily high in moisture and nutrients.
"It's like having a silo of food," Chuck says. "It's the second-most important plant out here."
That's why he's never attempted to control the amount of prickly pear on his rangeland.
"You know how you can tell a real cattleman?" he asks. "He doesn't dig up the cactus."
After high school, Chuck, who had had his fill of cattle, ranching, and prickly pear, left for college, determined to make his mark on the world. He met Sharon, got married, and worked for several years as a stockbroker off the ranch.
But with Sharon's gentle prodding, he eventually began to consider returning to the ranch.
"I said, 'You don't know what you have out there,'" recalls Sharon, who herself grew up on a farm near Hereford, Texas.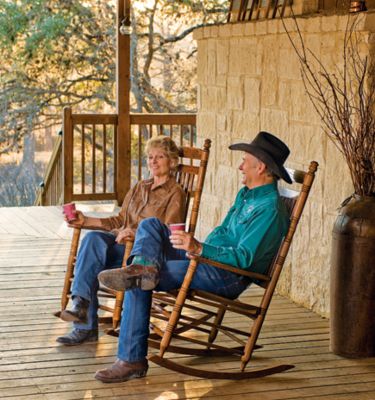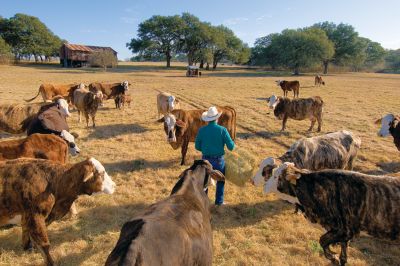 "It really didn't take a lot of talking to convince him," Sharon says. "We had a little girl, and our son had just been born and we would rather raise them on the ranch than in town."
Ranch ties, indeed, were hard to break. Chuck's father, Lawrence, would live on the ranch for his entire 91 years until his death in 2001. "My dad moved three times in his life, but never more than 300 yards," Chuck says with a laugh. "He said, 'I am a cattleman and I'm going to stay on the ranch.'"
So Chuck and Sharon returned to Spring Branch to eventually take their place as the next generation of Knibbes to run the ranch. They live in the house Chuck grew up in, just a stone's throw from his mother, Marie, now 96.
Shannon and Chad, like their father, have left the ranch to make their mark in the world. She's a flight attendant; he's in commercial real estate. They say they'll eventually return, Chuck says, and time will tell.
SHARING THE RANCHING LIFE
Ranching has always been a demanding way of life for those who choose it. Chuck's father and those of his generation struggled through a crippling drought. Now, as profits decline and housing and commercial development encroaches upon once-vast rangelands, Chuck and his generation are finding that the true ranching lifestyle is becoming a challenge to maintain.
That's why some ranchers, and farmers, turn to creative ways to bring in additional income. Bed and breakfasts, dude ranches, lodges, u-pick farms, fishing, hunting, camps, tours, and greenhouses have become attractions at what once were farms and ranches devoted solely to raising crops or livestock.
"If you love the business, you have to figure other ways of getting business," Chuck explains.
So when Marriott Rivercenter/Riverwalk hotels in San Antonio needed a place to provide ranch adventures for corporate and convention visitors, weddings, and private events, Chuck and Sharon invited the hotel's management to experience it for themselves.
"The people from the Marriott fell in love with the ranch," Sharon says.
So the couple entered into a partnership that brings visitors to the ranch about 70-75 times per year — averaging about 1½ events per week, Chuck says. Groups have reached as large as 4,200 and as small as 40, though most average about 485, he says.
It's not a dude ranch; guests don't do any work. Rather, they enjoy live music by local artists or big names such as the Oak Ridge Boys or Sara Evans, dancing, and dining inside a 12,000-square-foot country hall, a beer garden, a full-scale rodeo arena, trail rides, skeet shooting, hiking, or team-building activities.
"We give ranch tours and show what Texas ranching is all about," Sharon says.
For the Knibbes, it's all about the land, and roots, and cattle. And doing what it takes to continue the life that Hans Knibbe first made possible all those years ago.
Out Here editor Carol Davis is the granddaughter of Texas farmer Luther B. Hill.