One glance from Cocoa, a boxer mix, told Susan Jewell all she needed to know.
"He gave me that look that says, 'I'll chew you up,'" she says. "I had to decide at that moment who would win."
She put more on the line than risking a nip from the 45-pound dog. She hoped to save the life of an animal already responsible for biting his owner, an owner ready to euthanize the pet.
For Jewell, who runs Oak View Dog Training in Jewell Ridge, VA, the complaint was all too common. The dog ruled the home, knowing no boundaries and willing to back up the attitude with sharp teeth.
But Cocoa responded to sessions at Jewell's dog training kennel. "As far as I know, he is still with the family," she says.
Jewell, though, has no mysterious formula for taming a canine, offering instead common-sense lessons owners with enough interest and time can adopt. "So much of it is how a dog is raised, and all dogs can be trained," she says.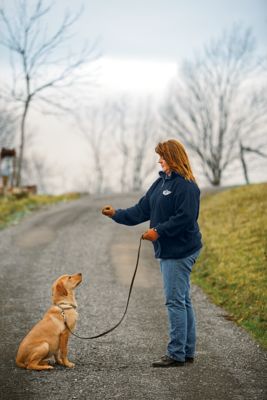 For six years, Jewell, 44, has worked full time to pass along the lessons, training dogs while also informing owners. A criminal justice major in college, she worked for several years as a paralegal but always maintained her interest in dogs.
Dog owners pay for her to take in their pets, who live at the kennel for sessions that usually require three weeks to complete. She also does community workshops on housebreaking and basic dog training.
"People come to me all the time who see their dogs as their little babies, but they're not. That's why people have the problems they have," Jewell says. "The dog doesn't have a normal train of thought about what his normal life should be, which is to play, get dirty, and get tired."
Too often, owners just give up and the animal ends up at a shelter, where many eventually are euthanized.
Lack of uniformed reporting makes tracking the number of animals taken to shelters and euthanized difficult, according to the American Humane Association. The latest statistics come from a decade-old study.
More than 4.3 million animals entered the 1,000 shelters responding to the survey. Of those animals, 64 percent — about 2.7 million — were euthanized. Also, it's a widely accepted statistic that 9.6 million animals are euthanized annually in the United States, the association says.
MAKE THE RIGHT FIT
When it comes to dogs, a mistake often occurs with the initial selection, Jewell says.
Potential dog owners need to answer key questions such as these: Do you want a large or small dog? Do you have children? Does the house have a fenced yard? Does someone in the home suffer from allergies? If the owner travels often, who will care for the animal?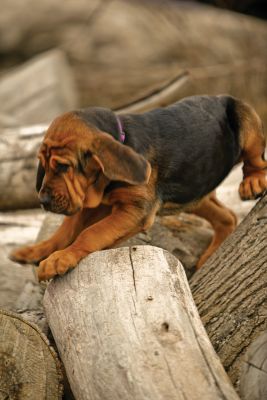 Take the time to research a breed's characteristics before adopting, either from a shelter or individual. It's important to determine whether your living circumstances are right for the dog you want.
"Terriers will dig the daylights out of stuff if they don't have something to do," she says. "But even with breed characteristics, the right environment can control those quirks. A beagle living in an apartment can work fairly well if that dog is provided enough exercise outside the apartment."
But even after selecting the perfect breed, a dog owner's responsibilities only just begin. All dogs can learn, and two 15-minute sessions daily can often ingrain basic commands, Jewell says. "Training obedience is basically expectation and consistency," she says.
Dogs will test the boundaries of their own dominance within a home. A dog who jumps up to welcome an owner home may seem cute, but in reality the dog is disrespecting the owner.
The idea of dominance plays into Jewell's training, letting the dog understand just who leads the pack. For example, training a dog to stay off the furniture or out of the kitchen requires no shouted commands or special tricks. Simply blocking the animal's path, putting the owner's body in the way, and making a shooing noise can often suffice, Jewell says. Done consistently, this method can teach good habits.
In the end, though, the human more than the canine determines how well a dog fits into a home. "If you don't make it a priority, it won't become a priority on its own," she says.
When Nancy May and her husband, Bob, took two 5-year-old Corgies into their home, May was unsure if the pair of older dogs could be trained. She just knew they needed the help.
"We were trying to walk the two together, but one was going one way and the other was going the other way," she says.
They sent the dogs to Jewell, who kept them for five weeks.
"Now when I take them places I can depend on them to sit when I say sit and to stay when I say stay," May says. "I see other owners struggling, but I'm so proud of my dogs. They're like my children."
Noble Sprayberry is a Phoenix-based writer.