Self-professed foodie Robin McDermott of Waitsfield, VT, chooses to buy local meats, dairy, fruits, and vegetables for some smart reasons:
She wants to support local farmers.
It takes less energy than importing foods from somewhere else.
Fresh food tastes better.
"Probably four years ago if you told me we would be eating like this, I would think, how?" she says of eating local foods in season, preserving much of the bounty, and learning to live without the rest. "But now it just seems it's what we do."
McDermott is among those who describe themselves as "locavores" or alternately "localvores" — people who seek out locally grown food, often from farmers' markets and small farms and ranches.
Four San Francisco women started the locavore movement in 2005, encouraging people to eat food produced within a 100-mile radius of where they live.
The movement aims to mobilize consumers to use their grocery buying power to redirect dollars to local farming. The idea has spread quickly. "Locavore" was the New Oxford American Dictionary's 2007 Word of the Year, and local chapters have sprouted up around the country.
McDermott co-founded and directs the Mad River Valley Localvores in Vermont. The congenial group compiles local food sources, swaps recipes, and sponsors Eat Local one-week challenges, a fun way for the curious to try eating locally.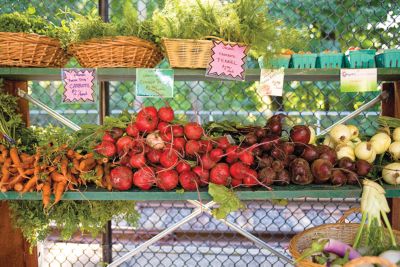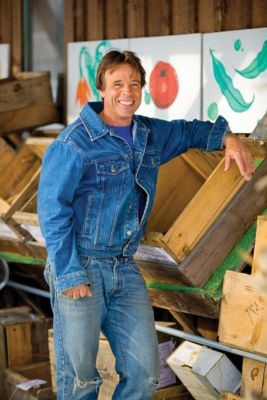 It's not an all-or-nothing proposition. "We don't advocate that people eat 100 percent local all the time," McDermott says. Common exemptions are the "Marco Polo Rules" that allow use of the salt and spices that sailors of yore would have carried in their pockets. Others choose wild cards, such as coffee, chocolate, or fish.
"It really helps you start thinking of where everything you're eating is coming from," says McDermott, who still buys about 20 items, including cat food and locally grown sprouts, at the grocery store.
RURAL 'ROCK STARS'
Undoubtedly, American consumers have an increasingly distant relationship with their dinner choices. Food sold in U.S. supermarkets averages some 1,500 miles from farm to plate — a 25 percent increase from 1980, according to Worldwatch Institute.
Not so in Vermont, where 27 percent of the land is devoted to agriculture. Vermont is a leader in direct farm-to-consumer sales, specialty agriculture products, and agritourism, where tourists include farm experiences as part of their vacation plans.
Fresh produce, maple sugaring, and the explosion of scarlet fall leaves all add to the tourism draw. Not surprisingly, farmers are appreciated and revered in the Mad River Valley, McDermott says, so much so that she describes them, only half-jokingly, as the local "rock stars."
Dave Hartshorn of Santa Davida Farm is one such local celebrity. Eighteen years ago he converted his family's dairy to a certified organic farm, which grows local favorites including raspberries, strawberries, sweet corn, pumpkins, and heirloom tomatoes.
Hartshorn credits New England's climate and soil for his flavorful produce.
"Whatever conditions that I have on my farm naturally — the soil — the flavor is better than most," Hartshorn says. "Nobody grows sweeter baby carrots than I do. Nobody."
The family is resourceful. Hartshorn's father runs a sawmill, and they oversee some 5,000 maple sugar taps on a family plot of trees, some of which are upwards of 400 years old.
In addition to his farm stand, Hartshorn regularly attends a local farmers' market, sometimes getting there at 2 a.m. to stack 2,000 ears of sweet corn in a pineapple shape by the illumination of the truck headlights. In an effort to draw attention to your stand, "You set up a work of art," Hartshorn explains.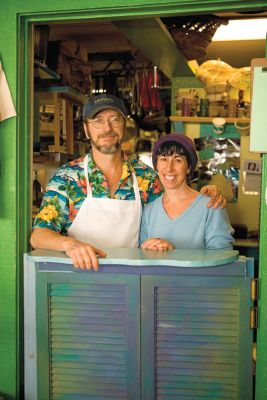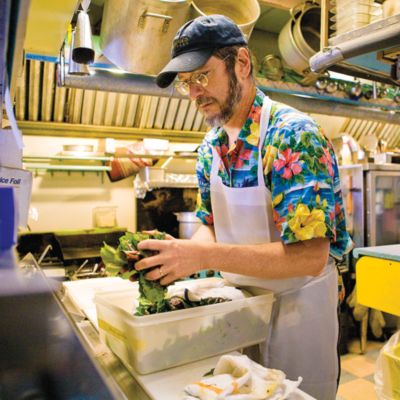 It's particularly at the farmers' market that Hartshorn has developed a devoted and reciprocal relationship with locavores.
He participates in Community Supported Agriculture, in which buyers typically subscribe in the spring for weekly baskets of whatever produce is in season throughout the growing season.
As for the outlook for small farms, "I think it's the best it's ever been," Hartshorn says of a new awareness of sustainable agriculture. "Finally, on a few acres you can grow high-value crops."
He sells produce directly to local schools and is involved in planning a class on "sustainable communities," where students will intern at his farm. Hartshorn also grows gardens on-site for area restaurants, and confers with local chefs.
Instead of chefs designing weekly menus from what is off-loaded from the semis of large-scale wholesale food providers, they call up area growers to see what's been recently picked, plucked, or dug.
"They call up and ask, 'What should we run as a special this week?'" Hartshorn says.
MAKING IT MAKE SENSE
One of those chefs at the other end of the line is Michael Flanagan of Michael's Good to Go takeout restaurant. A "guerilla restaurateur," Flanagan and his wife Jewls Cohen sell to-go lunch and dinners out of an 800-square-foot leased space with a few benches inside, a barbecue grill smoking meat out front, and a dedication to meals that are "less expensive and focused on local ingredients," Flanagan says.
Good to Go serves all locally raised meat. Many seasonal vegetables are purchased from Santa Davida Farm. "I buy literally tons," Flanagan says of the butternut squash he roasts and freezes for winter soups, and the sweet corn he steams and saves — cobs, too — for chowder. Tomatoes, onions, garlic, and smoked chilis are combined into chipotle sauce.
Last summer, Flanagan assessed what produce he was not buying locally — sweet potatoes and Napa cabbage — and asked Hartshorn if he could come close to the price he already was paying.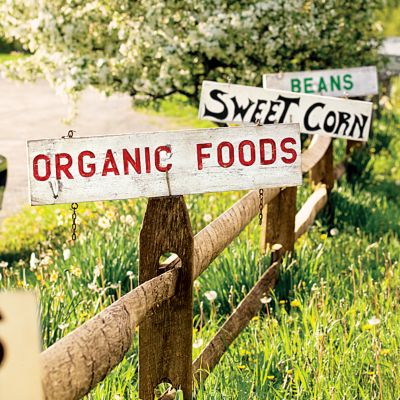 "It has to work for both you and the farmer," Flanagan says. "He and I both know for it to make sense it can't be more than a third more."
Cost, McDermott agrees, is a practical consideration for businesses and individuals alike. Locally grown foods can be more expensive, pound for pound, than the homogenous bulk produce shipped to local grocery stores.
"That's the biggest hurdle for people," McDermott says. But she adds that, over the long run, eating locally can be the less expensive option, particularly if people grow some of their own food. Being aware of the labor of food-production also brings a greater sense of thrift.
"If I buy a chicken from a local farmer, I'm spending $12 to $15, and so I make a lot out of that chicken, whereas if you buy the $4.99 roast chicken in the store, you eat half of it and maybe throw the rest out," McDermott says.
The additional work of growing, canning, freezing, and shopping small farms is worth it for her community, the environment, and her taste buds, McDermott says.
"We're eating better," she says, "than we have ever eaten."
Colorado writer Laurena Mayne Davis started making her own yogurt, bread, and sprouts after researching this story.
WHAT, EXACTLY, IS COMMUNITY SUPPORTED AGRICULTURE?
Community Supported Agriculture describes an increasingly popular kind of partnership between local farmers and nearby consumers who value having fresh, healthy food grown in their own community.
The U.S. Department of Agriculture explains: "Typically, members or 'share-holders' of the farm or garden pledge in advance to cover the anticipated costs of the farm operation and farmer's salary. In return, they receive shares in the farm's bounty throughout the growing season ... By direct sales to community members, who have provided the farmer with working capital in advance, growers receive better prices for their crops, gain some financial security, and are relieved of much of the burden of marketing."
A range of CSA options are available, so members can choose one that works best for them. Some, for example, include farm labor as part of the members' investment. Some CSAs deliver produce to a common pick-up spot, while others require you to come get it.
CSAs have been successful in Japan since the 1960s. Jan VanderTuin of Switzerland introduced the idea to the United States in the mid-1980s when he visited Robyn Van En's Indian Line Farm in South Egremont, MS.
Van En became an early CSA advocate in the United States; indeed, an agricultural center at Wilson College in Chambersburg, PA — The Robyn Van En Center — is named for her. The national resource center includes CSA history, useful links, and a searchable database to locate CSAs by ZIP code.