For more than a century, windmills were the wheels that kept rural America running. Chuck Rickgauer is the guy who keeps the windmills turning, and keeps their legacy alive.
More than 40 vintage windmills tower over Rickgauer's Windmill Farm at his home near Tolar, Texas, where he and his wife Ruby also run a bed and breakfast. On wooden or metal pedestals, these windmills spin here in the breeze as they have across the prairie for about 150 years. Think of the Windmill Farm as the landscape of rural America, distilled down to 26 acres.
"We call this history in motion," says Rickgauer.
The farm has been such a local draw for visitors, the Rickgauers built a road through their property to allow sightseers to see all the windmills there, including one more than 120 years old.
"It's just that they're so unique, and everybody loves them," he says. "People come by and tell you stories about the ones they grew up with and the ones their grandfathers had."
That's how his own hobby began, he says. His wife grew up on a Mitchell, SD, farm, where a windmill was crucial to their survival. It pumped the water they used in the house, and as a girl, one of her chores was to haul the water from the well to the house.
"Having that windmill wasn't that neat a deal for her," Rickgauer says with a laugh.
Still, when they moved to Texas, they thought it would be nice to raise a windmill in memory of those old days on the farm. Then came another. Then another. Soon, Rickgauer's ability to restore old windmills to working order became famous. During the next 12 years, his hobby grew into an obsession.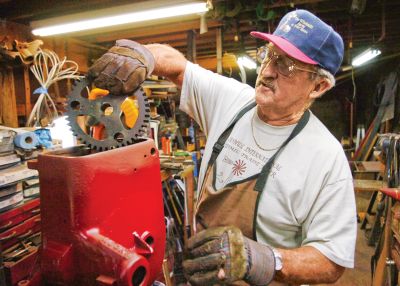 Rickgauer figures he's restored about 220 windmills for himself and for others to raise on their properties as a reminder of their farming heritage.
His latest is one of his favorites — red, white, and blue, a model from the early 1900s made by a Texas company, copying a design popularized decades earlier. Windmills like it spun over farms across the country for generations.
WIND-DRIVEN WORKHORSES
For much of the 19th and 20th centuries, windmills were icons of rural America, casting long, lonely shadows across the plains. They towered over the rolling landscape like monuments erected to the farms they stood alongside. Their often-constant turning in the wind was like a reminder of the nonstop nature of life on the farm. They were pretty, but they were also workhorses. As the wind spun the blades in the air, the wheels turned the gears that churned the pumps that drew water from underground, sometimes hundreds of feet below.
The engineering isn't exactly nuclear physics. Rickgauer should know; when he's not restoring windmills, he works as a design engineer at the Comanche Peak nuclear power plant. But this basic technology played a crucial role in opening up much of the nation to agriculture. In many places, wells were the only source of water, and windmills were the way the water came to homes and livestock.
"Texas, for example, wouldn't have been populated," he says. "We have no lakes in Texas, so if you didn't live near a creek, you wouldn't have water."
When electricity arrived to rural America, many farmers replaced their windmills with electric pumps. But don't close the history books on windmills just yet. They're still pumping in many remote places that don't have power lines. Rickgauer counts a number of them in rural Texas near his home.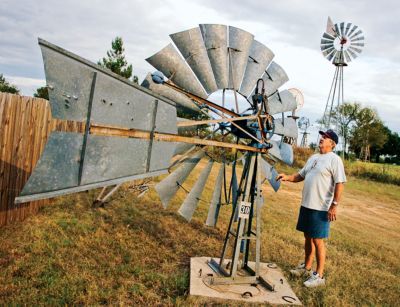 "My guess is they're going to be around a long time because they're very economical," he says.
But most of the windmills he works on are just for show. Customers want a reminder of yesteryear spinning over their land. Some pay thousands of dollars to have old treasures refurbished to working order. Many more tour his Windmill Farm to see the homemade museum, where dozens of windmills stand in restored glory.
Visitors are welcomed to tour for free, taking as much time as they want to study the windmills, most of which are representative of the ones that long dominated the rural Texas landscape.
These windmills are retired, though. They still spin in the breeze. Their wooden or metal blades still make the gentle whirring noise that, for many visitors, recalls lives spent on the farm. But none of Rickgauer's windmills have to do the work they used to. Their pumping days are long over. The only thing they produce now are memories.
"All you gotta do is keep 'em oiled," Rickgauer says. "Keep 'em oiled and they're going to run for years and years and years."
Rickgauer is the one who keeps these wheels of history oiled. But the days of windmills aren't over, he says.
"It's still ongoing," Rickgauer says. "I'd call it 'living history.'"
David Frey writes in Carbondale, CO.