Imagine taking perfectly good wine and turning it into, of all things, vinegar. But taste Ron Leasman's sweet rhubarb wine vinegar and suddenly it makes good, and flavorful, sense.
As a gourmet cook, Leasman enjoys tinkering in the kitchen with the fruits, vegetables, and herbs grown on his 40-acre farm in Long Prairie, Minn. But a television cooking show intrigued him to begin research on making his own vinegar.
His first attempt, with a batch of raspberries, flopped, but Leasman enjoyed the experimentation. Instead of giving up, Leasman took some of his wife Nancy's home-made wine — she makes it from fruit in their orchard — added starter, aged it into vinegar, then added different herbs.
"The flavor of the herbs came through in a surprising way," Nancy says. "They were so intense."
Nancy knew others would enjoy the flavored vinegar, too. "She said, .'We've got to make vinegar and sell it,'" Leasman recalls.
But how? State officials scratched their heads; because this would be Minnesota's first vinegary, no regulations existed about operating such a business. Eventually, however, plans were developed based on commercial kitchens for food products in home businesses.
Leasman, a builder by trade, moved the cars from the family's garage, insulated it, and installed regulation plumbing and heating.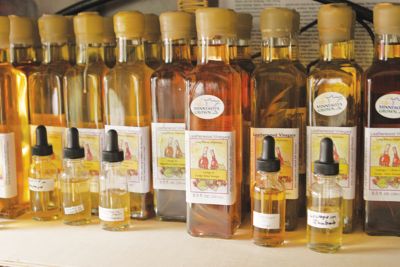 Nancy designed the interior to resemble an Old World vinegary. Inspectors stamped their approval on Minnesota's first licensed vinegary, Leatherwood Vinegary, in August 2004.
The Leasman home hasn't smelled the same since. A pleasant vinegar aroma wafts through the house, combined with the scents of citrus, raspberry, apple, grape, and other fruit that eventually will flavor the vinegar.
Nancy, a herbalist, loves experimenting with combinations and recipes, and she's developed dozens of flavors. Some include coriander in apple, rosemary in grape, mint in lime, sage in rhubarb, and basil in pear, plum, or rhubarb.
Developing just the right combinations takes time; indeed, the entire process of making vinegar is a slow process. Wine ferments over a period of several weeks to several months. Conversion to wine vinegar is a slow, natural process of several months to many years, the Leasmans explain.
Once the vinegars have seasoned, they're ready to go into salad dressings and meat marinades, or sprinkled in chili, stir-fry, or in any number of foods.
"Strawberry vinegar in Pavlova (a meringue dessert) enhances it," Nancy says. "Broiled goat-cheese-stuffed portabella mushrooms sprinkled with dill in lime vinegar are amazing."
As for Leasman: "I like sipping a glass of vinegar on ice," he says. A favorite is sweet rhubarb vinegar, but he's working on making it even better.
And so the tinkering continues.
Dee Goerge is a Minnesota writer who enjoys good vinegar.