The rich smell of hay fills the upper level of Sandra Miller's barn, where the salvaged rear bench seat of a mini-van offers a perch and a repurposed run of porch railing adds a measure of safety from the open loft doors.
"It's nice to sit up here and watch the barnyard politics," Sandra says. And there's plenty to see on this 20-acre swath of rolling Pennsylvania countryside.
Seventy-eight Boer goats, the farm's main focus, send up an intermittent cacophony of nays and bleats from the fields and pens. A flock of 50 turkeys waits in a pasture enclosure. Two ducks add to the mix. El Jefe, a Great Pyrenees watchdog, guards the place and bears partial responsibility for the eight growing pups. Missy, a cocker spaniel, barks and yips from her place in the leafy yard dotted with trees: dogwood, pear, peach, and apple.
For Sandra, 42, each element of Painted Hand Farm marks a portion of a journey for her, her family, and a farm tumbled into disrepair — a place known just seven years ago as the community's "junk farm."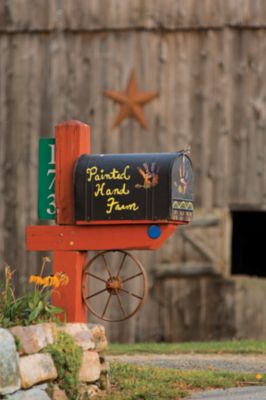 But Sandra and her spouse, Ralph, have reinvigorated the property in the heart of a place where the horse-drawn carriages of Amish farmers mingle on the roads with pickup trucks.
Not only is the farm looking more appealing, but it is becoming what farms once were — a family's primary source of income. The couple plans a modest creamery to turn goat milk into cheese and they sell turkeys and goat meat, which is processed to U.S. Department of Agriculture standards.
Part of the farm's success is Ralph's ability to turn seemingly useless items into valuable additions. A drain, for example, captures rainwater from the barn's roof and two-tenths-of-an-inch of rain can put 100 gallons into storage for the gravity-fed pipe system capable of sending water to distant fields.
The project, though, is very much a work in progress. A home addition started by the previous owner remains unfinished — a cinder block foundation off the side of the Civil War-era house. And despite the couple's hard work, the farm still falls well short of the goal of meeting all living expenses.
"Farms don't happen overnight," Sandra says. "There's a reason they're passed down from generation to generation."
GOING HOME
Sandra grew up in small-town Pennsylvania, in a home in walking distance of school, friends, and grandparents.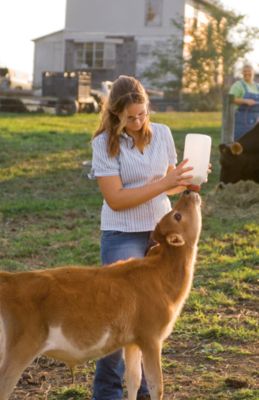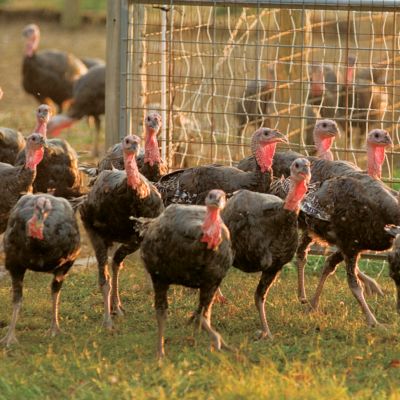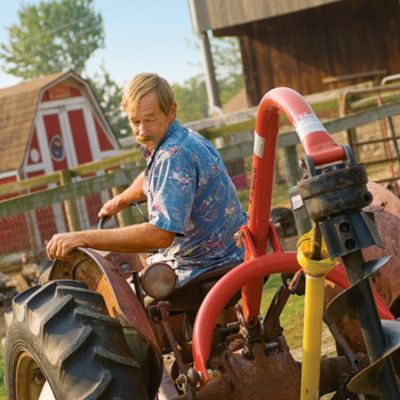 But she left for college on the West Coast, where she started a family and lived for several years. Home, however, called her back and the couple willingly responded.
"Why wait to move home because I had to care for my parents?" she says. "They're both in their 60s and in good health. I wanted to move home when we could still be carefree and have fun."
So, turning to the Internet, Sandra started shopping for a small farm near her parents. They almost finalized a deal for a farm with a riding stable, until learning the land was rezoned to eliminate agriculture use.
Disappointed, they acted after reading the description of a "fixer upper" on the Internet.
"I had a friend check it out," Sandra says, "and she told me 'It's gorgeous property but you're going to be the trashy neighbor for a while.'"
Even after family visited the land and noted the need for an investment of sweat, the couple bought the farm site-unseen. They loaded up and drove east.
Once in the hills of Pennsylvania, they saw what their money bought. It was indeed a "junk farm."
The foundation of the two-story house, built largely from pecan wood, was unsafe. A heavy wind would start the barn roof flopping. Scrap wood and metal, as well as other junk, filled the barn. Years' worth of weeds choked the fields.
Still, there was a glimmer, and they recognized the potential. The land was good, sloping down to a modest stream. There was plenty of room for crops and animals.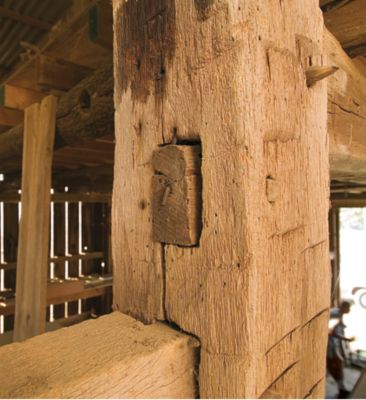 They went to work clearing the property, breaking up the dozen or so toilets junked on the land and using the pieces to fill gopher holes. An expert repaired the home's foundation. Ralph rebuilt the barn, using the dovetail joints and wooden dowel construction of the original.
And they found a few surprises. Ralph, when cleaning a weed-covered dirt mound, struck metal and further excavation identified a U.S. Postal Service Jeep long left to the elements.
LEARNING TO FARM
Sandra adopted a simple approach to agriculture: Research. Ask questions. Learn. But she never blindly followed.
She first turned to a local agricultural extension agent, who suggested using chemicals to kill the weeds and a bulldozer to clear the trees.
Preferring to adopt a more organic approach, she sought other options. "I'm not one to do anything conventionally, or normally, so we started building fences for goats," Sandra says. Weeds disappeared.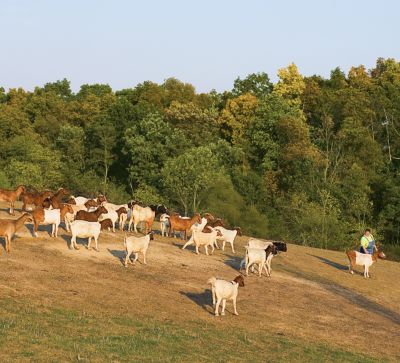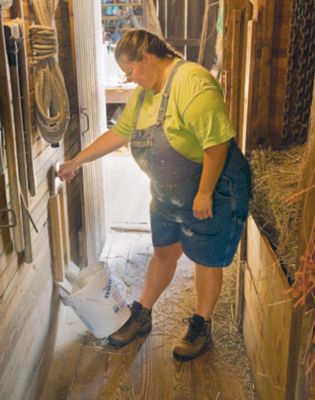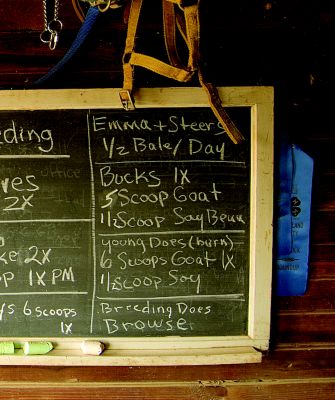 But not every trial went well. An effort to plant thornless blackberries, for example, succumbed to the weather.
"We didn't know which way the winter winds blew, but they came right over a hill and beat the berries to death," she says.
While learning the ins-and-outs of farming, Sandra keeps the family afloat financially from an upstairs office cluttered with high-tech gear by reviewing and writing about corporate-quality Internet security products. "After you have your head wrapped around cyphers and encryption for hours, it's nice to go out and feed the goats," she says.
Ralph, meanwhile, works full time on the farm so it eventually becomes self-sustaining.
Sandra believes they've established a foundation to achieve that goal with plans to join other local meat and dairy producers at regional farmers' markets. She already believes they can tap at least one underserved market segment.
Immigrants, whether from Mexico or the Middle East, all share a taste for goat meat, she says. "That's not a niche market. That's an untapped market," she says.
For now, meat goat farming has a way to go in Pennsylvania, says Julie Maxwell, president of the Pennsylvania Meat Goat Producers Association.
"People in the farming community in this area aren't big into meat goat farming and they don't understand it," she says.
Growth in the United States market, which still requires imports to meet demand, offers an opportunity for farmers willing to learn and to face new challenges. For example, not all veterinarians have experience with goats, whose fast metabolisms require expert knowledge to properly dose medications.
"It's live and learn, and the school of hard knocks," Maxwell says. ."I've seen people with a livestock background go into it but then get out because there's too much to learn."
Sandra, though, sees a future on the farm, particularly for a nation increasingly interested in naturally grown produce and pasture-fed animals produced locally.
"I'm a firm believer that in the next 20 to 25 years," she says, "that farms like this are going to feed this country."
Noble Sprayberry is a Phoenix-based writer.