Rick Vickrey knew something wasn't right when he saw an unfamiliar vehicle at a customer's house, then watched it fly past his car and park in another customer's driveway a few miles down the road.
After all, the mail carrier drives the same 100 miles every day, six days a week, and knows everyone along that rural Oklahoma route.
So he called 911 from his cell phone and then followed the vehicle when its occupants got spooked and fled. His efforts helped area police officers catch the thieves with stolen goods still in their car.
Vickrey will tell you the story, but not that those actions earned him a "Hero" award from the U.S. Postal Service. To him, it was no big deal.
"I just believe in taking care of my people," says Vickrey, of Minco, OK, about 45 miles southwest of Oklahoma City.
He's certainly been taking care of them for a while.
Vickrey first joined the postal service as a substitute carrier in 1982 and began working full time six years later. He had taken a position with the U.S. Department of Agriculture when the oil bust drove him out of farming, but he couldn't resist the calling to deliver the mail.
"It's the greatest job in the world," he says, even though he spends six hours a day alone on the road, no matter the road or weather conditions. He spends most of that time listening to talk radio or singing along with a gospel station, striving to get to each customer within 15 minutes of the time he arrived the previous day.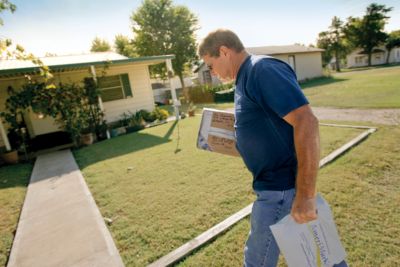 Ice storms may slow him down, or require the former volunteer firefighter to help a stranded carload of teens who have rolled their vehicle down an embankment, but the mail still gets delivered to all 360 customers.
A flood last summer took out some bridges along his route, adding a two-hour detour to his drive, but Vickrey takes it all in stride. And, he notes, he takes really good care of the road graders in his three counties, giving them gifts from his garden every Christmas.
Vickrey's appreciative customers take care of him, too.
"Christmas time is just unbelievable. I get peanut brittle by the bucketful,'' he says with a chuckle.
One of his customers, a disc jockey for an Oklahoma City radio station, knew that Vickrey sang a little, so he dubbed him "the singing mailman" and put him on the radio every once in a while.
Indeed, he's a part of his customers' lives — and sometimes their deaths. Vickrey sang I Want to Stroll Over Heaven With You at the funeral of a customer and longtime friend.
"He and his wife were some of the finest people you'd ever know. I've just been really fortunate,'' Vickrey says.
Then there's the dairy farmer who loves Halloween pranks.
Vickrey has opened the mailbox to find live cats and chickens inside. "They all wait down at the milk barn to see my expression," he says. "I've had him put a bullsnake in the mailbox before. That wasn't a good day!"
'HERE AND YONDER'
He starts his day at 7:30 a.m. and spends the first 2½ hours sorting his customers' mail by hand. He then totes it out to his 1997 Chevy Lumina and loads up.
His first stops are in town, many of them elderly ladies whose visit with the mailman is the highlight of their day. Then he starts zig-zagging "here and yonder" through the countryside.
"I spend more time in my car than in my own bed at home," he says with a laugh.
While some letter carriers have special right-hand drive vehicles or retro-fit their cars so they can reach the mailboxes easier, Vickrey isn't comfortable with that. He tried a right-hand drive Jeep like his son — a substitute carrier in a nearby community — but kept it only a day.
He's been through six other cars during his 25 years as a letter carrier — donating most, when he's done with them, to a local cancer society to auction off and raise money.
You might think that, with people communicating more by telephone and computer, his load would have lightened over the years. But Vickrey says the volume of mail has tripled because of advertising mailers, which he calls "our bread and gravy."
WEARER OF MANY HATS
Vickrey's job has him doing much more than mail delivery. He's also an instructor for new recruits, the star of local training videos, and the assistant steward for the state chapter of the National Rural Letter Carriers' Association.
"It's been a great experience," says Vickrey, who can't see himself leaving any time soon, even though he'll be eligible to retire in five years at age 56.
"No doubt about it, I'm supposed to be the rural carrier," he says.
"A lot of rural carriers are just like me," Vickrey says. "They're gonna take care of their people. They believe in what they do."
Karin Miller writes from her Franklin, TN, home.