When Stephanie Pierce noticed two horses starving near her Nevada home, she did more than simply contact animal control authorities.
Though one horse died before the investigation ended, the other, a 16-year-old quarter horse gelding, went home with Pierce. The experience profoundly moved her to create a place where abused and neglected horses could find refuge, safety, and care.
Miracle Horse Rescue was founded with Pierce's adoption of that first horse, which she named Ace; now six years later, she's helped upwards of 150 horses. Many have been nurtured back to good health and adopted into "forever homes" by loving families.
One success story is Frack, who weighed 450 pounds — rather than the 1,100 he should have weighed — when he was seized from drug addicts who were manufacturing methamphetamine on their property, Pierce says.
"We didn't know if he was going to make it," she says. "Nine months later, we adopted him out. He was absolutely gorgeous."
Some, however, endured such severe mistreatment that the resulting behavior or health problems render them unable to be adopted out. Those horses live out the rest of their lives under Pierce's loving care.
Shiloh, a 23-year-old Appaloosa, went blind when her previous owner refused to treat an infection. Now, she's thriving.
"She's doing great. I can take her to the round pen and put her on a lunge line," Pierce says. "That's how she gets her exercise. She goes by voice command.''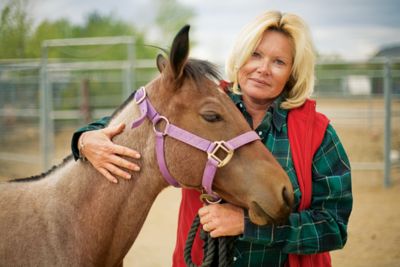 Pierce has had as many as 36 rescued horses — about the most she can manage — on her 2½-acre ranch in Pahrump, NV, about 65 miles northwest of Las Vegas.
Everything is done "by rake and wheelbarrow," because expenses prevent them from buying a tractor and automatic water tank. But that's okay, she says.
"We went into it knowing it would be a very costly venture, and it has proven to be so. But it's been well worth it," she says.
Despite the need for good homes, Pierce makes sure each adoption is good for both the horse and the people.
She's extremely strict about who adopts the horses and the conditions in which they will live.
Pierce also is determined to stem the flow of abuse and neglect by holding free clinics on responsible horse ownership for adults and children — perhaps one day making rescue operations such as hers unnecessary.
Until then, she and her family will keep rescuing mistreated horses as long as they can.
"It's been good. It's been sad," Pierce says. "It's been rewarding, especially when you find forever homes for the ones that somebody else threw away."
Karin Miller writes from her home in Franklin, TN.