Scott Hagan's artistic ability was always a little too, well, big for conventional canvases.
In high school, he was pretty good at drawing things out on paper — but that just wasn't enough.
"I wanted to see how big I could lay it out and make it," he recalls.
So he looked around in the fall of 1997 and spotted the perfect canvas. "We live on a farm and the barn was the biggest area to paint something on," he says.
Hagan decided to paint the Loony Toons character, the Tasmanian Devil, that cartoon whirling dervish, on the side of his father's barn. With nothing more than a ladder, his artist tools, and a good amount of natural-born talent, Hagan got started.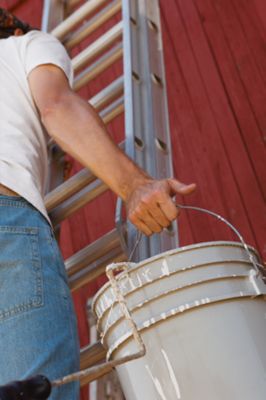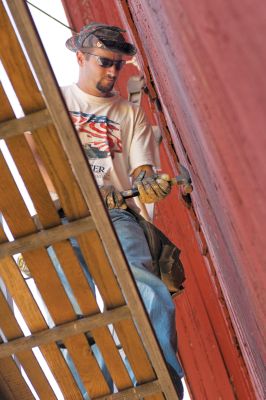 But not for long.
"My dad was in the pasture, mowing and when I heard him shut off the engine, I knew what was coming," Hagan says. "He told me he didn't want a devil on his barn, so I didn't paint it."
That refusal would turn out to be a blessing that launched Hagan's barn art career.
Instead of the Tasmanian Devil, Hagan opted instead for a design that would please most anyone around his neck of the woods. "I thought I'd do the Ohio State Buckeyes logo. We're fans, and a lot of people around there are," Hagan says.
Using the barn as his oversized canvas, he drew the logo freehand and then painted it. "It turned out really nice," Hagan recalls.
Others thought so, too.
His proud grandfather took a few photos of the Buckeye logo on the side of the barn and took them to the local weekly news-paper — no kidding — the Barnesville Enterprise.
"They put it on the front page, in color," Hagan says, still smiling at the memory.
Nichola Moretti, the Ohio Bicentennial Commission's southeast regional coordinator, happened to pick up that issue of the Enterprise and saw Hagan's handiwork.
"She had been toying with the idea to paint barns for the Ohio Bicentennial," Hagan says. "A week or two later, I got a phone call asking if I could paint one barn in every county in Ohio."
That meant painting the red, white, and blue Ohio Bicentennial logo on 88 barns visible from major roads — a project that would take five years.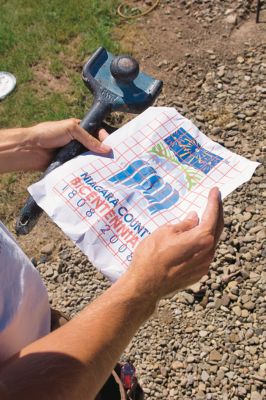 Hagan sketched the bicentennial logo by hand on each barn before painting it, and completed 12 of the 88 barns the first year.
Actually, he would end up painting 89 Ohio barns. Hagan was within two hours of completing a barn in 1998 in Ottawa County, Ohio, when a storm whipped up and spawned a tornado that flattened the barn. Everybody had taken cover, so nobody was injured. Ottawa County, however, would have to wait until 2001 to get their bicentennial barn painted.
Each barn-painting project, which usually takes one to three days depending on weather, turned into a social occasion in itself. If Hagan had figured that he would be spending lots of time alone, high on a scaffold, he was mistaken.
"Each one turned into an event," he says. "People would gather to watch, and have cookouts."
With each new barn, the size of those gatherings "snowballed," to upwards of 20 or 30 people, Hagan says.
"When I would drive to a site to start, there would be a crowd waiting. Waiting to watch paint dry," he says. "They would clap when I got my brush out."
It also led to one of his most exciting jobs, in which Hagan's canvas was the Pro Football Hall of Fame in Canton, Ohio, which was celebrating its 40th anniversary along with Ohio's bicentennial. Hagan painted both logos adjacent to each other.
Pro football legends Don Shula (former Miami Dolphins head coach) and Larry Csonka (Dolphins fullback) accompanied Hagan in the lift, where they ceremoniously finished the last little bit of the mural. For a young man who grew up in a football-crazy region, the experience was thrilling.
Indeed, the Ohio Bicentennial barn project proved extraordinarily successful; some estimates report that more than one million Ohioans saw at least one of the barns.
And word of mouth began carrying Hagan to his next jobs.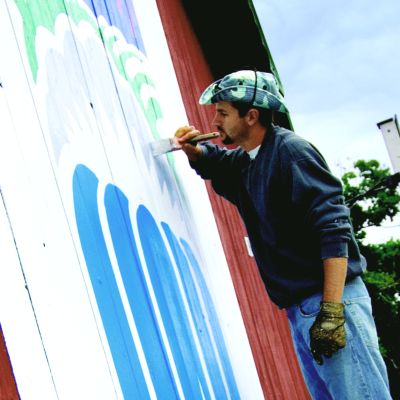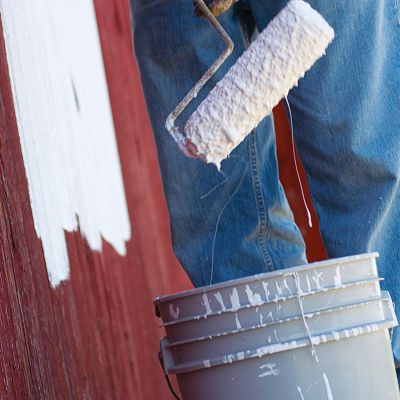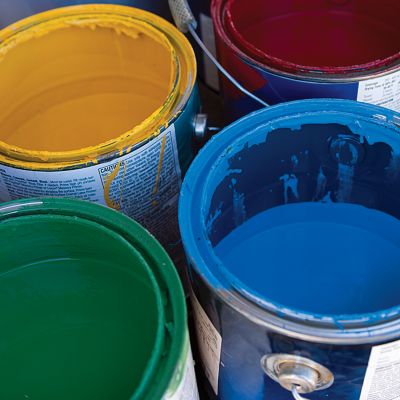 GETTING BUSY
Upon finishing the bicentennial barns in September 2002, Hagan began working on the "Patchwork Jewels of Monroe County (Ohio)," in which quilt squares were painted on 20 selected barns in that county.
"That was the next county over from where I live, and that's about as local as I've ever worked," Hagan says.
Each brightly colored quilt square was different, with such quilter's designs as grandmother's flower garden, grandmother's fan, log cabin, bow tie, Amish square, mariner's compass, Ohio star, and maple leaf.
This 4½-month project was completed in October 2004, just in time for him to start on a bicentennial barn project for Madison County, NY, in which he painted 16 barns — one in each township — with the county's logo. "That was one of my most enjoyable projects," Hagan says. "It was a circular (pattern), but it had five or six different designs."
From there, it was on to Niagara County, NY, home of the famed Niagara Falls, which is commemorating its bicentennial next year. Hagan's job: to paint the county's colorful bicentennial logo on a barn in each of the county's 12 townships.
Though his schedule frequently includes tourism-related jobs, Hagan also paints barns and signs for private individuals.
"They usually want farm names or patriotic themes," he says. "One woman in West Virginia called and said she wanted a Statue of Liberty on her barn, and said for me to do something different, so I included an eagle and it turned out really nice." The painting, he says, was commissioned simply for her own enjoyment. "The way the barn was situated, it's something only the owner will see."
His personal favorites are patriotic themes, such as the reproduction of an American flag postage stamp, and sports themes.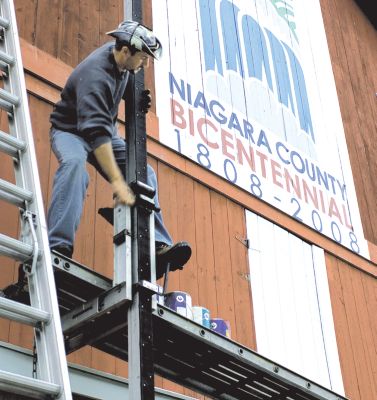 'LOST ART'
If he does have barn-painting counterparts somewhere, Hagan doesn't know where.
"I don't know of anybody else painting barns," he says. "I'm sure there are people who have done it, but not commercially or solely as a business. I've been looking for someone to ask questions."
He once was able to consult with Harley Warrick, 76, who was among a dozen or so painters who traveled the heartland painting, "Chew Mail Pouch Tobacco. Treat Yourself to the Best" on thousands of barns. Warrick, who spent more than 50 years painting or retouching more than 20,000 barns, lived about 20 minutes from Hagan's home. "When I was asked to do the Ohio Bicentennial job, I was using only a ladder and knew I needed a better way," Hagan recalls. "He showed me the rope-and-pulley system that he used forever."
Warrick died at age 76 in November 2000, yet a part of him remains with Hagan. "The (scaffold) platform I use was his," Hagan notes.
Clark Byers, another barn-painting legend, used rural barns as billboards, urging motorists to "See Rock City," a tourist attraction in Lookout Mountain, TN.
For three decades, until his 1969 retirement, Byers, of Trenton, GA, painted some 900 barns in 19 states with such catchy phrases as, "To miss Rock City would be a pity."
Byers, who died in February 2004 at age 89, is known for making a significant mark on the nation's tourism history.
But tourism and marketing have progressed by leaps and bounds since the days of Warrick and Byers, leaving their old methods far behind.
"This is such a lost art or forgotten art," Hagan says.
But not forgotten by everyone.
Scott Hagan is trying to keep an old tradition going — one gallon of paint at a time.
Out Here editor Carol Davis got to watch Scott Hagan work his magic on a North Dakota barn.