On horseback, Rhonda Watts easily gallops, jumps, and competes, all with an added skill: she does it sidesaddle.
Rhonda, of Wilton, N.H., keeps the old-fashioned tradition of sidesaddle riding alive — a practice that most thought died out a long time ago.
Riding sidesaddle, also called riding aside, dates back to the 1800s, when it gave women a newfound freedom. They could escape daily duties to take a ride and they quickly found themselves on equal footing with male riders, able to ride at any gait, jump, and show off their horses and abilities.
However, in the 1900s, as women sought equality in all aspects of their lives, most put aside notions of what was considered ladylike and began to ride astride.
Some women, however, continued riding sidesaddle and passed their knowledge to others. Today, most equestriennes prefer to ride and compete astride, but some, such as Rhonda, cherish riding sidesaddle as a link to our history.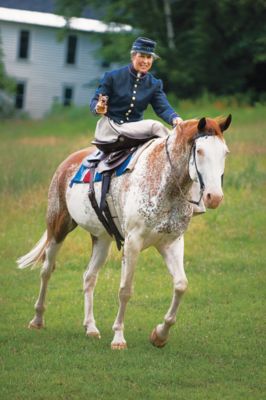 She started riding sidesaddle more than 35 years ago, but because she didn't have anyone to teach her, she studied photos of her grandmother riding sidesaddle and researched the practice.
As she immersed herself in riding sidesaddle, she caught the attention of others. "People were disappointed if I didn't do things aside, and I was having fun proving I could do anything in my sidesaddle that could be done astride," she says.
Since then, Rhonda has shown in almost every competitive discipline and has a long list of show accolades to prove that she can do anything aside and do it well.
Rhonda's sidesaddle achievements don't stop in the show ring. When members of the Lafayette Artillery, New Hampshire's oldest remaining local militia group, saw Rhonda wearing an 1850s habit at a parade, they asked her to join their group. She now rides in several parades each year, taking part in re-enactments and helping with the group's civil service activities.
At re-enactments, Rhonda explains the role of women during the Civil War, taking the role of a civilian or a vivandiere — female relatives of soldiers who traveled with units, giving aid by bringing water to men in battle and nursing the injured.
Rhonda's enthusiasm for side-saddle spills into all aspects of her life: she and her husband were married at a fox hunt and she shares stories about her sidesaddle activities and horses with children she teaches in New Hampshire schools.
She also serves the sidesaddle community by giving lessons to aspiring sidesaddle enthusiasts and teaching clinics across the country. She regularly gives women their first taste of riding aside, and she helps nurture their excitement and joy at discovering a piece of history.
Jennifer Williams is a freelance writer and co-founder of the American Sidesaddle Association.