MATERIALS:
Piece of galvanized, corrugated aluminum, used or new
Outdoor enamel spray paint in red, white, blue, and bronze (optional)
White enamel paint
Disposable plate or bowl
Painter's tape
Newspapers
Paper towels
Flat kitchen sponge
Marker
Scissors
Power drill
Four screws
Oh, say can you see, a scrap piece of corrugated metal is the perfect all-weather backdrop for a folk-style rendition of Old Glory. The corrugated waves add gallantly streaming, three-dimensionality to the flag.
This project requires few supplies and zero artistic ability. It goes together quickly, mounts easily, and weathers beautifully. It is the ideal Americana decoration for a barn or other outbuilding.
Corrugated metal is a strong but relatively lightweight sheeting popular for roofing, and for siding industrial structures or outbuildings. Corrugated steel works for this project, but it is much more difficult to cut and handle. If you have a scrap of galvanized, corrugated aluminum from your latest roofing project, you're in luck. If not, manufacturers often sell their scrap pieces to lumber yards. Check for availability.
STEP BY STEP
Start by washing off the sheet of corrugated aluminum and blot dry with paper towels.
Cut to the size you prefer with tin snips, if needed. First measure and snap a chalk line, or mark along a straight edge to keep a crisp line as you cut. Wear gloves to handle sharp edges.
Decide which side you want to paint. Don't worry about rust, dents or holes if it is a used piece of metal. The wear will only add to the rugged charm of the finished piece.
Spread newspapers over your work surface. Work in a well-ventilated area in which you're not concerned about a little overspray.
Using the ripples as guides, mask off every other row for the red stripes. Because this is a folk piece, don't be concerned about representing all 13 original colonies; just go with how many ripples are in the metal.

Shake up the red spray paint and paint in short bursts, moving slowly back and forth. Don't try for solid coverage, but let a little of the underlying silver show through. It's particularly interesting to let the edges be a little ."tattered" by painting them more lightly.

Let the red paint dry for a few minutes, then carefully lift the tape. When paint is no longer tacky to the touch, mask the just-painted red stripes in order to paint the adjoining white stripes. Spray-paint the white stripes in the same manner as the red ones. When the paint has dried, lift that tape.
Decide how large you want the field of blue to be and mask off around the edges, lining up the bottom edge with a stripe edge. Cover all but the blue field area with newspaper to avoid overspray. Spray-paint the blue field, painting over the red and white thoroughly. Let dry for a few minutes, then remove tape and newspaper.

To make the stars, sketch a star on the sponge with a marker. Start a little larger than your first inclination; you can always trim it down more. When you have a star you're happy with, cut it out with scissors. This will be your star stamp. Pour some of the white enamel paint in a disposable cup or bowl. Dip the bottom of the sponge into the paint and stamp on the blue field. Repeat stamping stars randomly until you have a design that's pleasing.

If you like the look of your flag, stop there. If you'd like to "age" the flag a little, spray very lightly all over with bronze spray paint. When the flag has completely dried, drill four holes (one near each corner) for screws. Lift to its mounting place, level, and attach with screws.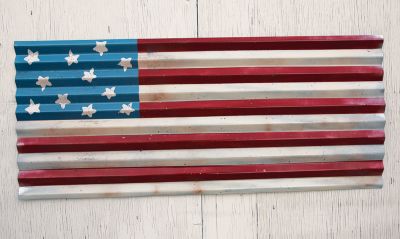 No concerns about taking the flag down at twilight's last gleaming, and no fading or running colors. When it gets a little dusty, a quick squirt from the garden hose will have your flag's broad stripes and bright stars looking as good as the day you painted them.
Hail proudly!
Laurena Mayne Davis is a writer living in the orchard country of western Colorado.