A hunter shoots a farmer's cow by mistake. That's bad. The milk check — the monthly pay that farmers receive for their milk — includes a generous bonus for high butterfat content. That's good.
That's life on the farm. And, it's "Life on the Farm," too, a board game created by a game-loving farming family to explain to a city cousin what it was like to farm 360 acres and milk 60 cows.
Similar to the classic board game Monopoly®, players encounter true-to-life "fate" spaces and expense and income cards. Only instead of buying real estate and passing "Go" to collect $200, the farming game directs you along the cow path, where you pass the barn to collect your milk check.
The winner is the first to retire after building the herd to 60 cows and earning $10,000. Sounds simple enough until you land on a space that says, "Pay taxes: $100 per cow." But then, that's life on the farm.
Keith Gohl, of Pierz, MN, who lives on the family farm, conceived the idea for the game about 20 years ago after trying to explain their lifestyle to a city cousin. "Our first prototype was made with purple magic marker on tag board," recalls Gohl's sister, Ev Johnson, of Cushing, MN.
The family — with 69 first cousins — loves to play games, Johnson explains. The crude board game immediately became popular and was refined every time it was played.
"When it felt like farming, we knew it was right," Johnson says.
Cards and board spaces reflect real incidents, she says, such as the time a trespassing hunter shot the only brown cow in her brother's herd. Then, the trespasser cut the fence to escape on a four-wheeler. The other cows, as cows do, found the opening.
Good things happen, too. Eggs sell for a hefty price or heifers mature and the herd grows. Farm auction spaces let players buy $500 cows, but, as in real life, when players are strapped for cash, cows are worth considerably less — $300.
Gohl used his real dairy herd as collateral for a loan to manufacture the game. The family created an assembly line in Grandpa and Grandma's basement, where everyone helped package the game.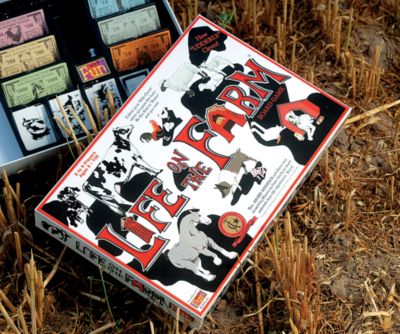 They sold "Life on the Farm" at small shops, craft shows, and county fairs and got noticed along the way, winning at inventors' competitions.
Still, the game's size and design didn't attract shelf space in large stores, so Johnson took a computer design course and worked with a community college's small business instructor to improve the game's look.
By 1996, Life on the Farm had a new, more dynamic appearance, and farm specialty retailers, including Tractor Supply Co., responded. Sales increased dramatically and more awards followed.
Last year, the game received the national Teachers' Choice Award for the Family from Learning magazine, a resource guide for elementary teachers, based on its innovation, quality, and appeal to children.
The game holds adults' interest, too. Johnson knows of one group of young men who switched from poker to playing Life on the Farm.
But then again, maybe that's not such a drastic swap. Life on the Farm, after all, is a gamble.
Dee Goerge writes from Parkers Prairie, MN.