Heidi Overson loves to spoil her Angora goat kids. She tenderly nurtures each one, feeds them special treats, and carries them around the farm like babies.
"I'll cuddle it and it puts its head under my neck," she says of one of her Angora goat babies. "The fleece is so wooly and curly. I just love them so much."
Indeed, it was love at first sight when Heidi saw her first Angora goat about five years ago. Now, she, her husband, Randy, and four children raise nearly 20 of them on Skjønsbergdalen Farm, in Coon Valley, WI. The farm's unique name, which translates to "pretty rock valley," honors the area's Norwegian settlers.
The attraction to Angoras is easy to see. They are softer, daintier, and more docile than most farm animals, and they have a funny, inquisitive nature.
They also produce a prized fiber called mohair, a silky, lustrous fiber used to make fine sweaters and coats.
Heidi didn't know what mohair was before she got goats, but she's hooked on it now. "The fiber is so beautiful, it's sometimes called angel fiber or diamond fiber," she says. "There's something so angelic about the fiber coming off of the goats you take care of and love so much."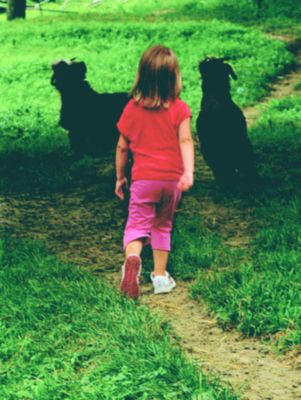 DO YOUR HOMEWORK
After falling for the breed, the Oversons started their herd with four does, one buck, and a wether (neutered male) as a companion to the buck. "We didn't want the buck to be in the pasture all alone," Heidi explains.
With the help of the book, Angora Goats the Northern Way by Susan Black Drummond, their herd thrived and grew. The following spring seven kids were born.
"Everything we learned about Angoras came from that book," Heidi says. "Be sure you do your research before you buy. Find a good breeder, visit a few farms, ask questions, and look for healthy goats."
Start with a small herd, make sure they have a good shelter against rain and snow, and keep them on a regular schedule for worming and delousing, she advises.
"Parasites can drag a goat down fast if not kept in check," she says. In addition to a vaccination program for most diseases, they also need tetanus injections every year.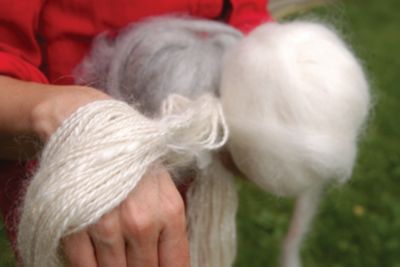 Angoras have high nutritional needs to grow quality fleece. Each summer, the Oversons' goats go to pasture but also receive a supplemental grain. In winter, they're fed an alfalfa grass hay mix and a special grain blend with vitamins and selenium.
"We also give sea kelp to provide minerals, and they just love it," Heidi says.
Angora fleece grows about an inch each month, so the Oversons collect about 130 pounds of mohair annually.
Heidi sells raw and washed mohair by the pound or as hand-spun roving balls or skeins of yarn. Because mohair is considered a crop, she sorts and weighs the fleece and submits the number of pounds to the farm agency office.
Their herd produces a wide range of fleece colors, though most buyers — and Heidi — prefer white fleece, so they plan to breed for more white goats, she says.
Interestingly, their wethers produce the most in-demand fiber, she says. Because their energy isn't going into reproduction, as with bucks and does, they grow a striking fiber.
"Our biggest wether gives us the most beautiful white fiber," she says, "and he produces the most of anyone right now."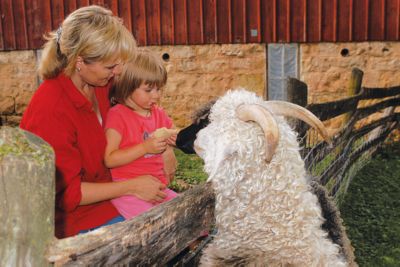 BACK HOME
Raising goats may be relatively new to the Oversons, but farm life isn't.
Heidi moved to the farm when she was 7. In 1999, she acquired 68 acres of it after her father passed away. Besides the main house, the farm includes two log cabins built in the 1860s, a milk house built in 1911, and a red barn built in 1903.
The Oversons tried raising horses, chickens, and sheep, but goats seem to best suit their busy, two-career, four-children lifestyle.
Now, goats, a pair of llamas, and a passel of cats inhabit the farm.
The Oversons sell about six to eight goats each year. "We're picky about where they go," Heidi says. "They only go to the best homes and a vet reference is required."
Each spring, when they welcome several new kids, Heidi and her children spend time in the pen cuddling and nurturing them so they become accustomed to people. Treating the goats like family pets is one reason the Oversons' Angoras seem so friendly and tame to interested buyers.
That's good, because when people see the goats they want to pet them. For some it's a passing fancy, but for others, as it was for Heidi, it's the beginning of a beautiful relationship.
Jodi Torpey is a Denver-based freelance writer.