For farmers Cooper and Joyce Young, every week is harvest season. It's planting season, too.
Their Wichita Falls, Texas, farm is bursting with fancy lettuce, watercress, mint, and herbs bound for what they call "white tablecloth restaurants" across the region. Every week they pick, plant, seed, and send their produce to distributors who can't keep up with the demand of a booming crop of high-end restaurants looking for top-quality ingredients.
The two come from long lines of farming families, but this isn't farming the way their parents and grandparents knew it.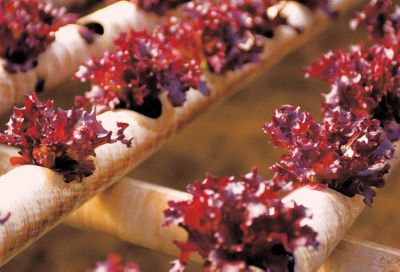 The Youngs have filled their farm with row after row of greenhouses using hydroponics. Instead of being planted in the ground, their crops sit in water or fertilizer solutions constantly fed by Fiberglas pipes. They grow in a tightly controlled environment, allowing the Youngs to manage every aspect of their growth and promising buyers a year-round supply of picture-perfect produce without dirt, bug bites, or blemishes.
While farmers across the country struggle to compete with massive corporate farms and soaring labor costs, the Youngs have managed to stay small and keep competitive, even as many of their neighbors give up their farms.
"Now it's giving us more to do than we want," Joyce says, with a laugh. "We prayed for success. Now, we almost want to pray for crop failure."
The Coopers started dabbling in hydroponics in 1980 as they struggled with the dilemma shared by many farmers. Harvest time is short, and that's the only time the money comes in. Joyce attended a presentation on hydroponics, and she liked what she heard. It meant a lot of work for a small operation, but also a steady way to keep the farm going, and without the vagaries of weather that can make or break traditional farming.
"We pick every week, seed every week, and plant every week," Joyce says.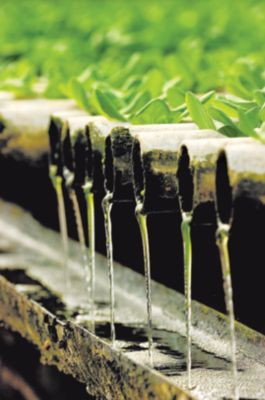 A HUGE DEMAND
The couple started with just one greenhouse, keeping it small enough to do all the work themselves. Over time, they've added more and longer greenhouses. Last fall, they added their 13th, relying now on additional workers to keep up with demand.
Like all farming, hydroponics is hard work. The Youngs work six days a week, caring for the crops and sending them to distributors who already have orders waiting. Everything they raise is sold before it leaves the farm, bound for restaurants from New Orleans to New Mexico, where discriminating restaurants are hungry for quality ingredients and are willing to pay top prices for it.
"We pick one day. They get it the next," Joyce says.
At a time when many farmers are either dropping out altogether or getting bigger to try to compete, the Youngs keep it small. Their greenhouses take up just 11/2 acres on a 48-acre farm. They stay flexible enough to switch out crops — add arugula, maybe, or trendy herbs — when chefs request them.
A surge in specialty restaurants has meant a huge demand, but it's no easy fix for farmers, they say. The work is relentless. The start-up costs are high. The quality has to be impeccable. "We make sure it's really nice or we won't send it," Joyce says. "We can do that, being a small business like this."
Maintaining hydroponics means constantly being around to check on details, such as nutrient levels.
Many farmers don't seem interested, though. Even the local greenhouse association, which used to draw 300 or 400 people to meetings, now sees five or six.
The Youngs count themselves lucky. They've been able to stay on the farm while they've watched so many others get out of the business. They count themselves luckier still because while many young people are reluctant to follow in their parents' farming footsteps, their son, Joe, is taking over the operation, keeping the five-generation farm in business not just with hydroponics, but with acres of traditionally grown peaches, pecans, and blackberries.
"A lot of businesses like this, when mom and pop close the doors on it, then the business is gone," Cooper says. "You drive by and it's just an empty farmstead."
Not that Cooper and Joyce have any plans to give up farming anytime soon. Having Joe around has given them a little more freedom to take the occasional vacation, they say.
But retire?
"Did you ever know a farmer that retired?" Cooper asks, with a laugh. "The ambulance will pick us up someday and haul us off. That's the day we'll retire."
David Frey writes in Carbondale, CO.