Follow Teddy Gentry around his farm, and it's easy to forget he's a country music superstar.
Most know him as a member of the group Alabama, one of America's best-selling musical acts who was inducted into the Country Music Hall of Fame, sold more than 73 million records, and recorded such hits as Mountain Music and Love in the First Degree.
These days, Gentry has a new passion — grass-fed beef. In fact, he's parlaying his fame into a campaign for pasture-raised cows, pigs, and chickens and a return to ranching styles that he says could save America's family farms.
"There's a lot more at stake than just a little farm to me," Gentry says. "It's the whole fiber that holds our community together."
It's not where Gentry expected to be when in 1980 he used his first check from RCA records to buy his grandfather's cotton farm, 60 acres atop Alabama's Lookout Mountain.
"We knew we didn't want to farm here, so we put in some fences and ponds and cattle as a hobby," he says. "Then we got serious about it."
Today, though, Bent Tree Farms is like an agricultural research station and old-fashioned farm rolled into one, where barn cats loll just a few feet from an array of satellite dishes.
An on-site store sells Burt's Beef — named for Gentry's grandfather — free-range eggs and other natural products, and holds a trophy case full of music awards.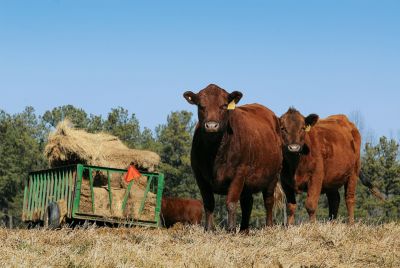 Nearby, a herd of red, short-haired cows graze along the entry drive to the white, Greek-revival home Gentry shares with his wife, Linda.
Those cows are the heart of his operation, a new breed he created called South Poll. Bred from Senepols from the Virgin Islands, Arizona's Barzona, and local Red Angus and Herefords, the cows are tough enough to fend for themselves during Alabama's hot, humid summers but tender on the plate.
The meat's also healthier. Range-fed beef has less fat and fewer calories than grain-fed meat — 17,733 fewer calories for a consumer who eats the American average of 66.5 pounds of beef per year, according to the American Grassfed Association.
Grass-fed promoters also say meat, eggs, and dairy products from animals that eat grass instead of grain have more beta carotene, Omega-3 fatty acids, and conjugated linoleic acid — all elements that help reduce cholesterol and fend off other health problems.
And cows that aren't finished in feedlots are less likely to carry E. coli or be given antibiotics or growth hormones, the association says.
Those statistics made an impact on Gentry when he started reading about grass-fed meat in the early 1990s.
"I thought, 'Wow, why does everyone not know this?'" he says. "God gave a cow four stomachs for a reason. She's supposed to eat grass."
Gentry has educated himself on the grass-fed movement and is committed to spreading the word. In 2004, he organized an Alabama Grazefest to bring together producers, range scientists, young farmers, nutritionists, and chefs.
But being a spokesman doesn't come easy.
"I've been a little uncomfortable playing that role," he says, "but all my friends started saying I've got to use that to at least open doors to do what's right."
FREE-RANGE FOWL
Doing what's right doesn't end with grass-fed cattle. Today, he also sells free-range eggs and chickens and is venturing into pasture-raised pork.
Gentry's happy to show visitors his "girls" — the hundreds of chickens that wander through the farm's fields, each based in a small, portable house.
The bottomless houses are moved about 20 feet each day to reduce the impact of the chickens' waste. The hens are allowed to roam all day in search of bugs and grass, and return to their houses each night.
In one field, Gentry points out a shed full of game hens, a new experiment as he tries to find even hardier layers who can live on less grain.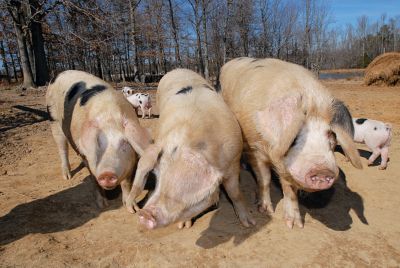 But perhaps his favorite subject right now is his pigs, a small group of Old Spots, England's oldest registered breed.
Gentry got hooked after hosting a personal experiment at the farm: four barbecue pit masters cooking four kinds of pork.
"It was just the best pork I've ever eaten," Gentry says. "It was like, 'My goodness, where have you been all my life, baby?'"
He quickly ordered four mama pigs from England.
At Bent Tree, four sows, a boar, and their piglets live in huts made from recycled pallets in a wooded hollow, where they winter outdoors and snack on acorns, grubs, worms, and lizards instead of the steady corn diet many pigs get.
Gentry's convinced this kind of diversified farming — as well as the niche marketing and pricing that grass-fed products can demand — could spur a revival in family farming.
"Farming can be fun," he says. "If farmers would … go back to being farmers again and have some chickens and pigs and goats or cows, this would work. Critters complement each other on the farm. Mother Nature is a beautiful thing."
Hannah Wolfson is a writer in Birmingham, AL.