A simple urge attracts many people to ATVs: a need to play in the woods.
From the sometimes frozen land near the Canadian border to the sandy trails through acres of palmetto bushes in Florida, nimble all-terrain vehicles offer freedom and often much more.
Families and friends gather in community groups formed around a fascination for ATVs, but knitted together with bonds built on hours of roaming the land, tending the trails and building a passion for the sport.
No matter where they ride, it often all begins with family.
For four-wheel enthusiast Chris Haynes, an ATV was almost an essential in his home of Grant, FL.
"We came from a community where everyone had a four-wheeler," he says of the place where he grew up with his wife, Wendy. They met in elementary school and now raise Christopher, 12, and Brianna, 5.
ATVs are part of their life, says Haynes, owner of Chris Haynes ATV and Motorcycle Repair and president of the Southern Knights ATV Club.
The club helps to manage the trails of Suburban Estates, about 20,000 acres of land unsuited for development near St. Cloud, FL.
Haynes owns slightly more than an acre of the place first opened as a hunting club, but where ATVs now represent the most common use.
Southern Knights ATV Club consists of between 80 to 100 families, and while trips focus on the property about 70 miles from Haynes' home, members often trek more than two hours north to the Ocala National Forest, or even to Tennessee and Georgia.
"It's pretty much all family oriented," Haynes says. "If we show up for a ride and have mostly 6- to 12-year-olds, it's a slow ride with lots of looking at scenery and stopping for lunch," he says. "If it's mostly teenagers, they don't really care to stop and talk and it turns into an all-day ride."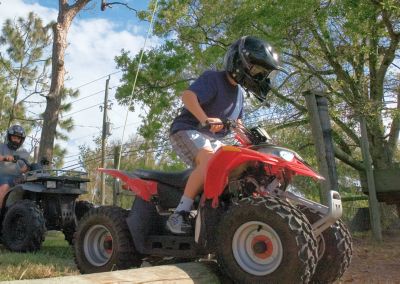 With ATVs designed for speed, utility, or for even the youngest of riders, there's usually a good fit for anyone, Haynes says.
ATVs can cost between $6,000 and $9,000, and it's usually necessary to spend about $500 to outfit each rider with standard equipment.
With 20,000 acres to explore, most club members spend much of their time on the club-managed property but the group also contributes to the community.
Each year, the city of Grant hosts a seafood festival, drawing as many as 30,000 visitors daily.
The club organizes and manages the parking, putting the ATVs to work navigating the site. Also, club members have started training to officially help with search and rescue operations with local law enforcement.
SUMMER'S COMING
While Florida weather makes for year-round ATV riding, snowmobiles share Dan Hoppe's favorite track for part of the year. The Dusty Trails ATV Club rides in Wisconsin, tending 125 miles of trail about 50 miles north of Green Bay.
"I love snowmobiling but you've got to have snow," he says, pointing out that even Wisconsin sometimes has inconsistent snowfall.
"You can spend $6,000 on a snow-mobile and wonder if winter's going to come, or you can spend $6,000 and buy an ATV. You always know summer will come."
The Dusty Trails ATV Club totals about 500 members, who take responsibility for maintaining the trails, which include county-owned land, private property, and a few miles of town road.
The state pays the club $450 per mile in return for maintaining the trails to state-mandated standards. Club members appreciate the opportunity offered by the land, a place with something for ATV riders of every age.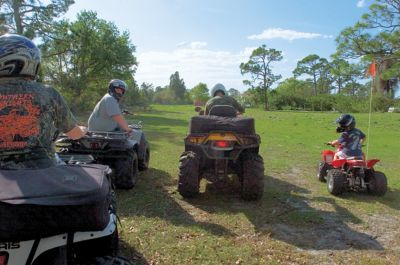 "We have members from all over the Midwest, with families with people ranging in age from birth to Barney Smith, who is 90," says Hoppe, 53, a millwright who lives in Kaukauna, WI.
Some riders spend all day rolling across every foot of trail while a family might find a shade tree, where the adults kick back and watch the children ride child-sized ATVs in a mud hole.
Each spring and fall the club participates in a "poker run," a fundraiser dependent on participation of every restaurant, gas station, tavern, and ice cream stand along the trail system.
Starting at noon, riders tour the trails, visit participating businesses and pick up credits used to make up a poker hand. The winner receives a percentage of the entry fees, the club makes a bit of money, and the community participates.
While camaraderie and family lure many to ATVs, everyone finds their own reasons. For Hoppe, hunting and an injury played a part.
"Thirteen years ago I had both hips replaced, the lower ball joint," he says.
Doctors anticipated a repeat surgery after 10 or 15 years, particularly if Hoppe jogged or participated in other pounding exercises.
"It got me more into the ATV," he says. "Rather than taking a mile-and-half hike to go bow hunting, I just stay a little closer to the roads."
Noble Sprayberry is a freelance writer in Dallas.