After Hurricane Katrina devastated regions of the Gulf Coast, Louis and Jeanette Breaux and their family did what they've always done since setting foot on Mississippi soil 50 years ago: they rolled up their sleeves and got to work.
The Breauxs will be the first to tell you that they were among the fortunate to weather the colossal storm that left thousands dead, injured, or homeless.
Other farmers did not fare so well. Dairy farmers dumped milk because they had no way to cool it, or unmilked cows developed mastitis, a painful udder inflammation.
Chicken farmers lost entire flocks from the suffocating heat caused by power outages and lack of fuel for generators to cool their chicken houses. Barns had splintered into kindling. Haystacks were scattered. Livelihoods were lost.
But at the Breauxs' Lou-Jen Farms in Hancock County, damage to their cattle operation could be mended with building materials and a little elbow grease.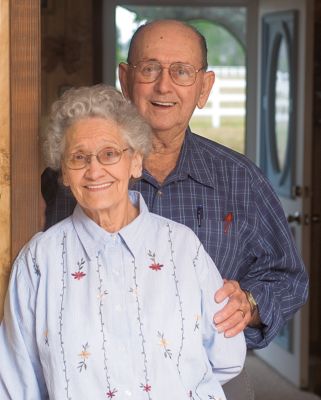 THE STORM STRIKES
Marlene Hoda, one of the Breauxs' eight children, hunkered down with her husband and three children to ride out the storm. Two of her brothers and some of their families gathered at their parents' home, just a stone's throw away from Marlene's. Louis and Jeanette, meanwhile, had evacuated with other family members and were safely in Arkansas with friends.
"We stayed to help with the fences and the cattle, to make sure everything we had was protected when (the storm) was over," Marlene says. "Sometimes after storms you have people coming by and stealing, so our main concern was to protect the farm."
Early into the storm, her children videotaped the howling wind, the driving rain, and the tall pines nearly doubled over. But as the powerful wind dismantled part of her husband's workshop and other buildings — "We watched a door go by, then we watched a roof go by" — fear began to replace excitement.
"At first, we were just watching the wind and rain and the kids thought it was cool, but when it got down to the worst part, I was scared to tears," Marlene says. "It was very devastating."
Indeed. When Hurricane Katrina made landfall for the second time that Sunday, Aug. 28, 2005, after hitting Louisiana, it struck Hancock County with enough force to land it in the record books as one of the strongest U.S. storms in 100 years, and the nation's costliest natural disaster to date.
This Category 3 hurricane, with sustained winds of 120 mph, spawned tornados — one of which hit the Breaux farm — and created a deadly 27-foot storm surge, which reached inland as far as 12 miles along bays and rivers, killing more than 50 people. About 80 percent of the county's buildings were severely damaged.
At Lou-Jen Farms, a tornado knocked down most of a large barn where they kept show cattle. High winds blew the roof off the office building, tore tin from an old dairy barn, blew doors off the workshop and through a newly constructed fence, damaged the roof of their home, and blew away, "piece by piece," a building where the Breauxs' grandchildren kept their show cows' feed, tack, and buckets.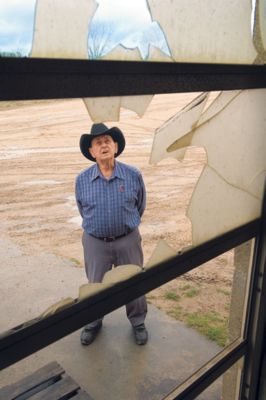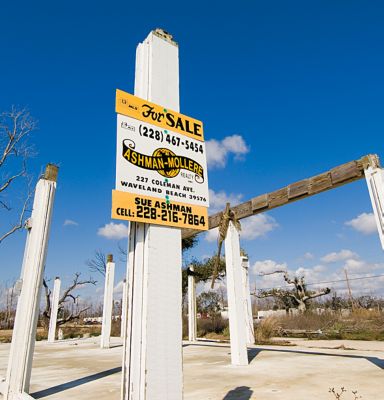 'LIKE A BOMB'
Katrina's aftermath was shocking as they ventured outside after the storm passed.
"It looked like a war zone," Marlene recalls. "Like a bomb had gone off."
Stepping around downed trees and other debris, they surveyed the damage and agreed it could have been much, much worse. Their farm was fortunate in some respects: it is inland far enough — about 20 miles — that the storm surge didn't reach it; their livestock survived; and, most importantly, no lives were lost.
With phone service out, checking on family members required driving in and out of ditches and dodging downed trees. Once everyone was accounted for, the cleanup began.
"All the show calves had gotten out, so we got them rounded up, and then we rode the fence lines to make sure all the fences were fixed," Marlene says.
Louis and Jeanette returned after slightly more than a week, delayed because of damaged and blocked roads. For most of that week, they didn't know whether their children and grandchildren were safe.
"That was the worst part of whole thing — not being able to communicate. They could not call us, nor we them. There was anxiety on both ends," Marlene says. "My brother was finally able to get a phone signal way into Louisiana late that Wednesday night or Thursday morning, so my parents didn't know that everything was okay until then."
Even before they arrived home, though, work had begun on repairs that would take several months.
Eventually, the show barn was rebuilt, the hay barn was repaired, the office building was torn down and rebuilt because mold had contaminated the walls, and fences were fixed or replaced.
"It took four or five months to get everything fixed because we couldn't get all the materials we wanted right away," Louis says. "For better shingles and other materials, you had to get on a list."
They eventually got the supplies they needed to finish repairs.
"We're back up to speed," Louis says. "We got everything fixed."
TREMENDOUS LOSSES
Katrina cost farmers across Mississippi from $2-$3 billion, estimates David Waide, president of the Mississippi Farm Bureau.
"The timber industry was the hardest hit, as far as dollar volume lost. We had over $1 billion lost in timber in the state and we salvaged less than 20 percent," Waide says.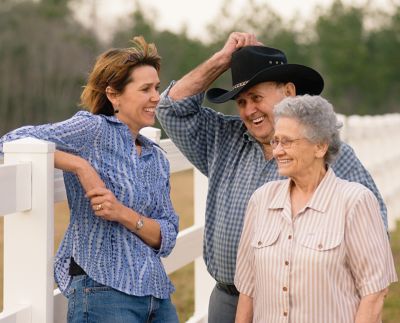 The state's greenhouse industry also suffered. "People don't think of Mississippi as a greenhouse state … but they do grow shrubs and bushes and ornamental plants for landscaping," he says.
Nursery producers suffered losses of around $20 million in infrastructure and inventory, according to the Mississippi Nursery & Landscape Association, Inc.
"When you start comparing dollar volume, it may not be as significant as some," Waide says, "but those farmers are depending on those greenhouses for their livelihood."
Nursery producers who remained in business finally are starting to recover, says Jan Winter, the nursery and landscape association's executive secretary. Rebuilding efforts along the Gulf Coast have created a boom for landscape plants, she says, and nursery producers are "very optimistic."
The beef industry's most tremendous losses were in fencing, feed barns, and other infrastructure, Waide says. "We were devastated by a drought that followed Katrina, and the beef and dairy industries were not able to get green forage planted, and there was a lot of hay loss because of Katrina."
An Alabama National Guard unit helped their neighboring state by hauling in hay. The farm bureau, meanwhile, arranged for diesel fuel to get generators running during the three weeks that electrical power was down.
When a farmer is dependent on electricity for heating or cooling a large number of animals in confined spaces, such as poultry, it's crucial to run generators if the power fails. However, the Federal Emergency Management Agency was confiscating all available fuel for rescue and recovery efforts in New Orleans, so Waide and the farm bureau had fuel trucked in for farmers.
"Replenishing fuel was the toughest challenge," Waide says. "FEMA has priority use in an emergency situation, and agriculture is at the mercy of where ever and whatever they can find."
Waide and the farm bureau also worked to raise money, eventually collecting about $500,000 for farmers in the worst-hit areas, "to ease the pain as best we could," Waide says.
"Agriculture at its very best is a very low return on your investment for the hours you put in for work, and I knew everyone would be cash-strapped after a disaster of this size," Waide says.
"We managed to raise a good bit and helped producers who might have given up otherwise," he says.
Some did give up; others rebuilt. "It's just a mix. The older poultry producers decided it wasn't really worth the time, especially if they were nearing the age of retirement," he says. "Those who didn't have the possibility of passing their farm on to children decided to retire and get out. That's been true in the dairy industry more than any other."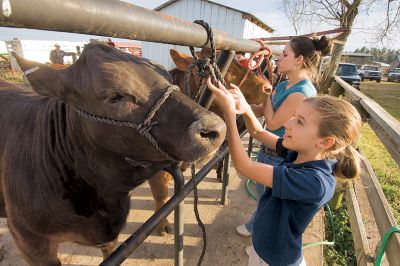 LOOKING AHEAD
At Lou-Jen Farms, business is back to normal. Cows are bought and sold. Hay grows in the fields. The Breauxs' grandchildren are raising and showing 4-H cattle. And conversation doesn't often touch on hurricanes.
On those rare occasions when it does, this family has a few stories to tell, such as how they rode out Hurricane Betsy in 1965, which knocked down a hay barn, and Camille in 1969, which demolished a dairy barn. A tornado destroyed their previous home, while they were in it, in 1987.
They also marvel at how one of their sons, Norman, drove from his home in Lafayette, La., for seven straight days, following Katrina, to bring his family desperately needed fresh ice and generator fuel.
The 200-mile trip normally takes about 21/2 hours, but Katrina damage and traffic doubled the travel time.
"He would get home about midnight, then get up at 5 a.m. and make the five-hour trip every day," Marlene says. "He was our savior."
So, after all they experienced, will they stay the next time a large hurricane threatens?
"I said at the time (right after Katrina) that I wouldn't, but because of the reasons we stayed before — to protect the farm — I'm not sure how to answer that," Marlene says. "I guess that's a bridge we'll have to cross when we come to it."
Out Here editor Carol Davis visited Mississippi for the first time in interviewing the Breauxs.