All-terrain vehicles are a fun way to travel — whether you're dodging boulders and downed trees to get to a favorite hunting spot or hitting the trails for a weekend of family togetherness.
As more people discover the practical uses, as well as the fun, of ATV ownership, they need to keep in mind the special skills and safety precautions required to operate these powerful motorized vehicles, says Mike Mount, spokesman for the ATV Safety Institute.
"The most important thing to do is to sign up for the hands-on RiderCourse that teaches you how to operate the ATV," Mount says.
The course, developed by the ATV Safety Institute, is offered free with most new ATV purchases or you can learn about it online by visiting atvsafety.org.
Lessons range from rules of operation to driving skills that can help riders escape hazardous situations.
"It's a rider-active vehicle, one that requires you to shift your body weight and move a lot on the large seat," Mount says. "Learning how to do this correctly is key for safe operation."
Use of basic protective gear is another must, Mount says.
"You'll need a helmet that meets Department of Transportation standards, as well as a long-sleeved shirt or jacket, long pants, gloves, and over-the-ankle boots," he adds.
Don't be tempted to shed any of those layers, even as summer temperatures rise. "If you mess up and fall off, you'll want some protection between you and the ground," Mount says.
Another important rule is to stay clear of public roadways, where ATV riders risk being struck by larger vehicles, a leading cause of accidents and fatalities. Stick to private property and designated trails.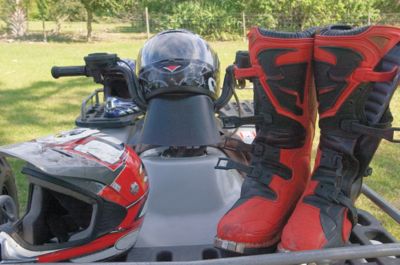 With more than 7.6 million ATVs now in use by 16 million riders, many states are creating public trails to meet the demand for fun, safe places to ride, Mount says.
Before climbing on your ATV, do a pre-ride inspection to make sure it's operating safely, Mount suggests. And always choose terrain that is familiar, especially if you're riding off-trail.
Before buying an ATV, look into all the different types available, keeping in mind your intended use of the vehicle. Will it be primarily recreational, or will you use it to work? Who will be riding the ATV, and what are their ages and sizes?
If youngsters will be using the vehicle, engine size is an important safety consideration. The ATV industry recommends that riders ages 6-12 operate vehicles with engines smaller than 70 cubic centimeters, and that riders 12-16 stick to ATVs below 90cc in size. The American Academy of Pediatrics, however, recommends no child under 16 ride ATVs of any size.
Other safety rules: never ride an ATV while under the influence of alcohol or medication that could impair judgment or response time, and never carry passengers on a single-rider vehicle.
The growing popularity of ATVs is easy to understand. They are handy workhorses around the farm, provide efficient off-road transportation, and offer an exciting recreation option — especially in families with teenagers.
"Spending time with their parents is the last thing most teenagers will want to do, but when the folks say 'let's go ATV riding this weekend,' it suddenly becomes a great idea," Mount says. "Just remember to keep safety in mind."
Renee Elder is a Raleigh, NC, writer.