Forrest Smith can't eat a fast-food hamburger on a bun or split a restaurant pizza with friends.
But celiac disease — a digestive intolerance to the protein found in many breads, pastas, and cookies — hasn't slowed the Wyoming high school student.
It inspired him to create a booming business.
Smith is founder of Gluten Free Oats LLC, one of the first companies in the world to capitalize on research finding that pure oats are safe for most people with celiac disease to consume. Its products now are sold nationwide and soon could be marketed internationally.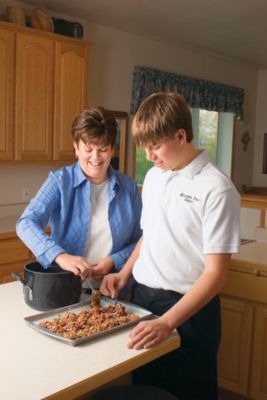 As a high school freshman in 2003, Smith, of Powell, WY, had to come up with a business idea for an agriculture class project, in affiliation with his local FFA chapter.
Smith's parents weren't farmers, so they didn't want him to raise livestock.
He decided to create a business model to help market pure oats to members of the celiac community.
After three months of searching, Smith found some oats that weren't contaminated by contact with wheat, barley, or rye, all of which contain the protein gluten that causes so many problems for people with celiac disease.
But he couldn't find a business selling pure oats in the United States.
So he bought a tabletop grinder and went into business, selling his products locally to people with celiac disease.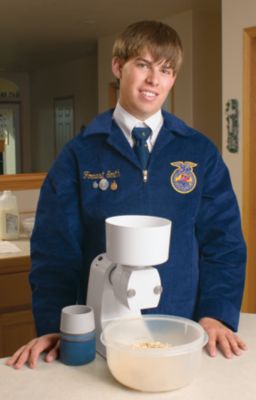 "I wanted to give back to the celiac community," says Smith, who was diagnosed with celiac disease at age 2½.
And he is.
"I love oatmeal and it's great to finally get to eat it again," one satisfied customer writes on the company's website.
"Thank you so much for the oats. They are great and I haven't had a celiac reaction to them. I have told all of my celiac friends about these oats," writes another.
Smith, a competitive swimmer who has a tough time getting enough carbohydrates to fuel his body, loves being able to eat gluten-free oatmeal and especially "no-bake" oatmeal cookies.
"A lot of adults say they don't know how I do it and keep such a cheerful attitude. It's rewarding in one way, but tough in another," Smith says.
His mother, father, and grandmother also have the disease that affects an estimated 1 in 133 people and can cause problems ranging from nausea and diarrhea to anemia, osteoporosis, and potentially cancer.
By Smith's sophomore year, word of Gluten Free Oats had spread and the company was attracting customers throughout Wyoming. During Smith's junior year, he began using a mill in another state to grind the oats and cater to the growing demand.
TAKING PRECAUTIONS
WHAT IS CELIAC DISEASE?
Celiac disease is a genetic autoimmune disease triggered by the consumption of gluten, a protein found in wheat, barley, and rye, says Tricia Thompson, a Massachusetts nutrition consultant and specialist in celiac disease.
If people with the disease eat breads, cereals, pastas, and other foods that contain gluten, their small intestines can be damaged, preventing proper absorption of nutrients such as vitamins and minerals. That can cause a wide variety of symptoms such as diarrhea, constipation, gas, and bloating.
Over time, the malnourishment can lead to anemia, osteoporosis, and possibly lymphoma, says Thompson, who has researched celiac disease for 11 years.
Celiac disease has no cure, but it can be treated with a gluten-free diet for life.
That can be tricky because gluten not only is found in bread and other typical products made with wheat, rye, or barley, but also can be in cold cuts, soups, hard candies, and soy sauce, according to the Celiac Disease Foundation.
People with the disease can eat other grains, including rice, corn, quinoa, and amaranth.
Smith's company takes extraordinary measures to ensure that the oats are not contaminated by gluten.
It contracts with "seedsmen" who don't grow any wheat, barley, or rye on their land. The farmers' fields and combines are inspected by the Wyoming Seed Certification Service and the harvested oats are tested by the University of Nebraska's Food Allergy Research and Resource Program.
The oats are processed at a dedicated new facility. The company even includes inspection reports on its website at glutenfreeoats.com.
Last fall, Smith and his two partners — his parents — considered marketing their product internationally. "People have called from Australia and all around the world," Smith says. "It's pretty amazing."
His sales and marketing team also was a finalist in a contest sponsored by the National FFA Organization.
His company has been "kind of" profitable, particularly for a teenager, but recently most of the money has been going back into the business, he says.
He hopes to make enough to help pay for college. Then he would like the oats company to be a sideline as he pursues his dream to be a youth minister.
"It's really a God-driven thing. I have a heart for working with kids," Smith says.
For now, he's touching the lives of hundreds of people he doesn't even know.
Karin Miller is a freelance writer in Franklin, TN.