When Kenny and Ali Petersen first started raising cattle on their Nebraska ranch, they didn't expect it to be a full-time job. They just wanted to put some money aside for retirement.
But when they got their disappointing first check from selling steers, they thought about giving up cattle.
Then Kenny read an article about miniature cattle.
"I'd never heard of miniature cows before and I'd been around cows all my life," Ali Petersen says. "We went and looked at them and decided that was something we could try."
In 1994, they sold off 50 cows and two registered bulls, buying 10 miniature females and one bull for the same price. Their gamble paid off. Now, they have about 325 head, and have quit their jobs to raise miniature Herefords full time.
"When we got in it, there were probably about 30 people in the world that had cattle like these," Kenny says. "It's really taken off."
Today at KP Ranch, in Tekamah, Neb., the cattle measure around 40 inches tall, and Ali heads the Miniature Hereford Breeders Association, which hosts four major shows a year.
Miniatures are a growing market, especially for hobby farmers or anyone with a small acreage, they say. After all, you can get up to five miniatures on the same acreage that you can raise one full-sized cow.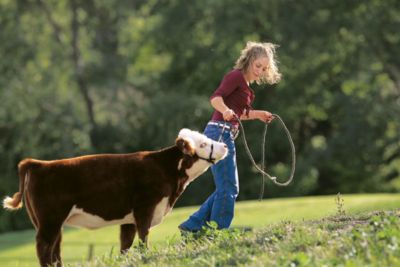 But there are other advantages. Miniature cattle — which average about 800 pounds, compared to about 1,500 for their full-sized counterparts — are easier to handle. That makes them great for those who may not be comfortable around big bulls. They're also gentler on fences and other equipment. Many people even buy them as pets.
"We have half a dozen bulls in pasture and we don't have a bull that you can't go out and lead home," Kenny says. "They're so docile and tame."
'BETTER OFF'
Herefords are only one of the 26 recognized breeds of miniature cattle, says Richard Grandwohl, director of the International Cattle Breeds Society and Registry in Covington, Wash., and the author of The Beginner's Guide to Starting Your Own Miniature Cattle Business.
Grandwohl started breeding miniature cattle about 35 years ago on his farm not far from Seattle, where suburban sprawl was driving up taxes.
"We were forced into a situation where we had to sell off land so we could afford what was left," he says. "As we found ourselves with smaller parcels of land, we found we'd probably be better off with smaller cattle."
They turned to history, looking at breeds brought from Europe to this country in the 1800s, many of which topped out at 42 inches high.
Herefords, for example, originally were small because they were created for English farms that were typically 5 acres or less. American farmers bred them to be larger, especially after World War II.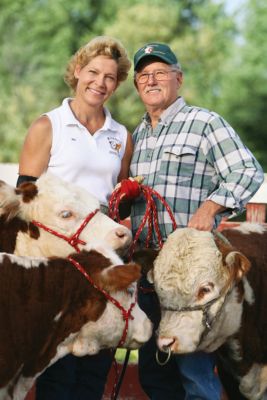 "Everybody thought the best thing to do was make cattle bigger so they bred them up and up and up," Grandwohl says. "They had all the space in the world to develop."
Now, with American farms and appetites shrinking, small is back. Grandwohl and others used historic stock and cross-breeding to create smaller and smaller cattle, right down to one bull named Giovanni who's only 24 inches tall.
Today, a miniature is considered 42 inches or less at three years; less than 36 inches is a micro-miniature; and 42 to 48 inches is a mid-sized miniature.
The different breeds fit different markets, either for pets, breeding, showing, milking, or beef, Grandwohl says.
But don't tiny cows mean tiny cuts? Grandwohl and Petersen say there's actually a demand for smaller cuts of meat, both at home and overseas, where markets such as Japan want small steaks that look just like big ones.
In addition, smaller cows are naturally more tender, Grandwohl says. That, plus their feed efficiency, makes them perfect for niche markets such as grass-fed or organic beef.
"It's the big wave in the beef business," he says. "You get a bigger bang for your buck."
For dairies, it also comes down to math. Miniature milkers can produce up to half as much milk as full-sized cows, while requiring only about a third of the feed, Grandwohl says.
All these factors mean miniature cattle, still nowhere as well known as miniature horses, could take off soon, Petersen says. After all, they're now raising miniatures full time, and their college-age daughter has even decided to return to the farm to help out.
"They're going to get really popular," he says. "It takes a while. It's not an overnight thing. It's not a get-rich quick thing like ostriches. It's going to be here forever."
Writer Hannah Wolfson lives in Birmingham, AL.