Sometimes, Vern Halter's life in Alaska reminds him, just a little, of growing up on the farm in Flandreau, SD. Work still means getting up early in the morning, spending most of the day with the animals, and all day thinking about them.
These days, though, his animals are sled dogs, and as a top Alaskan musher, Halter's work means running his dog teams through the wilderness below the Talkeetna Mountains.
With his wife, Susan Whiton, Halter runs Dream a Dream Dog Farm, a mid-sized kennel of some 75 to 120 dogs tucked amid the birch and spruce forests of Willow, Alaska, midway between Anchorage and Denali National Park.
The name of his kennel says it all. In 1977, Halter left his home state to seek a new career in a landscape he had fallen in love with. What was supposed to be a short visit with some law school buddies turned into a lifelong love for Alaska's back of beyond.
Halter worked as a lawyer for a number of firms, a magistrate judge, and a public defender, often in some of Alaska's remotest communities. Meanwhile, he began chasing his dream of racing sled dogs. In 1992, Halter gave up the law books altogether, devoting himself to raising and racing sled dogs and sharing the experience with others.
"When I came to Alaska, I didn't think I'd ever get this lucky," Halter says. "I did love my days as an attorney and magistrate and public defender. But this is more the way Alaska really is. This is really important to me because it's more about Alaska history and culture."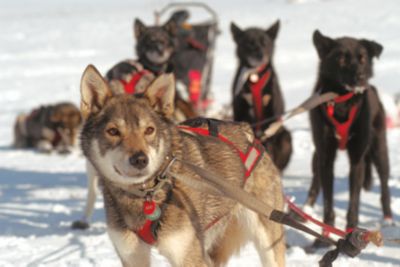 For Halter, sled dog racing revives a time long gone when nearly every Athabascan family in the rugged Alaskan outback relied on sled dogs for transportation.
As mushers, he and Whiton become part of the pack — the alpha male and female leading the group from the rear. During the summer, he walks hundreds of miles with the dogs, getting them in shape for winter by running them across the rugged landscape that spreads beyond their 10-acre farm.
In 1983, Halter first raced the famous Iditarod, the 1,049-mile race across the Alaskan bush from Anchorage to Nome. It's a grueling journey, sending mushers with their teams into the wintry Alaskan wild for no less than nine days, sometimes resting in rustic cabins along the way, sometimes bedding down in the snow, sometimes trying to catch a few winks standing on the sled.
Whiton races, too, and between them, they have competed in 26 races of the Iditarod and Yukon Quest, the 1,000-mile trek from Fairbanks to Whitehorse, in Canada's Yukon Territory. Halter has had three top-five Iditarod finishes and at least nine finishes in the top 10. He's claimed the No. 1 and No. 2 spots in the Yukon Quest.
"It's really about mental stamina, the wilderness experience, and just a heck of a lot of fun being with your dogs," he says. "When you see the wilderness of Alaska with your dog team, you're really feeling it. The Northern Lights and full moons. You feel the Iditarod. I think that's what I really love."
'THE REAL DEAL'
Halter shares that love with visitors. He welcomes tourists to his kennel for what he calls an Alaskan-style dude ranch, sleeping in an apartment on the farm and riding on dog sleds through the forests, crossing lakes, streams, and wetlands as they head into the Alaskan landscape.
In the summer, they come for a modified sled dog tour, with dog teams pulling specially-designed ATVs. Others come to wander miles of nature trails, with the dogs setting off at their own clip.
It gives tourists a taste of life behind a team of dogs working together, Halter says, and it gives the dogs the exercise they need to prepare for winter's competitions.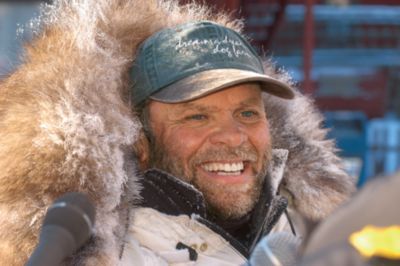 "I want people to see exactly what an Iditarod experience is like," Halter says. "This is the real deal."
For those who really want the real deal, Halter offers overnight tours on the Iditarod course. And those who really, really want the real deal? Halter offers training to Iditarod hopefuls.
At 57, Halter figures his days of winning the epic race are done, even if his racing days aren't completely over.
"I'm at the twilight of my career," says a man who just a few years ago claimed one of the 10 best rides in Iditarod history. Halter's focusing his career now on sharing his experience with others who dream of slicing through the Alaskan bush behind a team of chasing dogs.
That's where the kennel's name — Dream a Dream — comes in. For Halter, it's about sharing with others the love he and Whiton have long nurtured for sled dog racing.
"It's been a part of our life," he says. "We're still following the dream ourselves, and we want to get other people to follow the dream."
David Frey writes in Carbondale, CO.