The smell of a hot iron meeting cotton. The harmony of humming sewing machines, laughter, and an occasional mooing cow. Farm Quilt Haus is a quilter's heaven with a country view.
"It's like you walked into absolutely the best place to quilt," says Donna Hoiosen of Minneapolis, as she adds a piece to her lap quilt.
She, her sisters, and other relatives book two weekends a year at the little cottage in rural Staples, Minn. Four foldable tables accommodate eight sewing machines; three electrical circuits ensure no flipped breakers; a wide ironing board allows ample room to press quilts; and a counter stacked with cutting mats and rulers delights every quilting guest who enters the cottage.
Owner Lorna Wiens knew what she was doing when she borrowed part of her husband Mel's 7 acres of pasture and asked her architect son to design a floor plan. With her stressful job, training child protection workers statewide, she wanted to create a refuge at home so she wouldn't have to travel on her days off.
"No phone. No TV," Lorna says. "It's designed to bring in a country feeling, a place of retreat."
The Wienses book their rural retreat — a 500-square-foot cottage — for potluck meetings; bridal and baby showers; and, of course, quilting marathons for people such as Donna and her sisters, who bring stacks of fabric to rotary cut, sew, and press into wall hangings, quilts, and table runners.
Sewing — while talking and joking — is like therapy, they say.
"What happens at the Quilt Haus, stays at the Quilt Haus," laughs Donna's sister, Jane Voge, as she traces out pieces for a cowboy-themed appliqué hanging. But the wildest thing they do is shop — to buy more fabric.
Other families gather at the cottage, too. For one, a visit to Farm Quilt Haus becomes a rite of passage. At age 14, girls sew their first pair of pajamas and spend the weekend with former home economics teacher Grandma and other female relatives.
Besides an open, creative atmosphere, warmed by pine trim and P. Buckley Moss folk art prints, one more thing brings visitors back — food. Lorna fixes awesome meals from the farm's fresh meat and homegrown vegetables.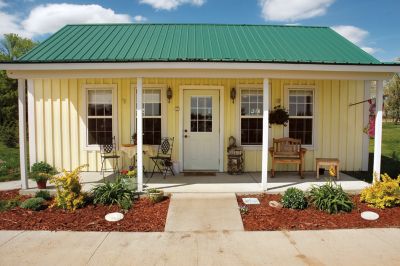 The cottage has other amenities too — a reproduction claw foot tub in the bathroom, tables, chairs, and a fire pit outside to enjoy a fire on cool evenings. It also has domestic and wildlife concerts from Mel's shorthorn cows, ducks, and chickens and the wild songbirds and geese passing through.
The Wienses adapt to guests' needs, from quilters and scrapbookers to long-term visitors such as mission builders who worked on their church. Wedding guests from Japan spent the night, as did acting legend Mickey Rooney and his wife Jan, when Mickey performed at a nearby opera house.
With all their guests, Lorna still finds days to enjoy the cottage herself. The former quilt shop owner relaxes by quilting, but she also enjoys teaching and sharing her passion with others.
For one Saturday each month, area quilters join her at Farm Quilt Haus to work on what crafters call UFOs — unfinished objects.
The goal? To use up their "stashes of fabric before they die," Lorna laughs.
Dee Goerge is a Minnesota writer.