On a warm Oklahoma day, as daytime temperatures start to inch toward triple digits, deep green waters fill a pool surrounded by shade trees.
A long-long necked critter, body mostly submerged, scans the pond's edges. The gaze finds a scatter of its wooly brethren, complete with pert, upward-pointed ears and watchful, intelligent eyes.
Here, just north of the Red River and about a 90-minute drive from the Dallas suburbs, it's a toss-up as to what's more out of the ordinary: a drought-defiant pond or a herd of llamas.
On Lone Star Ranch, though, Sandra Reynolds makes the unusual seem natural. That was the idea when she and her attorney husband, Homer, bought the nearly 200 acres three years ago.
For her, the ranch represents little discoveries — a spring feeds the pond and a water expert claims it's pure enough to drink — and a passion for animals that first caught her attention as a child.
"I first saw a llama when I was 8 years old," she says. "We were riding around outside San Antonio in my parents' car."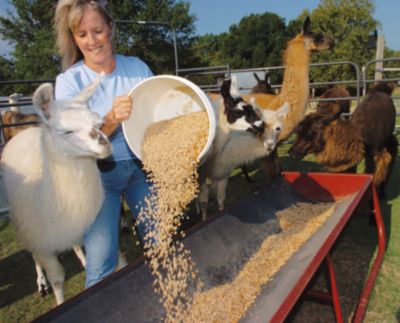 In the decades since that childhood glimpse, Reynolds has accumulated 175 llamas, along with a few longhorn cattle, donkeys, and three dogs.
Tending so many llamas is a big chore. Fences divide the farm into acres-deep sections. Mothers and the young, for example, have their own space while males wander another.
Simply feeding all of the animals requires several hours, not to mention the repeated opening and closing of gate after gate.
And Reynolds watches the animals carefully. One recently turned up with an injured leg, possibly from a coyote or the wolf occasionally seen nearby. And she guards against heat stress.
Everywhere she travels in the golf cart-size utility vehicle, llama eyes watch. "I've never been around an animal that's as interested in me as I am in them," Reynolds says.
MONEY-MAKING POTENTIAL
Llamas, native to South American countries such as Argentina, resemble short, friendlier versions of the desert camel.
With thick, woolly coats, the animals weather the cold well, but anyone raising llamas in hotter climates such as Oklahoma must take care. Reynolds shears her animals in April, May, and June. Not only does that keep them cool, but she sells the wool for $25-$30 for a small bag.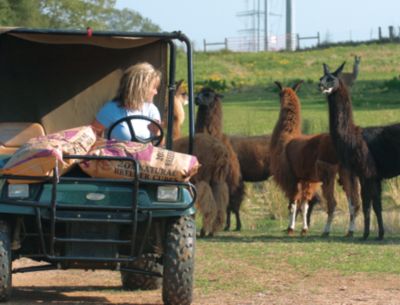 Artisans buy the wool to create soft garments such as scarves, sweaters, and jackets.
Reynolds also collects llama droppings and sells the resulting manure locally: Llama Gold, Odorless Organic Fertilizer. A 5-gallon bucket costs $15.
But the real money in the llama world often appears at judged shows offering awards for various classes such as Suri, which has dreadlock-like hair, or Silky, known for soft, fine wool.
Winning llamas can sell for upwards of $30,000, Reynolds says.
It's possible, though, to own a llama for much less. Reynolds usually sells her animals in pairs, choosing llamas already closely bonded. While prices vary by ranch, it's often possible to buy a pair for about $1,200.
Purchasers buy llamas to breed and sell, for their wool, or to use as pack animals.
Before committing to tending a llama, it's important to understand the responsibilities.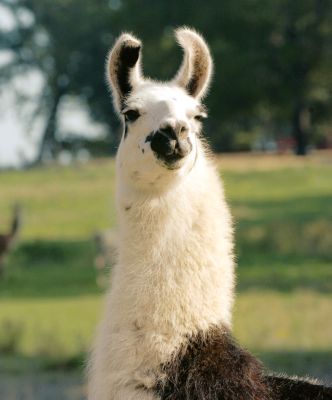 And there's plenty to know. For example, male llamas grow sharp, curved teeth, which are typically removed.
When it comes to room to roam, llamas enjoy space. For a pair of llamas, start with at least 2 acres but 5 or more is best, Reynolds says. The animals can graze through available foliage quickly if they're kept in small lots, often requiring supplemental feed.
Those who acquire llamas soon realize that they have an often-fascinating animal. Reynolds finds nuggets of personality in each animal, which all have names.
Ivana, for example, loves to nibble and usually leads a small entourage of other animals to any nearby food. The Unsinkable Molly Brown enjoys slipping off alone, finding a shady pecan tree and nibbling fallen nuts.
Other llamas take on distinct duties. Reginald guards the rest of the herd. When a young female wandered into the wrong pasture, he followed her until she eventually found her way home.
For Reynolds, this is home. A farm where water still flows in the driest of time. Animals that perpetually fascinate. And a childhood dream fulfilled.
Noble Sprayberry is a freelance writer in Dallas.
FOR MORE INFORMATION
Want to know more about raising llamas? Reynolds recommends visiting llamaregistry.com, which provides links to llama growers across the country. "I've never seen anyone in the llama industry who won't be helpful," she says.