Gardeners often welcome butterflies to their garden by planting nectar plants that attract the winged jewels.
But you can do more than simply attract butterflies. With a little creative planting and a relaxed attitude toward plant damage, you can grow your own by creating a habitat where butterflies live out their entire life cycle.
The key is to provide both host plants, which are a food source for caterpillars before they turn into butterflies and nectar plants for after they emerge, says Edith Smith, owner of Shady Oak Butterfly Farm in Brooker, FL.
Before putting spade to soil, research which butterflies are natural to your area. Some species, such as the monarch and tiger swallowtail, are found throughout the United States, but most are native to particular regions, Smith says.
Consult books, websites, and extension agents for more information about butterflies native to your area.
Then, find an ideal location protected from the wind. While butterflies can fly in strong wind, it is often difficult for them to lay their eggs in such conditions.
Search your yard for natural host plants already living there, Smith suggests. Many natural or native host plants are found in every state; milkweed and wild black cherry, for example.
Other butterfly host plants include parsley, dill, fennel, Queen Anne's lace, hollyhock, passion vine, and false or stinging nettle.
"Plant plants all through your yard and garden that many butterflies will lay their eggs on," Smith says. "To me, the backbone of any butterfly garden is the host plants."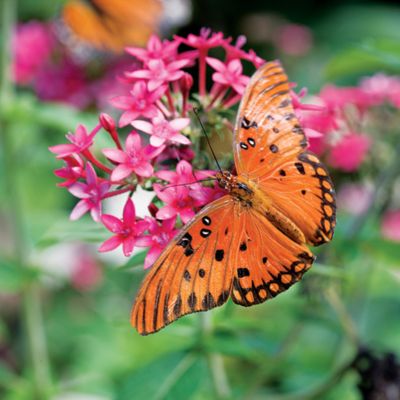 Gardeners frequently assume that butterfly gardens should be created only in sunny locations.
A sunny location is usually preferable, but some butterfly varieties lay their eggs in shade.
The female butterfly will lay her eggs on or near the host plant, which will then serve as a food source for caterpillars. Most caterpillars will feed for about two weeks, sometimes stripping plants bare of leaves, before retreating into its cocoon.
It is rare, Smith says, for caterpillars to completely kill a plant. When a plant is stripped clean, simply cut the plant back to the ground and wait for new growth to appear.
Once metamorphosis is complete, and the butterflies emerge from their cocoon, they will search for nectar plants to start the cycle anew. Nectar plants include butterfly weed, salvia, cosmos, phlox, verbena, and hibiscus, to name just a handful. Milkweed serves double duty as both host and nectar plant.
You've provided them a food source, but don't forget water. Turn on a sprinkler in times of drought to keep butterflies hydrated, Smith suggests. Gardeners also should set out flat sunning stones so dew-covered butterflies can dry off in the morning.
Amber Stephens is a writer from Amanda, Ohio.