Beth Cross grew up on a horse farm in Pennsylvania, knowing firsthand how uncomfortable and impractical traditional riding boots were.
So when she was consulting for a major athletic footwear company in the early 1990s, she and business partner Pam Parker pitched an idea for a boot made like an athletic shoe.
"No," responded the footwear giant, but the women remained undeterred and driven.
They drafted a business plan, found investors, and started a company in Cross' garage in northern California, shipping the first products the very day her first child was born in January 1993.
Ariat International now bills itself as the fastest-growing equestrian footwear company in the world, with annual growth in excess of 20 percent — a phenomenal number for that industry.
"We had always hoped we would be able to build a business like this, catering to farmers and ranchers and riders all around the world," Cross says. "You never know what it's going to look like or be like, but we always had really big dreams for the company."
Ariat, headquartered in Union City, CA, employs nearly 200.
No longer focused solely on horse-riding boots, the company also sells technical clothing for equestrians and accessories — even motorcycle boots that clients begged for — through some 5,000 retail outlets.
Nobody was begging for the boots when they first hit the market.
"People looked at the product as if it were a little odd," Cross says, explaining that it had rubber outsoles instead of leather. "Once we explained the features and the benefits of that, people were really open to it."
They were so open that some riders who tested the boots wouldn't return them.
"Or they'd bring them to us so we could get a sense of what was working and not working, and they'd say, 'Can I have my boots back, because they're the only ones I'm wearing?' That gave us a lot of confidence we were headed in the right direction," Cross says.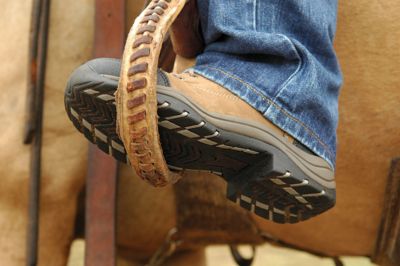 Three key elements to the boots are durability, stability, and cushioning, she says.
"The first thing we did was get rid of the leather outsole, because leather really has no business being around the barn. It doesn't stand up to the barnyard acids and the sand and dirt and mud," Cross says. "So we developed a carbon rubber outsole that's just bomb-proof."
Then they put a forked shank system inside to provide stability and cushioning in the forefoot and heel for people who are on their feet all day.
"Riding is not a sport that just occurs in the saddle. When you own horses, especially the way I grew up, it's a lot of work," she says, recalling how her mother wouldn't sit down until day's end because she was running the farm.
The company's unique name has a dual meaning. It came in part from "aria," an operatic term for solo performance.
"We see the horse and rider being one," Cross explains.
It's also part of the name "Secretariat," a Triple Crown racehorse that many consider to be the greatest of all time.
"(He was) such an awesome athlete with so much heart," Cross says. "We thought it was a great metaphor for what we wanted the company to be."
Karin Miller writes from her home in Franklin, TN.