Jeanne Penn Lane knows a little something about family tradition. Every time she unlocks the front door and steps behind the counter of her country store, she continues a family custom that has endured for some 150 years.
Penn's Store, just outside Gravel Switch, KY — a secluded area about halfway between Lexington and Bowling Green — has been in the Penn family since 1850, when Gabriel "Jack" Penn bought it from the Spraggins family, who had operated it for about five years.
Since then, it has been handed down from generation to generation, changing hands in the large family usually upon the death of the proprietor at the time.
Now, Jeanne, who inherited the store from her mother, Alma "Tincy" Penn Lane, who died in 2006, runs it three days a week, with some help from her daughter, Dawn, of nearby Elizabethton.
Proprietors may have changed through the years, but little in the store has. A walk through this historical building is like stepping back in time. Everything is original, from the tongue-in-groove ceiling to the glass display cases to the worn, sloping floor. It's not restored, Jeanne says; it's authentic.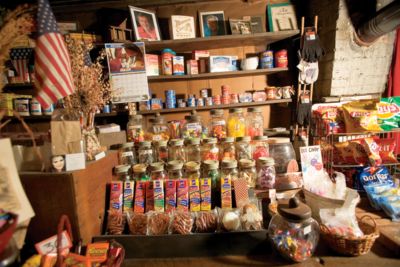 The covered front porch where local men once gathered on Sunday mornings while their wives were in church, still beckons, with its chairs and potted flowers. Jeanne still makes change, not from a cash register, but from an old cigar box. She tried to put in a cash register once, but visitors preferred the old way.
Most changes around Penn's Store can be found outside. The little store once stood amidst a cluster of buildings — the Penn family home, a doctor's office, and a whiskey and spirits shop — that comprised this little community set between high rock bluffs and the North Rolling Fork River. It even had a chicken coop that once housed chickens that customers in this farming community would bring to barter for merchandise. "I remember as a kid people bringing eggs," Dawn says.
Customers who didn't have any livestock to trade historically carried a tab, settling up the bill when their crops were sold. That tradition — unheard of in today's business world — lasted as late as 1993 until the death of previous store owner Haskell "Hack" Penn, Jeanne's uncle.
The store's clientele also changed over the years. Farm kids grew up and went away to college and new lives. Older folks passed on.
Still, Penn's Store has its regulars, such as one couple who moved to the area 30 years ago. "They're newcomers," Jeanne says with a wink.
Some stop by on their tractors for a cold soft drink or come by to sit and visit with Jeanne. Many are folks from out of town who simply want to step back into yesteryear and surround themselves in a much simpler time.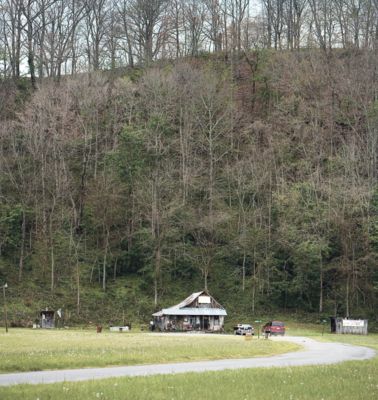 CHANGING WITH THE TIMES
As the population around Gravel Switch changed, well, so did Penn's Store and its merchandise.
You can still get a few groceries, drug store items, and household essentials, largely for the locals who still drop by.
"My 93-year-old neighbor always gets his paper towels and dishwashing liquid here," Jeanne notes.
But now, out-of-state visitors can also shop for booklets about Penn's Store and other Kentucky places of interest, jewelry, collectibles, herbs, Christmas ornaments, and music CDs by Kentucky musicians.
"People used to buy everything they needed here," Dawn says. "Now, customers are primarily tourists wanting to see an old store. It's more of a sentimental reason for keeping it going." Indeed, and a guest book on the counter chronicles those visitors who come from across the country — Michigan, Florida, Ohio, the Carolinas, Indiana, and more.
That's why Jeanne keeps it open — even if it's only part time now.
For all the changes, some things remain the same, though. Penn's Store remains a gathering place, thanks to Jeanne. She's an artist, a songwriter who has been recorded by country singer Con Hunley, and she feeds her creativity by hosting musicians at impromptu Sunday afternoon jam sessions. She's also organized the yearly Great Outhouse Blowout, with racing outhouses, bluegrass music, and classic car show, and an annual Kentucky Writers Day, where published songwriters and authors perform and read their own creations.
As for Jeanne, well, she's a storyteller, and she has plenty of them to tell, too. Such as the great-grandfather who claimed to know a cancer cure, but took the secret to his grave; how she got legendary late guitarist Chet Atkins to come help dedicate her store's brand new outhouse; and how Playboy — yes, that Playboy — came to do a photo shoot on her store's front porch.
But if you want details, you'll have to stop by, grab a soft drink, take a seat on the front porch, and settle in for a visit.
Out Here editor Carol Davis loves old, historical buildings like Penn's Store.