Richard Schwab squeezes the horn on his souped-up minibike and a high-pitched "ooga-ooga" reverberates. Two buddies, who hang out in his workshop, deliberate over which part to tinker with next.
Teenagers, they're not. But these retirees, of Devil's Lake, ND, are having as much fun as teenagers, buying and tricking out their custom minibikes.
Schwab, the instigator of it all, bought his Baja Heat minibike the day after Thanksgiving 2006 at the Tractor Supply Store in Devil's Lake and immediately began customizing it.
After 15 years of reconditioning cars and more than 40 selling automobiles, he knew exactly what to do.
Off came factory parts and on went custom fenders, mud flaps, running boards, and lots of chrome. A skilled harness maker, as well, Schwab added studs to the mud flaps and leather components.
"When I was a kid, I wanted something like this so bad but could never afford one," Schwab says. "Now I'm 67 years old, and I'm retired. When I bought it and started working on it my wife said, 'What in the world is wrong with you, buying that?' I said if I'd had it when I was a kid I could have never spent the kind of money I did on decking it out. Now I have the know-how, the time, and a heated shop."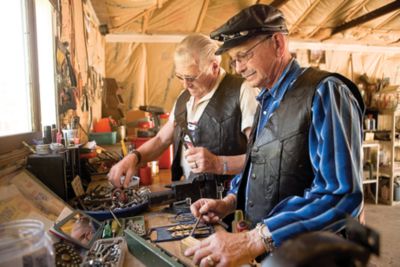 Schwab's tricked-out minibike caught the attention of his longtime friends and neighbors, Gilbert Smith and Paul Nels, who had bought minibikes of their own before Schwab, but hadn't customized them.
"I drove it down to Paul's, and he has one just like it, only black," Schwab recalls. "And the first thing he said was, 'Who sells these motorcycles?' It looks so different. I said, 'It's the same thing you got.'"
Nels' basic black bike now sports red and yellow flames, running lights, saddlebags, and mirrors.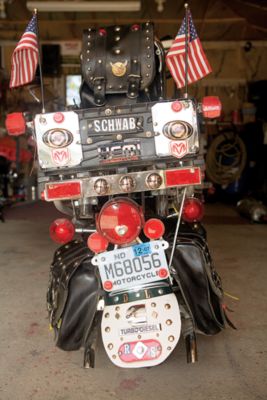 Smith's ride soon underwent a major makeover, too. He added a windshield, twin antennas, brake lights, and accessories from a 1971 motorcycle.
"We're always over here monkeying around on them, changing stuff around. I think Ritchie's wife's getting tired of us," Smith says, with a laugh. "In the wintertime there isn't much else to do."
Together, the three friends plan to ride their tricked-out minibikes in local parades. Schwab has made sure they're all street legal, and he's building a two-wheeled trailer to pull behind his bike in parades.
More than one head has turned at the sight of the three bikers zipping down the road. For Schwab, Nels, and Smith, life after retirement is anything but dull.
Just look at their bikes.
Georgia writer Heather Loveridge is already trying to convince her 3-year-old son that he's not old enough yet for a minibike.