The end of the Western wildfire season meant a bonus for David Nani, a member of the firefighter corps known as smoke jumpers, who parachute into the backcountry to fight blazes.
He and his wife, Sharon, nicknamed the cash "foolish money" and took turns spending it.
He might buy a canoe or backpacking gear — hobbies she also enjoyed. But in 1970, Sharon's year to spend the bonus, she made a purchase destined to create a home-based business still thriving today in Redding, CA.
Opening a catalog, she teased her husband that he should buy her a knitting machine, a choice that would prove anything but foolish.
She sold her wares everywhere from ski resorts in the 1970s to her current Internet storefront. After honing her skills, she spent years teaching knitting. And, possibly most importantly, she helped her students understand how to turn knitting into cottage businesses.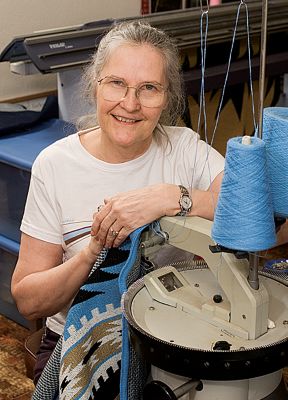 GOING INTO BUSINESS
Nani didn't have such long-term goals at first. "Since I was home with the two little children at the time, I didn't have big desires for a lot of different things," says Nani, now 60.
Still, she was intrigued with the idea of knitting, so she taught herself. Then, she turned to the knitting machine, which added mechanized efficiency to the hand knitting techniques and patterns she already used. One advantage of the machine is its ability to produce quickly and consistently.
Her first project, a set of slippers, caught the attention of friends. "A lot of people who saw them wanted me to make them some, and then it was a chain reaction," she says. "I was making them for a lot of people."
Still, she didn't appreciate the business potential until one of her husband's friends, a ski instructor, decided he liked her sweaters and caps. "He asked me to make some for the ski shop he worked in," she says. "Then, he told me I needed a logo on my sweaters and I said, 'What's a logo?'"
She learned, however, and expanded her business. When she made cheerleading sweaters for the high school squad of her daughter, Debra, the items caught on with other schools. "Pretty soon, I was making sweaters for most of the schools in Northern California," she says.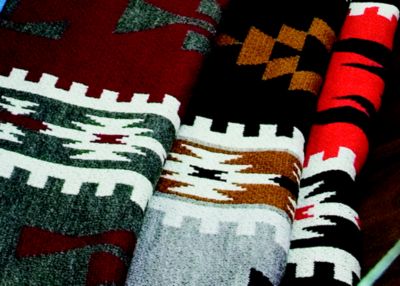 The business grew large enough that she needed to contract with other knitters to meet demand, and much of the help came from people she had taught to knit and introduced to the world of small business.
Now, she focuses on Internet sales and her own website, theknittree.com. To stand out in a bustling marketplace flooded with foreign imports, she carved a niche by specializing in garments — everything from sweaters to baby outfits — in camouflage patterns, as well as items in Native American designs.
"The market nowadays is not real big," she says, "but if you have a variety of items it's enough to make a good supplemental income."
CREATE MARKETABLE GOODS
Anyone interested in turning knitting into a business should first decide what they want to produce and then choose a knitting machine accordingly. For example, a machine ideal for lace sweaters might not work for Jacquard knits that might include a pattern.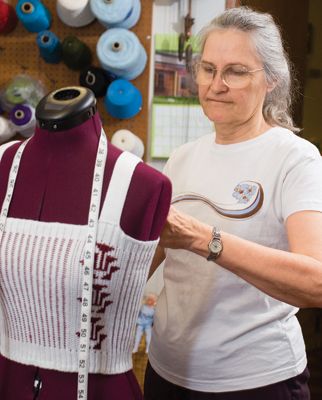 Nani begins her students with simple scarves, but they quickly progress to sweaters, and she always focuses on creating marketable goods.
Knitting the product, though, is only the first step. Good businesses practices also matter. Without perfect records, no one should claim business deductions from the Internal Revenue Service, she says.
Also, running a business demands accurate pricing — a formula weighing both the cost of material and time invested. Relying on her past job experience tracking efficiency of production lines at a paper mill, she created a spreadsheet that helps her students price accurately.
For Marcy Crockett, 63, tapping Nani's wisdom was worth the nearly 140-mile drive from her home in Burney, CA, to the garage Nani converted for her business. Crockett teaches others the joy and potential of knitting.
"You're doing something that you already enjoy, and you're teaching it to someone else," she says. "Whether I make commercial business out of it or not, I'm having a lot of fun."
And for Nani, knitting remains a daily task. But as with many cottage businesses, she remains her own boss. "What you put into it is what you get out of it," she says. "That's what I love about it. If I want to take time off to watch my grandson's basketball games, that's what I do."
Noble Sprayberry is a writer in Phoenix.