You might say it was rugged good looks that first attracted Delma Stamm to Icelandic sheep.
"I was trying to settle on a breed when I became intrigued by the Icelandics," Stamm says. "They are beautiful animals, and their striking looks really did sway me."
But Stamm also found plenty of practical reasons to choose Icelandic sheep for her small acreage in Washington, KS, among them the fact that Icelandics provide value in three ways: through meat, milk, and fiber.
Stamm and her husband, Anthony, started raising the sheep in 1999 after moving onto 15 acres. But her interest in livestock goes back more than three decades.
"I grew up on a farm, and I actually had sheep as a 4-H project when I was little," Stamm says. "I enjoyed them then, and knew that some day when I had a place where I could have sheep, I would want them."
She learned about Icelandics while researching sheep breeds.
"Icelandics are medium sized — something I could handle," Stamm says. Rams weigh from 180 to 220 pounds and ewes from 130 to 160 pounds. "And they have a fine wool, which is more in demand. It sells for $12 to $14 a pound, while ordinary wool often sells for 40 cents a pound."
Icelandics produce fiber in a variety of colors, including white, brown, gray, and black, and is preferred by artisans for that reason and for its ease of spinning. Each sheep gives 2 to 4 pounds of wool per clip.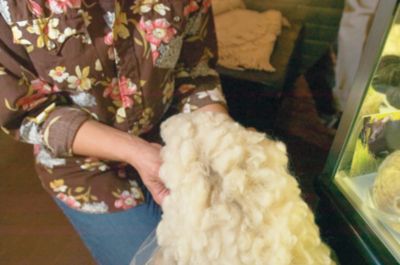 Stamm breeds for variety of color and for horns, preferring sheep that produce curled horns similar to the Rocky Mountain bighorn sheep. Not all Icelandics have horns.
"The horns are nice to look at and they can make a nice skull mount," Stamm says. "And they are easier to grab when you want to work the animal, like handlebars."
Icelandics are relatively docile. "Their personalities are just not that wild," Stamm says. "They are pretty easy to work with."
Additionally, the Icelandic's diet consists primarily of grass, which results in an especially mild-flavored meat.
IN DEMAND
Stamm started her flock with two ewes and a ram from a Montana breeder.
"I've added a ram every year and culled, keeping my rams to two or three in the flock," she says.
Stamm occasionally sells sheep for meat.
"If we have people who want the meat, we select a male and take it to a locker," she says. "They make very good chops and roasts and leg of lamb."
Her flock of 25 grazes 20 acres, including an additional 5-acre field the Stamms lease. A llama stands guard over the herd, keeping predators at bay.
Stamm usually spends less than an hour each day checking fences and watering the flock. She occasionally offers a bit of grain as a special treat, which keeps the sheep loyal and responsive.
Anthony also helps on occasion, such as at vaccination time. "I like to work outside, but he's the muscle," she says.
Stamm hires a shearer twice a year, in spring and fall.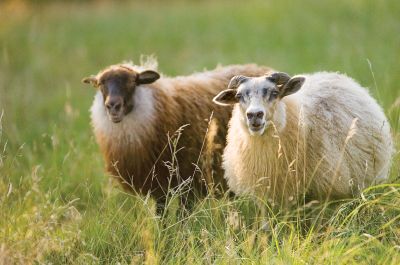 "Fall is our favorite, because they've been out in the grass all summer and are nice and clean; the shearer always remarks about that," Stamm says. "They don't like to lay in mud or dirt. If they get dirty, they shake it off like a dog."
Despite its higher price, the wool of Icelandic sheep remains in demand.
"It's great for weaving and felting and spinning into yarn," Stamm says.
Stamm also owns a business where she sells dried flower arrangements and products made from her sheep — sweaters, blankets, and mounted sheep skulls.
Stamm doesn't make the sweaters and blankets; rather, she sells wool to artisans who, in turn, sell the items back to her.
Indeed, one of her fiber customers loves working with Icelandic wool so much that she bought a couple of Stamm's sheep to start her own small herd.
"There may be a couple of other breeders in Kansas," she says, "but Icelandics are still few and far between."
Renee Elder is a freelance writer in Raleigh, NC.
DID YOU KNOW?
Icelandics were introduced in the United States in 1992, but the breed goes back 1,100 years in Iceland.
This breed is particularly hardy because of generations of evolution in Iceland's harsh climate. Twin births are typical and triplets are not uncommon.
About 7,000 Icelandic sheep are in the United States, according to the Icelandic Sheep Breeders of North America; those in Iceland number nearly 500,000.
Cost for Icelandic sheep range from $300 to $1,500 per animal, depending on age and breeding potential.