All a gardener really wants for Christmas is for springtime to hurry up and get here. We know you can't move the calendar for us, but you can help by thinking green while holiday shopping this season.
We gardeners would prefer receiving a down-to-earth gardening gift instead of a new tie or sweater. And we're not too picky, either. Any new gadget that saves time or makes gardening easier will be a welcome sight under the tree.
Here are a few ideas for gardening gear that's sure to warm your gardener's heart on Christmas morning:
High-quality garden implements — Every gardener wants tools that will hold up under the toughest gardening chores. Stainless steel tools with hardwood handles are guaranteed to last for many seasons, as are trowels made of a single blade and shank.
Electric hedge trimmers, shredders, and garden tillers are thoughtful additions to the list. Combination tools, such as a knife and trowel, simplify transplanting and weeding tasks.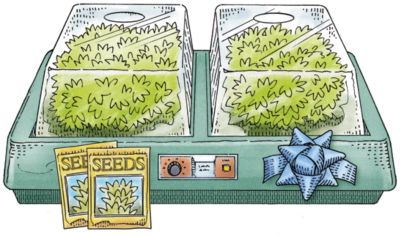 An assortment of gardening cheer — Fill a bushel basket, window box, upside-down planter, or lightweight lawn cart with a variety of gardening goodies.
Include an assortment of good-fitting gloves in different colors, coatings, and arm lengths. Garden aprons, kneelers, or kneepads are convenient necessities. Pamper tired gardening hands with herb-scented creams designed to soothe chapped or sunburned skin.
A gardening book, gift subscription to a horticultural magazine, specialty gardening DVD, or a pest and plant disease identification guide are creative additions.
Jumpstart planting — Help your gardener start the season sooner by making it easier to propagate new plants from seeds and cuttings. Warming mats, grow light kits, or a seed-starting system make winter weather seem less frightful.
Seeds can be started with a windowsill kit or in an electric propagator. A tabletop model or a cart with shelves makes year-round gardening possible. Add packets of seeds as a stocking stuffer so your gardener can get planting right away.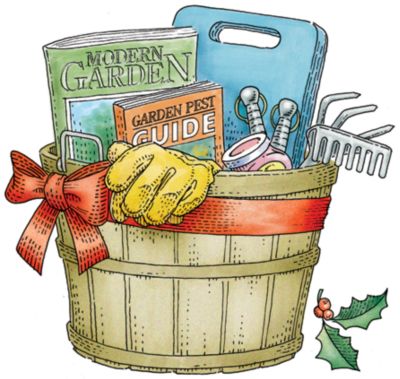 For good health — Reduce wear and tear on knees and backs with a new approach to seating and weeding. Gardening stools come in a variety of innovative designs to alleviate stress on backs, legs, and joints. Long-handled tools, such as tree pruners or grass shears, take less effort when gardening while standing up; telescoping tools easily adjust to the right length for gardening while seated.
Ergonomic cultivators and weeders reduce stress on wrists and joints. Self-coiling garden hoses and lightweight fiberglass planters on rolling stands also reduce back stress.
Create a relaxing retreat — Gardeners need a place to sit and watch their gardens grow. A piece of outdoor furniture, such as a comfortable lounger with weatherproof cushions or an old-fashioned hammock, makes a perfect place to unwind after a day of weeding. Another option is an updated version of the classic two-toned metal glider.
Fill the retreat with garden accents such as a gazing ball, ornamental rock, water feature, statue, or colorful garden lights. Easy-to-assemble arbors and trellises help create a secluded spot in an instant.
Perhaps you'd prefer to give your gardener something more personal. If that's the case, you can always give the gift of yourself. Just create a booklet of coupons promising to help with all the gardening chores.
That's sure to brighten any gardener's holiday.
Jodi Torpey, a master gardener, writes about horticulture from her Colorado home.