Sheryl Chesney owes her life, or at least a limb or two, to a dog considered by many to be the ultimate farm dog — yet dangerously close to extinction.
"When my brother and I were real small, about 6 and 8 years old, we were going fishing. We had to cross a cow pasture," says Chesney, of Glenn Springs, S.C. "We didn't realize we had to check if the bull was in the pasture, so we went walking across with our tackle and cane pole. Well, the bull charged us."
Lad, her dog, fought the bull, keeping it from harming the children. Lad suffered severe wounds, but survived.
Lad was a Farmcollie, also known as the old farm shepherd, which once was the most popular dog in the country. These are the dogs that fiercely protect children, pluck tiny ducklings from dangerous water, and instinctively know what their people want without a word ever being said.
But Farmcollies became a rarity as Americans moved from rural to urban areas, and as farms and ranches began disappearing. A need for these all-purpose farm dogs all but ceased.
"People no longer needed them for the purpose for which they had existed in the past," says J. Richard McDuffie, of Aiken, S.C., who has worked to revive the Farmcollie. "They no longer needed a general-purpose dog."
Instead, dog owners began preferring specialized companion, hunting, guardian, and herding dogs — not all these traits rolled into one, according to the American Working Farmcollie Association, a group of Farmcollie admirers working to preserve the dogs.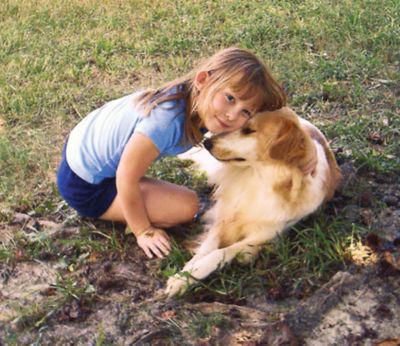 A Farmcollie isn't a specific breed of dog, such as a Labrador retriever or Great Dane. "It's the instinct that's intact," Chesney explains of the dog whose nature is to herd, hunt, and guard. "That makes an all-around farm dog."
Farmcollie traits show up primarily in English and Australian shepherds, although other bloodlines may intermingle, making it possible to have a Farmcollie mutt.
If that sounds a little confusing, well, it is, Chesney and other association members agree. They explain it this way:
Farmcollies are versatile descendants of the old Scotch collie and were indispensable to farmers during the 19th and early 20th centuries. It was this dog that most Americans then thought of as a "collie," although they were very different physically from today's long-nosed border collies.
The Farmcollie in this country most likely inherited the bloodlines of other types of herding and shepherd dogs that were brought by European immigrants, the association explains. But despite the intermingling, he retained his Scotch collie instincts, excelling in herding, guarding, predator control, and hunting.
"When I grew up in the '30s and '40s, they were everywhere," McDuffie says. "I began to realize in the '70s that they were no longer prevalent."
Indeed, the Farmcollie was on the verge of extinction, though a few still remained.
McDuffie, who writes for Full Cry magazine, published monthly for hunting-dog enthusiasts, began writing in the 1980s about extinct and nearly-extinct breeds, including Farmcollies. Readers sent him information about the dogs.
"I located three families and acquired dogs from those three sources and started breeding," McDuffie says. "One family had had that strain of dog for 50 years."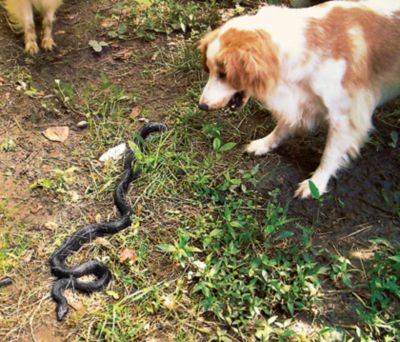 He developed Farmcollies with predominantly hunting instincts.
"I was interested primarily in dogs that would hunt and tree game," McDuffie says. "I was not interested in herding dogs."
Chesney's family, on the other hand, has maintained Farmcollies for more than 100 years.
"The line just keeps going on for generations," she says. Lilly, one of her current dogs, is a descendent of Lad, the Farmcollie who protected her and her brother from that angry bull.
"Daddy says if a dog is good, it will herd what needs herding, chase off predators, and mother young stock, and that includes children," she says. "If they have all that, they're used in breeding."
The Chesneys breed their dogs only when there's a demand, she says, noting that their last litter was born in April 2005.
"It's still hard to put all your pups in working farm homes, though you can come up with pet homes that will keep their instincts intact," she says.
She's cheered by stories of families returning to homesteading, seeking to raise children in a more wholesome, rural environment, around animals. "They need something to protect their livestock with, and some people are going back to Farmcollies," she says.
And they couldn't choose a better dog, Chesney says, citing stories where Farmcollies protected children from snakes, kept babies from tumbling down stairs, and gently carried ducklings back to safety.
"These dogs will protect you with their life," she says. "Whenever I hear stories like that, well, you just well up with pride because you know they're true."
Out Here editor Carol Davis, whose childhood dog, Tramp, rescued a baby duck and kittens, thinks he just might have been a Farmcollie.
'SHE SAVED ME'
Sheryl Chesney's Farmcollie Lilly was just doing her job when she stood between Chesney and an angry pig.
"Lilly saved me from a terrible pig bite," Chesney says.
One of their sows had just had piglets, and Chesney, accompanied by Lilly, was worming and inspecting the new babies.
The sow was on the other end of the pen when Chesney picked up one of the day-old piglets.
"It screamed bloody murder and the mama pig came running up and was going to take a bite out of me," Chesney recalls. "Lilly snapped that hog's nose — snap, snap, snap — and backed her into a corner so I could get out."
Lilly's protective nature kept Chesney from a painful ordeal.
"A pig bite can be a terrible thing, because they're rooting in dirt, which can cause all kinds of infection," she says. "They can cause deep puncture wounds."
"She saved me."