Few rooms of a home see as much use — and as many users — as the bathroom.
While other areas of the house typically are both stylish and functional, bathroom style often takes a back seat to utility. In small bathrooms, space is a premium and making one family-friendly can be a challenge.
Kathy Gray, a designer for Tony Herrera's Kitchen & Bath Concepts in Nashville, TN, has several ideas for optimizing space, such as using kitchen-oriented accessories, adding shelving, and taking advantage of bins, buckets, and baskets.
"The best way to update or outfit an existing vanity cabinet is to look around and be creative," Gray says. A spice rack generally assigned to the kitchen, for example, can be hung on the inside of a cabinet door to hold small toiletry items.
Similarly, silverware trays can fit in a vanity and hold cosmetics, hair accessories, nail polishes, and more.
Hard-to-reach space in a cavernous vanity cabinet can be accessed easily with roll-out drawers or baskets.
"You use them in the kitchen for pots and pans," Gray notes. "Mount a wire basket on drawer glides so that it pulls out to you. Make things come out to you rather than trying to reach far into the back of the cabinet."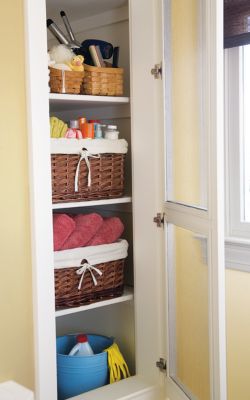 For more cabinet organization, particularly if two or three children share the bathroom, she suggests using baskets or plastic bins so each bathroom user has a dedicated space.
"Choose a different color for each child or put the child's name on it," Gray says.
One benefit to individual bins is easy cleanup. Children can dump hairbrushes, toothpaste, or deodorant into their respective bins rather than leaving them on the counter to inconvenience the next bathroom user.
"If a whole family is sharing one bathroom, think about giving everyone a tote basket that can be stored in a bedroom and brought to the bathroom as needed," Gray suggests.
To add still more storage ability, take a look around the room and identify areas where space is not being used effectively.
"Think about a corner that may not be fitted with a cabinet but might be a good place for a stack of hat boxes or baskets with lids," she says. "You can get 12-inch-deep shelves you'd normally use for books and hang two or three over the toilet. Add some stainless steel or galvanized metal bins and you can store a lot."
Containers can sit on the counter top and hold small, frequently-used items such as cotton swabs and cotton balls.
"If you keep them tidy, they make good storage space and you don't have to take up drawer or cabinet space for small stuff you use every day," Gray says.
One of the best ways to optimize bathroom space is to get rid of anything you don't need or use. Health and beauty products have a life span, she says, and any of yours that have exceeded theirs should land in the trash.
Andrea Estrada is a Santa Barbara, CA, writer.