The rustic exterior of Gayl Bousman's workshop belies the fragrant treasures that await inside — soaps, lotions, balms, powders, and oils to soothe the skin and refresh the soul.
Here, in this "soap house," Gayl and her handful of employees create soaps and skincare products from natural ingredients — milk from her own goats, honey from her own bees, sweetgrass, green tea, essential oils, and flowers grown on her own property.
But these sweet-smelling soaps and body products do much more than make your skin smell and feel good.
For Gayl Bousman, they saved her farm.
'BACK TO THE LAND'
Gayl and her family embraced the rural life 36 years ago when they moved from Kansas City, Mo., about 2½ hours south, to Osceola, a community of less than 1,000. There, they bought a 70-acre farm and promptly named it Evening Shade Farm, after the Arkansas town near where Gayl grew up.
"We wanted to move back to the land," she explains. "We wanted to raise our kids in the country."
But it took more than the desire to be there; it took lots of hard work farming land that, at some places, was nothing more than 6 inches of soil on top of rock.
They had electricity but no plumbing, relying instead on a hand well. They eventually would add on to the small farmhouse.
"We were so naïve about everything," she recalls, with a shake of her head.
They started an organic farm — the first in their area — and sold produce at the City Market in Kansas City. But despite hard work, frugal living, and bartering, the farm just wasn't providing enough to live on.
"We realized we'd have to get jobs, because you can't barter for propane or electricity," Gayl says.
After such jobs as salmon fishing and working on a highway construction crew, she learned, quite by accident, that she could, indeed, make a living off her land.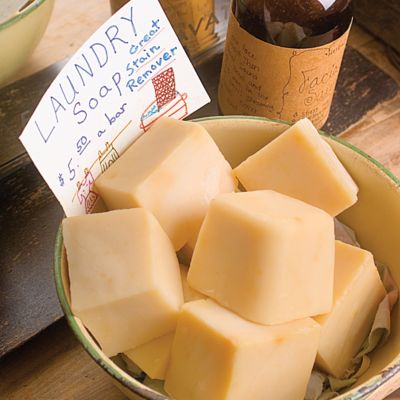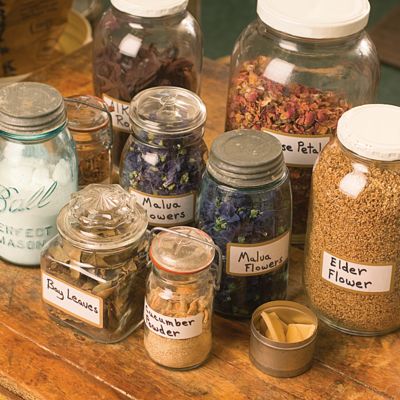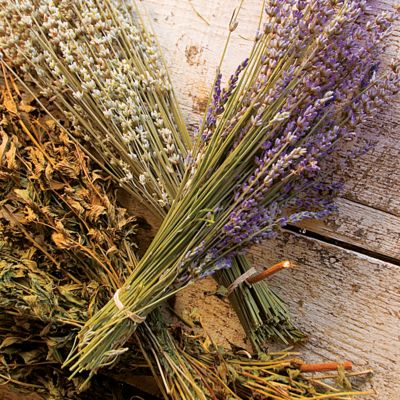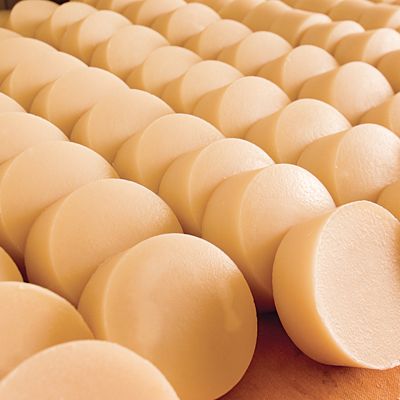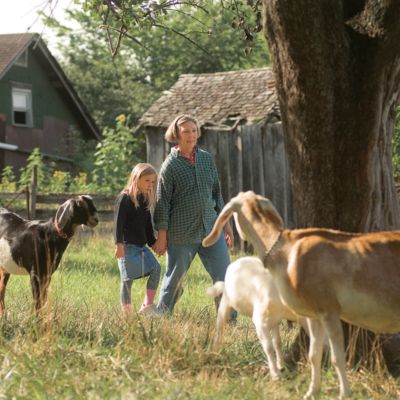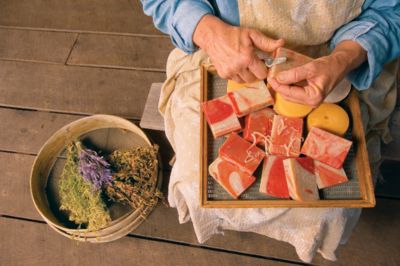 FAMILY TRADITION
Gayl's soap making began out of necessity because her skin couldn't tolerate commercial body products.
Soap making was somewhat familiar to her; she was raised on a remote farm where the task was part of a weeklong autumn family event.
Each fall, after the hogs had fattened up on acorns, they were butchered and their meat salted, cured, and smoked.
The hogs' fat was rendered, mixed with wood ash collected all year from the cookstove and lye, and stirred in a black cast iron kettle until it thickened. It was poured into about 30 muslin-lined molds measuring 14x14 inches by 3 inches deep, enough to provide enough soap for an entire year for the large, extended family.
Those molds were covered by quilts for 48 hours to keep the mixture warm, allowing saponification, or the chemical reaction between lye and tallow that creates cleaning qualities.
Finally, the soap would cure for 30 days before it was usable.
"We used it for everything-for our hair, body, dishwashing," Gayl says.
She drew on that knowledge from her childhood in trying to create a milder, natural soap that wouldn't irritate her skin. "I made some olive oil soap for myself, although I threw out several batches before I got it right," Gayl says.
Soap isn't made one bar at a time, so she frequently gave the extra soaps as gifts, and soon, the requests were coming in.
"I realized that I had something going here," she recalls.
She developed a milk and honey complexion soap made from goat's milk after remembering how her grandmother nourished her family's skin with cow's cream. She also created a lemon cream bar with a touch of citronella oil as a mosquito repellant.
She invested $12 in materials — a used bucket, 3-inch PVC pipe caps and 20 small plastic ash trays for molds, and a thermometer.
Nearly everything else she needed was on hand. "The farm basically was already set up. I used raw honey in the goat milk soap and had extensive herb gardens," she says. "I just started using things that I'd already developed."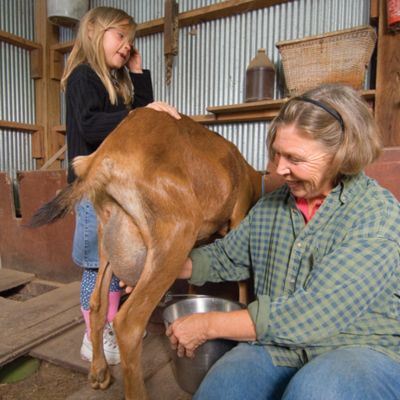 Gayl sold her soaps at crafts and living history shows, where she also handed out mail-order forms. Orders were by mail only; a business phone on a four-party line just wasn't possible.
"I learned so much," she says. "I was such a purist that I put no fragrance in my soap at first. It didn't take me long to see when a person picks up soap, it goes straight to the nose."
She didn't want to use synthetics in her soap, so she studied pure essential oils — concentrated liquid extracted from aromatic plants — and aromatherapy. So her soaps began to smell as good as they felt.
"It just took off like wildfire," she says.
And the bills got paid.
CREATING FORMULAS
These days, Gayl doesn't have to wait for the hogs to fatten on acorns; she makes soaps, lotions, and creams all through the year.
Gayl uses her grandmother's open kettle method, but instead of pork lard and the old, caustic lye, she uses oils, such as olive or sweet almond, as a base and sodium hydroxide, which is lye in granular form, natural dyes, and essential oils.
But the process remains the same; add the lye to the oil until it saponifies, pour the mixture into molds, and allow it to cure. "To have a quality bar of soap, it has to have 30 days to cure," she says.
Evening Shade produces about 300 bars per week during the summer, though that number accelerates to 600 bars by the first part of November to prepare for the holidays.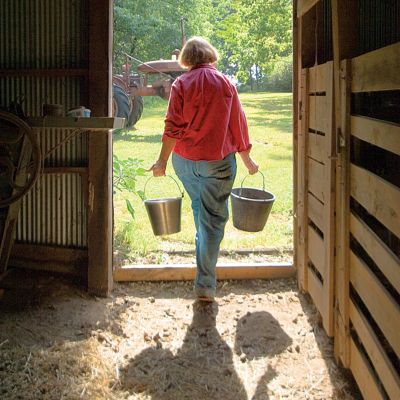 Gayl's soap house, built nine years ago specifically for that purpose, contains everything she and her employees need to create her body products: sinks, plenty of counter space, curing racks, jars of dried flowers and herbs, bottles of essential oils, and scales.
It's here that she experiments with ingredients and fragrances to arrive at just the right combination.
"For every single formula, I also develop a fragrance," Gayl says. "I especially like to work with fragrances. It's fascinating, blending all those formulas for different effects."
She prefers scenting with essential oils. "Their fragrances are kind of mellow; they're understated. You can smell them, but they're more natural," she says.
Her Country Garden Soap, for example has a "sweet-spicy aroma" similar to carnations and her Chamomile Soap's fragrance "reminds me of my grandmother's apple orchard," she writes in her small catalog. Sandalwood Espresso Soap has a "nutty, woody fragrance that has been used for centuries for its calming effects."
Her particular favorites? Her original Milk and Honey Soap and Peruvian Poppy. "When I use the poppy soap, the poppy seeds come to the top and are like an exfoliator," Gayl says.
Evening Shade's customers have their favorites and they frequently write to Gayl. "I get wonderful letters about skin problems they've had all their lives and how my soaps have helped," she says. "It makes your day, knowing that you're able to make a difference to someone."
It's important to Gayle to make a difference locally. She employs people around her because, "It's important to keep things as local as possible."
It's also crucial to her to be a good steward to the land and to employ sound environmental practices. "Our products are earth-friendly and human-friendly," she says, with a smile.
Her soap business has also been Gayl-friendly. It's allowed her to express her creativity and individuality, grow her gardens, raise her animals, and most importantly, to live on the land that she fell in love with nearly four decades ago.
"Believe me, I'm so thankful," she says, "to be able to do just what I love to do."
Carol Davis, editor of Out Here, favors Gayl's Milk and Honey Soap.