When Willie Nelson goes on the road again, he's burning a little less oil, polluting a little less, and pumping up American farmers in the process. And he's hoping drivers across the country will do the same.
The country music troubadour has begun fueling his tour bus with biodiesel, a blend of standard diesel fuel and ethanol brewed from common crops such as soybeans. Nelson's become such a fan of the fuel, he's launched his own brand and he's trying to get gas stations across the country to offer it as an alternative for truckers and diesel drivers.
For Nelson and other biodiesel champions, it's a way drivers can make a difference every time they pull up to the pump. By using homegrown crops to fill their fuel tanks, Nelson hopes drivers will support American agriculture, lower their emissions, and reduce dependence on foreign oil.
Nelson and several partners have formed Willie Nelson Biodiesel, marketing his own fuel, BioWillie, to truck stops across the country.
"This is a great way to buy American, and buy from an American icon," says Peter Bell, general manager of distribution for Earth Biofuels, the company that distributes BioWillie. Its board includes Nelson and actor Morgan Freeman.
Bell had recently started up a biodiesel distribution company when the country singer's famous Texas twang came over the phone. Nelson had heard about the alternative fuel and wanted to know how he could get his hands on it. Bell fueled him up and, eventually, fired him up on the idea of lending his name to a line of biodiesel.
It turned out to be a good fit for Nelson, who started championing family farmers in the 1980s with Farm Aid benefit concerts. His foray into the energy business was fueled by the same concerns, and by a drive to find a more environmentally sound way to fill up the tank.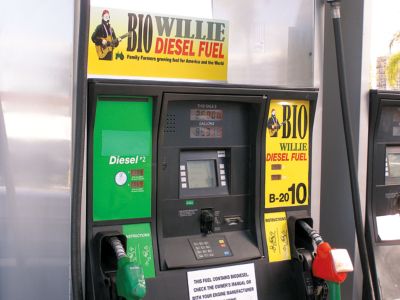 "It wasn't really difficult to talk him into it," Bell says. "That's where his passion is."
BioWillie blends 20 percent vegetable oil with standard diesel fuel. It's a mix that will run any diesel engine, and it means lower emissions than vehicles that run on straight diesel.
The company buys soybean oil from local farmers and processes it at its own ethanol facilities. Then it makes it available to motorists. BioWillie has partnered with gas station chains in South Carolina, Georgia, Mississippi, Tennessee, Texas, and California.
"We're trying to get nationwide," Bell says.
Nelson first learned about the alternative fuel after his wife started driving a biodiesel-fueled car in Hawaii, where they have a home. Nelson did some research and decided it might just be the fuel of the future. Lower emissions. Less reliance on foreign oil. Helping out American farmers. Not bad for a fuel that costs just a little more than regular diesel.
He started running his own vehicles on it, even his tour buses. Now, he's hoping to help fuel the country on it.
"He's been a supporter of farmers forever," Bell says. And, with a nod to Nelson's stint with fellow country balladeers Johnny Cash, Waylon Jennings, and Kris Kristofferson, Bell adds: "And he's a Highwayman."
David Frey writes in Carbondale, CO.