Karen Pfundtner clearly remembers the day more than three decades ago that she discovered weaving — a passion that has interlaced her life ever since.
She was 10 and her 4-H group was performing folk songs at a Wisconsin nursing home.
Afterward, she found three women weavers crafting on a hulking loom. In young Karen, the three weavers found an eager student. They helped her beat down on strips of fabric that formed a rag rug. In that old craft, the girl found a new love.
Since then, Karen, now 45, has found her own close-knit group of weavers who loom not only for the solid satisfaction of creating coverlets and rugs from wool or fabric, but also to inspire a new generation of fiber artists.
Sitting in her Wisconsin log home, Karen weighs the pleasure of weaving a throw over buying a blanket, as anyone might who appreciates handcrafts to mass production.
"It's the difference between (store-bought) and home-baked bread," she says, a basket of unspun wools at her feet. "With baked bread, you enjoy the process, you enjoy the smell. You know what good ingredients went into it. You don't get that from a loaf of (store-bought) bread."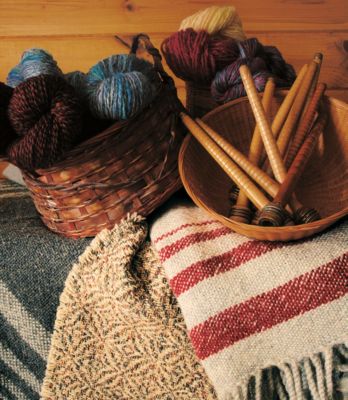 Her house is tucked in rural Onconto, a town of 4,700, not far from the shores of Green Bay, and her loom room looks out on the stand of trees. The workspace is akin to a cozy fiber shop, with neat shelves of yarns, bags of fleece and wicker baskets of scrap fabrics on the floor.
The room is home to four large looms, each carrying an ongoing project of a rug or coverlet.
"I don't like naked looms," Karen quips. The biggest and newest loom is about her age. Another came from a nursing home, where a weaver stricken with polio came when she was only 17. It was rigged so she could work despite her failing left side. For the next half-century, the woman wove on it to help earn her keep.
The machine still held two rugs when Karen purchased it. She gave them to fellow weaver and friend, who also had polio. That friend is a member of the Loom-A-Tic Workshop, a group of 15 people, mostly women, knit together by a passion to keep the aged craft alive.
HOMESPUN FUN
Karen and a handful of Loom-A-Tics set up at a dozen or so festivals and museum celebrations annually through Northern Wisconsin and Michigan's Upper Peninsula. They dress as pioneer folk, evoking a feeling of the "olden days" when your grandmother's grandmother worked the loom.
They pull out spinning wheels and show curious onlookers how to twist fibers into yarn and encourage youngsters to throw their weight into the loom's beater bar to make a tight rug.
Some leave with a little loom kit, like children have long used to make oven pads. It's the same kind of kit Karen made herself after her day at the nursing home. She took the glass out of picture frame and tediously pressed rows of nails into the wood.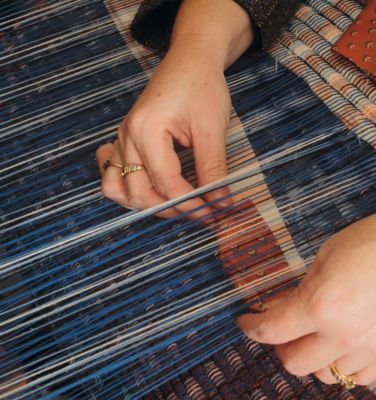 For yarn, she plucked apart her brother's blue and gold sweater, then gave it new life as a doll rug. Her mother was delighted; her brother was not.
But she didn't invest in her own loom until she married her husband a decade ago. Steve encouraged her to buy a loom and he continues to help fix them up and feed her passion.
In the early days, she taught herself the craft until she found the Internet and a virtual world of loomers. Now, Karen can easily name the breeds of sheep with the most luxurious wool and she can create subtle natural colors from Easter egg dyes and Kool-Aid packets, preferring them to chemicals.
She most loves the geometric designs of overshot weaving, popular in colonial coverlets, but her most heartfelt piece was woven from the coat of her Shetland sheepdog, Akasha. The aged pet died in 2002, and Karen spun fur she had long collected with mohair yarn. The work, woven with warm rust-colored brown, flecks of white and tears of mourning, stands on a bedside quilt rack.
Yet for Karen, even her most intricately woven works don't seem to muster as much pride as the thought of a new weaver, inspired by the ladies in colonial dress.
"One little girl wrote a thank-you letter and she said her grandmother pulled a loom out of the attic after seeing the Loom-A-Tics. Why the grandmother didn't pull that loom out earlier, I'll never know," she muses. "But I know it's planting the seeds."
Tonya Maxwell is a writer in Chicago.