Marty Felix uprooted her life and moved 2,000 miles from her native New York to western Colorado to be near the wild horses that roamed the high-desert mountains. For four years, she hiked, four-wheeled, and scouted, just to get a glimpse of the elusive equines.
On the spring day she finally spotted her first mustang, her first impulse wasn't quite what you would expect from a seeker of wild animals.
"We screamed so loud, they ran off," she says with self-deprecating laugh. "It was really exciting and we raced up a hill to see if we could see them again but they had already run off."
Marty's vocal joy may have frightened away the very thing she sought, but it didn't matter; she found what she was looking for.
LIFE-CHANGING MOMENT
March 18, 1973, the day Marty spotted her first mustang, was a turning point in her life, and like any important anniversary date, it's easily remembered.
"From that moment on, I was hooked," she recalls. "That day was a life-changing event. My whole life has revolved around wild horses."
For more than 30 years, Marty has roamed the high-desert mountain range called the Book Cliffs, which defines the northern edge of the Grand Valley before trailing off west toward Utah. At the valley's center is Grand Junction, the largest city along Interstate 70 between Denver and Salt Lake City, Utah.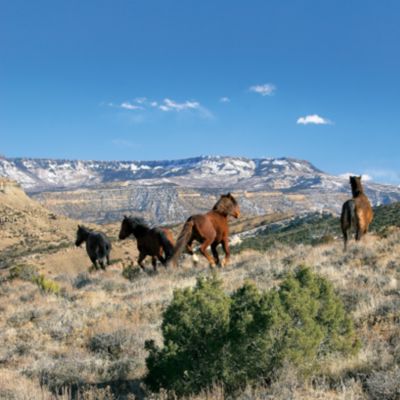 The Book Cliffs' arid landscape is in stark contrast to the valley, made green and fertile from an intricate network of irrigation canals and ditches that feed a thriving agricultural economy — peaches, apples, grapes for several wineries, and field crops. It's in this valley that Marty lives and taught school until her 1999 retirement, and it's in this valley that she's known as the "Wild Horse Lady" because of her knowledge of, and devotion to, the 120 or so horses who travel in about 30 bands.
Indeed, the exhilaration of that first sighting remains to this day. "I'm approaching 900 sightings and I still get a thrill," Marty says. Only now, she doesn't scream.
Instead, she's the master tracker, and her specialty is spotting, identifying, and knowing nearly every horse up in the Little Book Cliffs Wild Horse Area.
MAKING HER LISTS
Marty's role as the go-to person on those wild horses naturally evolved. "I just started writing things down," says Marty, already a diligent list keeper. "I was not specific at first. I didn't pay attention to which band I saw or where we were or who had babies … but I got to seeing the same bands, so I started keeping herd demographics."
She shared her information with wild horse specialists with the U.S. Bureau of Land Management, who oversaw the horses, and together, they developed a system for recording each horse spotted.
"I have a list for every mare of breeding age that includes the year she was born, the number of babies she's had, their sex and name, and I have a column for what happened to that baby," Marty says.
Such detailed information is crucial for determining which horses stay on the range and which ones go up for adoption at roundup time.
Those roundups' purpose is to maintain manageable herd sizes, so the bands don't overgraze their food supply and starve, and to keep them genetically diverse.
At each roundup, BLM officials question Marty and other volunteers on the age and details of each horse. If a horse is young — up to 4 years old, which makes them very trainable — they go up for adoption. Older horses stay on the range.
"The first couple roundups I went to, we guessed at their ages," Marty says. "We had no idea who their parents were or their ages. You'd look at them and guess their age and sometimes conditions made them look 15 when they were 5."
Genetics play a role, too. A mare with several offspring on the range may go, to avoid too much inbreeding; a mare whose offspring have all been adopted most likely would stay.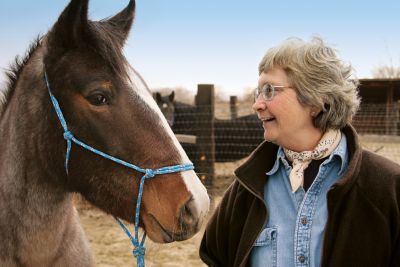 A HORSE NAMED UINTAH
One particular roundup, in 1983, carries special significance for Marty: that's when she adopted her first mustang — a young mare she named Uintah.
"I didn't pay attention to her at first because I wanted a yearling," Marty says. But by the time her number came up — adopters previously had to draw to determine the order in which they could choose — all yearlings were gone.
"I started looking at the 2-year-old pen. I saw her and I remembered when they were rounding the horses up and had them in the holding pen, she was one not causing any trouble," Marty recalls. "I thought, 'Hey, that's a pretty mare and she's got a good disposition.'"
Naturally, Uintah had some adjusting to do. "She was terrified when I first got her," Marty says. "It took two weeks before I could get a hand on her and a good year before I could throw a curry comb on the ground without her jumping."
But the pair bonded and Uintah stayed with Marty for the next 22 years until she died last July of pigeon fever, a contagious bacteria. Losing Uintah was painful for Marty, but a part of her first mustang remains with her — a beautiful dark mare named Ambush, now 20, who was Uintah's only offspring.
Joining Marty and Ambush last year was Cherokee, a yearling when she was rounded up in October 2004. Marty saw and admired the young paint, but zoning laws limited her to two horses, and the yearling went to another Grand Valley family.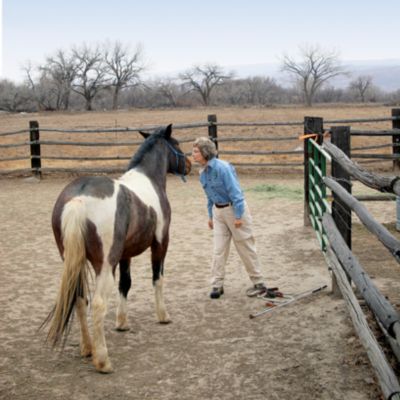 About a year later, Cherokee's adopters retired and planned to move out of state. Marty, in the meantime, had lost Uintah and wanted a companion for Ambush, her surviving horse. But not just any companion.
"I don't want anything but a Book Cliffs horse," she says. "I want to know their background."
Cherokee's father is "Snoopy," a blue roan, and her mother is what they call "The Mystery Paint," because she appeared a few years ago on the Book Cliffs, most likely from a band in the most remote part of the 36,000-acre horse range.
So Marty bought the little paint with whom she'd become smitten, and is having fun training her using the Parelli method of training, which is more about using psychology with your horse rather than fear, force, and intimidation.
"She's doing great," she says. "Once she knows what I want her to do, she does it. I've had only Uintah and Ambush, and Ambush went to a show trainer, so I've never really done all this with a horse. It's so interesting to me."
'PREVENTING A ROUNDUP'
Marty's current undertaking is a new fertility control project designed to keep some of the Book Cliffs mares from regularly foaling. The drug, called PZP, is administered much like a tranquilizing dart that ideally keeps a mare from foaling for a year.
She estimates that the project has prevented upwards of 60 pregnancies. "That's like preventing a roundup," she notes with some satisfaction.
"It's a wonderful drug," she says. "They use it to save taxpayers money, but I really like it because it makes it so much easier on the mares. They're not baby factories … and when you don't have roundups, you don't disrupt the bands, and that's a huge issue to me. Roundups are a huge shakeup and very traumatic for the horses."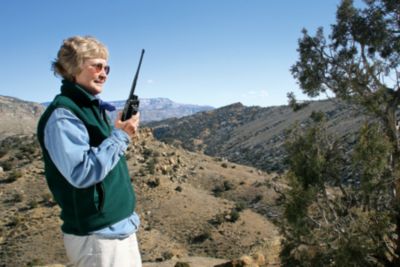 Collecting information and keeping herd sizes in check are a small portion of Marty's wild horse work. She also removes barbed wire from the range, writes for a monthly newsletter, gives slide presentations to community groups, promotes wild horse adoptions, and offers post-adoption help. "After a person adopts a horse, I'm always the first they call," she says with a laugh.
Gerald Thygerson, a BLM wild horse specialist, now retired, who first engaged Marty in developing mustang demographics, recognizes her contribution to the horses.
"Through her diligence of giving the horses names and taking pictures, we had a better indication of the numbers, so we would know how many to take off the range, and which ones were where, so we could keep the colors and bloodlines going that we wanted up there," Thygerson says. "We just couldn't have done it without her and her knowledge of the horses."
But if you ask Marty, the horses have given more to her than she's given them.
"My involvement with the wild horses has enabled me to combine my lifelong passions for horses, photography, science, and the outdoors, and that in itself has been very fulfilling," she says. "Knowing that my work has benefited the horses has made it even more rewarding. I feel like I've been living my dream for the last 33 years. What more could a person ask for?"
Out Here editor Carol Davis, who originally is from the Grand Valley, reported on Marty's adoption of Uintah in 1983 for their local newspaper.