With county fairs coming up in a few short weeks, could you use a little help in winning that blue ribbon?
Mick Culp of Decatur, IN, has judged livestock for more than three decades and he knows just what to do to get those goats, steers, lambs, and pigs in top show condition.
Dinner for one — Feeding each animal individually is the only way to guarantee it the optimal amount of food. Even if your animals share a pen, tie them up individually and weigh the feed each one gets, Culp says.
"If you group feed them, the best one will never be big enough and the worst one will always be big enough," he says.
Do your homework — Read your project book, keep records, and study the names of body parts, cuts of meat, and what the dressing percentage should be.
"You should know those things," Culp says. "Just being the best showman is not enough; you have to know something about your animals."
But if you get a question you can't answer, don't guess. Just tell the judge, "I don't know."
Keep it clean — This may seem obvious, but many contestants fail by bringing animals into the ring marred with manure or straw, Culp says.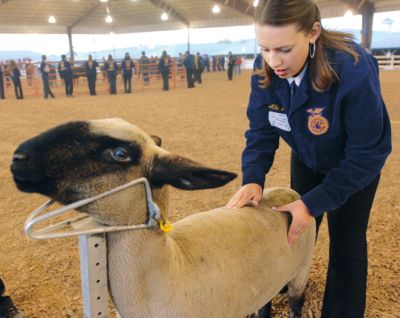 On the other hand, your animal doesn't need fancy trimming or accessories — as Culp says, "We don't eat pretty" — and you don't need to look like a model, either. In fact, seeing a few dirt or sweat stains on a shirt shows him the contestant has been working hard.
A few small tricks can make a good-looking animal even better. Keep a white animal out of the sun, which will yellow the hide. Try putting suntan oil on a black pig to darken the skin.
Show with focus — Don't bring a cell phone into the ring. Don't stop and talk to spectators. And Culp highlights this note to parents: although raising an animal can be a family project, youngsters must show on their own.
"To me, it's about the relationship between the animal and your child," Culp says. "I do not want to see arm and hand signals telling them how to do it, because if I catch you doing that during showmanship, you will not win."
Ask for help — Finally, the best thing young showmen and women can do is to ask questions, Culp says. After so many years in the business, that's the thing he still loves most about working with youngsters and livestock judging.
"Don't be afraid to call somebody and ask their opinion," Culp says. "You could learn a lot that way."
Hannah Wolfson is a Birmingham, AL, writer.