When home office expert Lisa Kanarek first needed her own home office, she chose the least-used place in the house — the dining room.
Though she now has the luxury, in a newly built home, of a room built specifically for an office, most make do like she did for 15 years — by setting up in an empty room or in a corner somewhere.
Indeed, one of every 10 U.S. homes has a dedicated home office, says the National Association of Home Builders, and that number is expected to grow. Some folks, such as Lisa, work from home because of family demands. She founded www.homeofficelife.com and is author of the books Home Office Solutions: Creating the Space That Works for You; Organizing Your Home Business; and 101 Home Office Success Secrets.
Others have left metro areas for rural life, and telecommute to their job. Farmers and ranchers need a place to conduct business.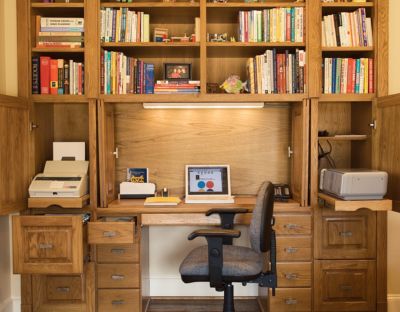 First, decide where to put your office. The dining room, spare bedroom, or, in an older house, a formal parlor might do. "The goal," she says, "is to make it a place you want to work each day."
Your bedroom should be off-limits, she advises. "Having worked all day," she says, "you don't want to go to bed with it." So is the kitchen. "That's where a lot of us live," she says.
Lisa hung French doors in her dining room so her husband and two sons wouldn't disturb her, and vice versa. "The home office," she says, "should be close enough to the family so you can stay in touch, but not so close that you can't accomplish anything."
GETTING IT FURNISHED
Before buying office furniture, look around first and see what you've got, she says. A table or old desk might work just fine.
"The last thing you should spend money on is furnishings," Lisa says, "especially if no one is going to come in there." Instead, spend money on computer equipment, along with a good printer and Internet connection. Don't bother with a fax; these days, most people e-mail.
Her one exception: buy a comfortable, adjustable, ergonomic chair, which can be found for under $100.
As you set up your office, arrange the furniture so that it helps you do your job most efficiently, she says. "The goal," Lisa says, "is to keep everything you need within a 'work circle.' Supplies, equipment, the phone, etc., should be within arm's reach. If you have to stand up and retrieve something from your printer, you risk wasting time and possibly becoming distracted."
LISA'S LIST
Every home office should have these essential supplies, Lisa recommends:
Desk and/or computer workstation
Two- or four-drawer file cabinet
Bookshelves
Ergonomic chair
Computer system
Backup system (CD drive, flash drive or subscription to an online backup service)
Printer or multi-function peripheral (an all-in-one printer, fax, and copier)
Surge protector
Answering system
Separate phone line
Miscellaneous supplies (Printer/copier paper; printer cartridges; paper clips, stapler, tape dispenser, pens, rubber bands)
These arrangements work best:
The L-shape where a desk and a credenza, or a desk and a computer workstation, form a right angle.
The U-shape that may include a desk, workstation, and credenza, or lateral file cabinet.
The parallel arrangement with a desk and credenza or computer workstation placed parallel to one another.
Lisa believes in bookcases for storing books, magazines, and supplies. They also can serve to cordon off part of a room. "It just kind of mentally and physically says, 'This is my work space.'"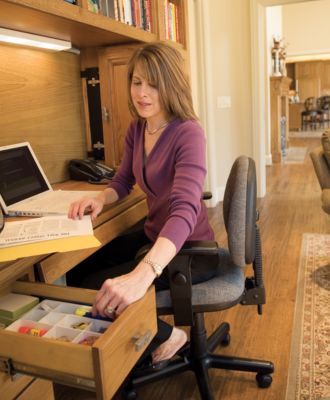 She recommends lots of file drawers, both in a desk and in a separate cabinet that can be stored next to the desk or even in a closet. Lateral file cabinets take up more room, but the top of the cabinet can hold office equipment.
Organize your files into two types, Lisa says: current files, which contain papers that need attention now or within a few weeks, and reference files, which contain papers that no longer need action, but need to be readily available (such as client files or research information). Current files can be stored in file drawers within reach of your desk or in desktop file holders.
She recommends drawer organizers for small supplies. Most of the drawers in her home office (and home) have some type of divider to keep supplies and various items from rolling around.
The only thing left to do is get to work, and the good thing is, you now have a place to do it.
Elizabeth Leland is a staff writer for The Charlotte (NC) Observer.