A few years ago, Mark Metzger was reeling in some puny perch at his favorite fishing hole when a Frenchman set up beside him, pulled out a 12-foot fishing rod, rigged up an electronic beeper, and cast his line 100 yards into the water. Not two minutes later, the line was screaming. The beeper was shrieking. The rod was doubled over. He had a 20-pound behemoth on the hook.
Using pricey gear designed just for the purpose, the Frenchman landed a fierce, fighting carp. They're a prized catch in Europe, but here, carp are dubbed the trashiest of trash fish.
Metzger was hooked, though. The next week he was back at his fishing hole, casting for carp. "Carpers" like him believe their sport is the nation's next rage, and the disfavored fish is in for a makeover.
"It's like asking somebody why they like Brussels sprouts," says Metzger, of Silver Spring, MD. "It's an oft-maligned fish, for really not very good reasons. From a fishing point of view, when you hook one, they're a great catch."
For most American anglers, though, carp is the fish to miss. It's an ugly, slimy, foul-tasting, bottom-feeder that thrives in the foulest waters. Even carpers joke that if you cook a carp on a board, you'd be better off eating the board.
But if fishing is about the fight, then maybe carp really is the catch of the day. Carpers regularly haul in 20- and 30-pound fish, and sometimes the odd 40-pounder.
Plus, carp are everywhere. Since they were introduced in the 1800s to feed growing numbers of European immigrants, the fish has taken to — and sometimes taken over — lakes, rivers, and streams across the country, and polluted waters couldn't stop it. Carp became the ubiquitous fish nobody wanted to catch.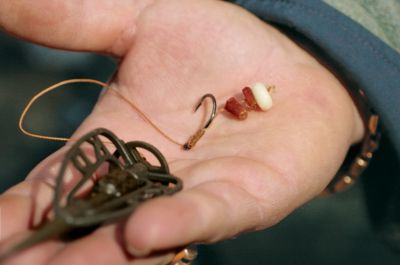 In Europe, carp fishing is a favorite pastime. Sport fishermen pay big money for high-tech gear and carp-fishing holidays. Asian markets abound with carp. At the Passover table, carp make up part of the mix in gefilte fish — a ground de-boned fish recipe using a variety of kosher fish meat made into fish balls, a dish popular with people of Jewish heritage. And in Eastern Europe, Metzger says, Christmas isn't Christmas without a Christmas carp.
In America, though, catch one on your cane pole and you might throw away the pole.
"It's a perception that's very hard to break," Metzger says.
Carpers are trying to change that by holding big tournaments with big prizes. Last year, the American Carp Society brought the World Carp Angling Championships here for the first time. The 115-hour carp-fishing marathon offered $1 million to anyone who snagged a carp topping the 50-pound, 4-ounce New York State record. No one took the prize, but Metzger believes with that kind of bait, anglers will discover the fun of the carp catch and shed the stereotypes.
"It's a slow battle to change public perception," he says, "but we're working on it day by day, fish by fish."
David Frey writes in Carbondale, CO.