Before their shelves were lined with jars of honey and they were fielding calls from customers across the country, George and Shirley DeBusk had a sad-looking garden and a pair of beehives.
"Then we had four. Then four turned into eight. And it kind of got out of hand after that," Shirley says.
These days, the couple runs Circle D Apiary out of their home in Maynardville, TN, an award-winning honey business that keeps the retired couple as busy as, well, as busy as bees.
But when they started, it wasn't about the honey; it was about the bees. About 10 years ago, the DeBusks noticed that when their neighbor, a beekeeper, died, and his bees died, too, their vegetable garden didn't look so good. Their cucumbers were lopsided. Their fruit trees were sparse.
So they spent $200 on a pair of hives hoping the bees would start pollinating and spruce up their garden. Soon they were buying the big wooden boxes for the hives. Then they were buying head-to-toe beekeeper suits. Then they were taking a class at the University of Tennessee. They also had to stock up on epinephrine. Shirley, it turns out, is allergic to bee stings.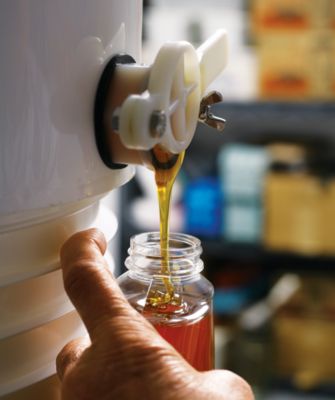 Then, at the end of the season, they had honey. Five gallons of it.
"It looked like an awful lot of honey," Shirley says.
The next year, they had more hives, and more honey, and the DeBusks found themselves in a full-fledged honey operation.
"We started going to festivals and farmers markets and such, selling our honey like that," she says. "There got to be such a demand for it, the mom-and-pop pollination project turned into a business."
BEST IN SHOW
These days, they have more than 20 hives, about 15 of them on their 30-acre property in East Tennessee, the rest scattered among family and friends. They produce a delicious array of specialty honeys, each with its own unique color and flavor.
Black locust honey is almost clear. Tulip poplar is dark and thick like molasses. Clover honey is amber. Sourwood honey is smoky gray. Apple blossom honey is light and mild and fruity.
At last year's Tennessee Valley Fair in Knoxville, their wildflower honey captured the judges' choice for best in show. Their honey has also won over their customers, some of whom come back week after week.
The DeBusks started selling their honey at the Museum of Appalachia's Tennessee Fall Homecoming in Norris, winning them loyal customers from around the country. Out of the honey house they built in their back yard to bottle and store the honey, they produce 3,000 to 4,000 pounds of honey each year — that's hundreds of gallons.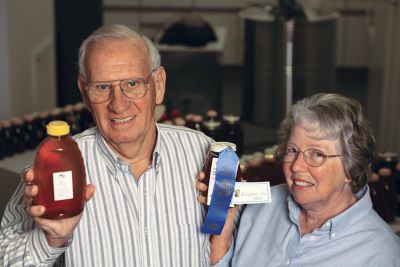 "It was something that just kind of evolved," Shirley says. "We surely didn't intend to do this."
They have also found themselves enraptured with the bees, and they like to show off their love to schoolchildren. They watch them hatch. They watch them build their hives. And they watch them perform their intricate dance that tells the others where to find the best pollen.
"When you really start thinking about it, the honeybee is the only creature on earth that can produce honey," George says. "With all our scientific knowledge and all our trial and error, humans can't produce honey. So there's something there that's a lot smarter than I am."
The DeBusks also found that there's more to beekeeping than just the honey it creates. Since invasive mites have wiped out much of the country's wild honeybee population since 1987, it's been bad news for agriculture, which depends on bees for much of its pollination. The task has fallen to beekeepers to keep the bees alive.
Shirley remembers growing up on a farm at a time when most nearby farmers kept a few hives to pollinate their crops. But times have changed. There are fewer farmers, and fewer farmers keep bees. And with the danger of mites, beekeeping is more of a science than it used to be.
"To be a beekeeper anymore, you have to know a little bit more than setting a box out there and letting them make honey," she says. "It's kind of a field of its own."
The DeBusks occasionally have learned beekeeping the hard way, through trial and error, but they're not complaining. They love the bees, they love the honey, and they love the new life that has come from a little hobby that swarmed a little out of control.
"This is just a little old mom-and-pop operation," George says, "and we're trying to keep it that way. I hope."
David Frey writes in Carbondale, CO.