There's magic in the Nebraska pig barn that sits slightly hidden off Highway 1 near Weeping Water, a hamlet whose name you just know has a story to tell.
Inside this barn, built in 1924, is where musicals such as Oklahoma and Damn Yankees came to life. It's where local farmers and students and schoolteachers discovered acting and singing talents they never knew they had.
Inside these weather-beaten walls, anyone and everyone was welcome, whether their part was in the spotlight or behind the scenes.
This old barn, better known as the Lofte Community Theatre, was the place where director Kevin Colbert, for more than 20 years, patiently coaxed talent from would-be actors he knows as friends, neighbors, and even as Mom, Dad, and Grandma.
A PLACE TO PERFORM
The "Born-in-a-Barn Players" began with an enthusiastic young teacher's desire to start a summer theater.
Diane Bjornberg Reece was teaching English, speech, and drama in 1977 at Weeping Water High School. "I had a really talented group of kids," she recalls. "A bunch of us went to see Godspell and thought it would be fun to do as summer theater."
That led to a search for a permanent place to perform — and eventually to local farmer Howard Rathe's pig barn. "It was full of farm equipment, but we looked at it and we thought it had potential," Reece says. "We all thought we could make this work."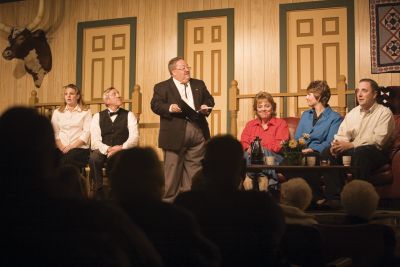 Eager neighbors and parents, including Rathe, emptied the barn, power washed it, dug out hay and 70 years' worth of pigeon droppings, and poured a concrete floor. They also lowered one hayloft to create the stage and turned the other into a balcony for seating.
"It was a task," Kevin says. "There was not a stitch of wiring, so electricians ran miles of conduit and put lighting in the place."
Just a few weeks later, the Lofte's first show debuted that summer. The play was Godspell and a very young Kevin Colbert played the lead role as Jesus Christ. The rest of the cast, crew, and orchestra were local high school students and residents.
Audiences sat on folding chairs borrowed from a nearby funeral home with light bulbs in coffee cans illuminating the stage.
Still, despite its primitive surroundings, Godspell was such a hit that Reece and her crew added two well-received melodramas that year.
"The community was really positive, primarily because we used local people," recalls Reece, who now lives in Wahoo, NE. "It was their friends and neighbors. Part of the initial draw was that So-and-So's grandmother or a farmer down the road was in a play."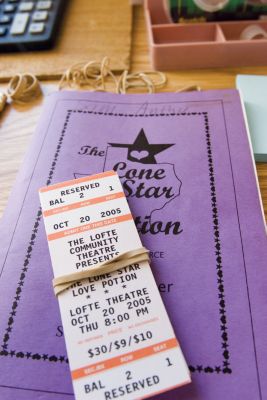 Reece was active in her community's theater for about five years until she got married and moved to Wahoo.
But she knew she was leaving her little theater in good hands. "Kevin was getting more involved," she says, "and it was good to know that someone who really had ownership in the place would take over."
'THEY LIKE TO LAUGH'
Kevin was raised on a large farm just a stone's throw from the Lofte, but growing a theater and local talent, not corn and soybeans, was his desire. His mother, Jean Colbert, has enjoyed seeing the harvest of her son's very creative labor.
"Personally, I think he's good. He makes and directs every move up there, and the cast members seem to like it," she says.
Larry Bauers, chairman of the Lofte's board of directors and a childhood friend of Kevin's, has performed in 40-plus local shows and has watched as Kevin consistently extracts quality performances from actors and non-actors alike.
"Kevin is one excellent director," Bauers says. "He gets the best out of people and at least 50 percent will say they've never done something like this before."
Kevin not only knows directing, but after 20 years of guiding the Lofte, he knows his audience and chooses plays accordingly. "As much as Shakespeare is good, I don't think they'd enjoy it," he says. Drama also doesn't rank highly with the Lofte crowd.
"They like to laugh," he says.
Musical showstoppers have included Seven Brides for Seven Brothers and Hello Dolly! "The Nunsense shows were huge," Kevin says.
But the 300-seat barn theater's biggest show — it ran a record 14 nights in 1989 — was one that never played anywhere else but the Lofte. "We had a world premier of a play," Kevin says.
Hey, Where's Nebraska?, written by Jim Wilson of Polk, NE, sold out every show and became a lasting memory for Lofte actor Kara Habrock.
"A farmer and his wife wrote this musical — kind of a hokey Nebraska musical — but that's fun," says Kara, who is on the theater's board of directors. "One of the songs, Nebraska, Storied Land of Old, kind of sang like a hymn and when we started to sing, Betty (Colbert, who was conducting) brought Jim down and gave him the conductor's baton and he conducted us."
"I'll never forget standing there and Jim coming down the aisle. It was his dream and he was so proud. We were all up there bawling," Kara recalls, her eyes misting up at the memory. "It was one of those moments you never forget. We made someone's dream come true and we had fun doing it."
PLACE OF OPPORTUNITY
A community theater has enhanced the lives of folks living in and around Weeping Water. Anyone is welcome to join, and for some, it's been a confidence-booster, for others, a creative outlet. In some instances, the impact has been more dramatic.
Amanda Stander, 21, a senior at the University of Nebraska, found her life's direction, thanks, in part, to the little community theater.
Amanda, a veteran of the Lofte stage since she was 10, majors in music and plans to get her master's degree in music therapy to become a licensed music therapist.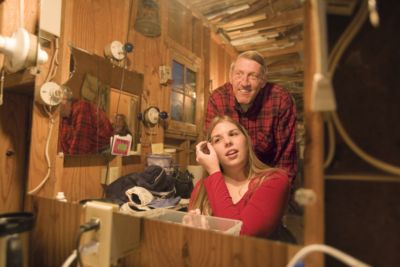 The Lofte group helped make her career choice, she says. "My experience there and working with people, especially Betty Colbert, made me want to study music on a more professional level."
Kevin Colbert has found more than professional satisfaction from his theater; he found his wife. He met Betty during the production of The Music Man, and they got married where they met — in the theater.
Their daughter, Samantha, now 13, was barely two weeks old when she made her stage debut as Kevin introduced her to the audience. Sam has performed in such plays as Carousel and Shenandoah, but you'll usually find her up in the balcony, operating the lighting.
She's grown up at the Lofte and knows most of the scores of actors who have graced the stage.
"Almost 600 different faces have been onstage and we do only four shows a year," Kevin notes.
Audiences average about 10,000 each year, despite summer's sweltering temperatures that had many fanning themselves and pitying the actors perspiring under hot stage lights.
"And for 29 years, they've sat in that, God bless them," Kevin says. "They've been here through the cold and through the heat."
A NEW HOME
Now, after years of planning and fund-raising, the Lofte Community Theatre has a brand new home, built especially for performances. Despite its newness, it looks and feels like a barn.
THE LEGEND OF WEEPING WATER
Weeping Water's name stems from the legend of two American Indian tribes who battled in a local valley. The fight was fierce and many from both sides died.
That night, anguished wails pierced the dark as the warriors' women grieved from their camps on opposite hills.
For hours they wept until their tears formed rivulets, which flowed down into the valley where they formed a larger stream. Indians named this stream "Weeping Water," and it flows to this day.
Their old barn's rustic surroundings drew audiences, Kara Habrock says. "People just kind of hearken back to the old days," she says. "It feeds the memory. There's a charm to it."
So it's no accident that the new theater looks like it does. "People yearn for that kind of stuff," she says.
And the Lofte's audience made clear that they like the ambience of the old place. "We took a survey a few years ago and asked how important a barn atmosphere would be," Kevin says. "Most people said it was extremely important."
So the old-barn feel remains, but with contemporary touches, such as state-of-the-art production equipment. Kevin actually has an office now, his actors have more room to move about onstage, and his audiences can enjoy air conditioning and inside bathrooms (the old barn's restrooms were in a separate, specially-built building).
But the spirit of the old barn remains within these walls, which is exactly what Kevin, his board of directors, his actors, and his audience want.
"We'll still be who we are, the Born-in-a-Barn Players," Kevin says. "We're not going to change anything."
Out Here editor Carol Davis was fortunate to attend one of the last performances in the old Lofte barn.