Jocelyn Sandor Urban was horse crazy.
Raised in southwestern Connecticut, she spent hours at a riding stable where students ran the barn, mucked stalls, cared for the bridles, and learned.
For her, though, horses represented only half of her passion. "I was drawing horses as a little kid and I would paper my walls with them," she says.
Too busy to ride much anymore — she still owns two horses — Urban, 48, kept drawing. Her favorite subjects remain horses, a passion earning her distinction as a successful equestrian artist with work featured in the Kentucky Derby Museum, on magazine covers, and at prestigious horse shows.
With more than 1,500 portraits completed, she still finds challenge in the diversity of her favorite subjects.
"I just want to make them look real," she says. "Each one is completely different and part of the challenge is to make each one of them unique, and that's always been intriguing to me."
She might notice a cowlick in a horse's mane, a subtle dash of visual personality that brings an animal to life. Or, she might watch an owner lead an animal across a pasture and see how one of the horse's ears cocks at an angle at a distant sound.
"The little things make a huge statement about who the horse is and what the horse does," Urban says.
Her commissions often focus on the world of English pleasure riding — events such as dressage, English saddle, and hunter jumper. It's the form of riding seen in the Olympics rather than Western events such as barrel racing.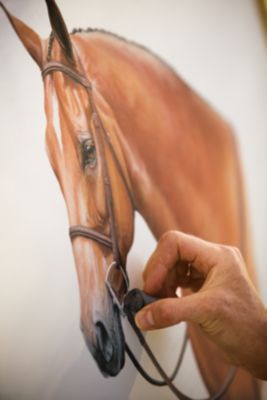 Thoroughbred champions represent many of her subjects, but not all. One of her favorite drawings was of a 40-year-old horse with a sway back, and a body and coat worn by the years.
"I like drawing the older horses that have been through a lot and know a lot, rather than the perfect horse you might see in a calendar," she says. "I'd rather find a personality trait that makes it that horse, whether it's some gray around the eyes or a sway back."
STUDYING HER MODELS
Urban's path to a career as an artist began with days spent at the New Canaan Mounted Troop, a military style horse-training program.
"My parents didn't have a lot of money and they got us a St. Bernard dog, thinking that would ease the horse craze, but it didn't," she says.
Instead, she worked at the program that taught not only how to ride but how to care for horses. "You not only went for a riding day, you went for a work day," she says. "Any time I got spare time, I just practiced drawing."
She often mimicked the works of C.W. Anderson, a prolific illustrator of children's books on horses, to hone her technique, and occasionally drew the horses of high school friends. She studied the anatomy of horses, developing an understanding of their body geometry.
"I would spend hours and hours just figuring out how long the neck is in proportion to the body and head," she says.
Once in college, though, her fine arts classes and subsequent master's degree in fine arts allowed her to broaden artistic interests.
"I probably didn't draw horses for a total of six years," she says.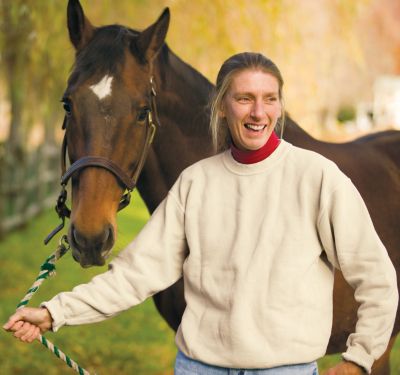 Once out of school, she worked jobs through a temp agency and returned to the world of English pleasure riding. Custom work and a full-time career as an artist blossomed.
She now lives in Lakeville, CT, with her veterinarian husband, Richard Urban, and 11-year-old son, Nicholas.
She often works in French chalks called conte crayon, commonly in a pallet of blacks, browns, grays, and whites. "They're very permanent, brilliant colors," she says.
She discovered one of her favorite subjects when her husband worked as a veterinarian at a farm home to Sir Harry Lewis, the 1987 Irish Derby winner.
Working from a photograph taken by her husband, the result was something she still finds difficult to describe. "That one I really, really love," she says. "I don't know that I've ever done one that had that look, and we ended up giving it to the horse owner."
But, her work is far from stuffy. Urban and her husband manage a website, featuring a series of humorous note cards, drawn by Urban, pointing to the sport's light side.
The site now includes holiday cards, horse posters, and Urban's collection of dog portraits. "I don't know a horse person who doesn't have at least one dog," she says. "All the dogs end up getting a drawing of them too at some point."
Humor, a passion for horses, a talent for art — Urban combined each to create a career.
"Each portrait I approach the same way," she says, "whether I'm doing a famous horse or just someone's backyard horse."
Noble Sprayberry is a freelance journalist based in Dallas.