Judy Pittman was in the middle of making her very first scrapbook when a friend's dog died. She wanted to do something special, but was at a loss until she started playing with the new papers and cutouts she had bought to document her cruise vacation.
Inspired by a poem she found, she made her friend a personalized card and instantly was hooked. Since then, she's made dozens of cards — and never finished that first scrapbook.
"I love it, I really do," the Birmingham, AL, resident says as she and her 4-year-old granddaughter, Nicole, pick out a selection of blue and yellow papers for yet another card. "As a matter of fact, I'm breaking down my guest room and making it into a craft room."
Pittman is just one of many crafters to discover that there's plenty to do with paper beyond scrapbooking. From cards to calendars to craft storage, the possibilities are endless, says Molly Bridges, who teaches classes at Scrap Etc., a craft supply store in Hoover, AL.
"You can use the same stuff, the same skills as you use scrapbooking," she says, "and we decorate our whole houses."
REUSE AND RECYCLE
Cards and similar projects can be faster and easier than complicated scrapbook layouts, which require tough decisions about which photos to use, Bridges says. Plus, crafters get to share their work — often all it takes is a stamp.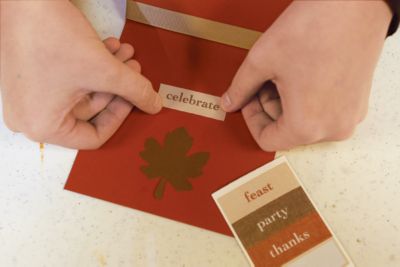 But the first motivation may be to use up all those pieces left over when a scrapbook layout is finished, Bridges says.
"I usually take (the extras) right then and make a card out of them," she says. That leaves her with fewer scraps to store and keeps the creative juices flowing.
And card making has never been easier, thanks to all the new products available. Pre-folded and pre-printed cards with matching envelopes just cry out for embellishment, which is where the fun starts.
There seems to be no limits to the creative options, from tacks that look like typewriter keys to laminated guitar picks to tiny metal charms. Stickers and stamps make it easy to send almost any message, while die-cut machines offer letter options, too. Buttons and ribbons add dimension and texture, and pre-cut frames and borders designed for scrapbook layouts adapt easily to other projects.
Options go way beyond cards. Any product that takes glue can be decorated to create a personalized display, Bridges says. The result: what scrapbookers call "altered items," from photo albums to tissue boxes to flower pots.
"Anything that will hold still gets decorated," Bridges says. "My husband always says, 'Please don't scrapbook the dog.'"
And she means anything. For example, an ordinary metal muffin tin hangs on the wall of the shop, looking far from ordinary. Painted antique white, it's adorned with photos of the artist's young daughters and soft green letters spelling, "My girls." Each muffin cup bears flowered and striped papers, stick-on beads or silk flowers.
One crafter decorated a small metal tin with Scrabble letters reading "humor," then filled it with printed quotes from comedians to give her husband a smile at work. Another uses matchboxes wrapped in hearts and tulle to slip love notes into her children's lunch boxes.
Bridges and her friends prowl the aisles of hardware stores, office supply shops, and even discount warehouses for ideas.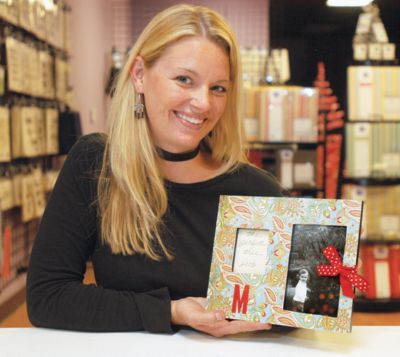 Here's just a sampling:
Clipboards become specialized holders for grocery lists, daily calendars, or works in progress. They even make great displays on their own; simply decorate the board and hang with a nail through the clip.
Plastic pocket calendars and photo albums, often available for just $1, are re-decorated for easy gifts. Or decorate inexpensive picture frames and replace the mats with special paper for personalized photo display.
Decorated metal lunchboxes make great storage for recipes, photographs, or craft supplies, or can even become a free-form journal with room to hold souvenirs.
BACK TO THE BOOK
Ultimately, many crafters' ideas lead them back to the original inspiration: scrapbooking.
One of Bridges' favorite projects is to turn pieces of artists' canvas into layouts that can be displayed on the wall, rather than tucked away on a shelf. She also decorates a family calendar for the refrigerator that goes straight into the scrapbook when each month is out.
The best part, she says, is that even the most novice crafters can find a project to match their skill level and give them an outlet for art.
"Everybody is totally different," she says. "But I think there are a lot of people in the world that need that creative release."
Hannah Wolfson is a Birmingham, AL, writer.