Annie Fleck didn't know much about agriculture before she married a farmer. She may have known less about running a business. But before her death in 1997, Annie Fleck learned what it took to grow a successful enterprise on a piece of fertile ground.
Her success has become a model for hundreds of other farm wives across the Midwest. They live in different times but, like Annie, they're carrying on the struggle to make a living off the land in a changing world.
Annie is the inspiration for "Annie's Project," a six-week agricultural education course started by Annie's daughter, Ruth Hambleton, created specifically for women to guide them through the many challenges farmers face in running a farm and marketing their crops.
"I use her as a role model, because she was not perfect, and that's what we're trying to get across to women," says Hambleton, extension educator in farm business management and marketing for University of Illinois Extension. "You don't have to be perfect at the things we're trying to do. We'll give you the tools in your hand to make things easier."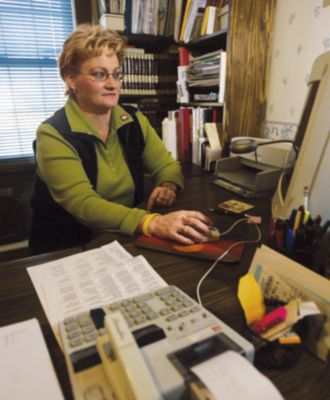 Annie's Project gives women an education in topics such as finance, property ownership, risk management, life and property insurance, and computer skills to use spreadsheets to track crops and finances. Since launching in Illinois in 2003, about 900 women have already gone through the program, and it's likely to reach more than 1,300 this winter, with programs in Iowa, Indiana, Missouri, Wisconsin, and Nebraska. It's ready to expand to cover 14 Midwestern states, and Hambleton would like to see it spread across the country - anywhere people make a living from their crops and livestock.
"The challenges are the same," says Bob Wells, a field specialist in agriculture economics for Iowa State University Extension. Wells liked the program so much he brought it to Iowa and helped extend it to other states.
"What we teach could be very well adapted to cotton, corn, cattle, carrots, carnations - whatever crop you're growing," he says.
Some women in the program were raised on a farm but never learned the business. Some grew up in the city, but they discovered when they married a farmer, they married the farm, too. Some are widows left in charge of a big operation they knew little about before their husband's death.
Many women come to the class as old hands on the farm, but with little computer know-how. Others are technologically savvy, but they're novices when it comes to crops. Sitting side by side in class, they learn from each other.
"I can't express what a motivator it was for me," says Connie Snyder, of Sandoval, Ill., as she sat at her computer in her home working out crop yield estimates - a skill she says she picked up in the class.
"Annie's Project got me motivated to do things like that," Snyder says. "To get organized. To get more professional. It is a business."
WHO WAS ANNIE?
Annette Kohlhagen "Annie" Fleck, a small-town girl from northern Illinois, married a farmer and spent her life as his business partner. Together they did great things, but they also faced many challenges: low profitability, changing farm enterprises, new regulations for selling processed food directly to the consumer, and raising four children.
Times were difficult and sacrifices were made, but through it all, Annie kept records. She knew deadlines, reporting requirements, tax issues, and did the little management jobs that kept big management jobs under control.
When big decisions had to be made, Annie was there with her records. To increase cash flow, Annie sent her husband to work off-farm while she milked cows and kept an egg route. Her records eventually guided them to halt the egg-laying, seasonal turkey, and dairy businesses.
Annie was married to a farmer for 50 years. She died in 1997, a wealthy woman, and doing things her way.
— Iowa State University Extension Service
NOTEBOOK FULL OF KNOWLEDGE
Historically, women have always played an active role on the farm, Hambleton says.
That's never been truer than now. In Iowa, women own 47 percent of the farmland, and women are full-time managers on about 6,400 farms. In Illinois, women run about 5,200 farms and sell more than $182 million in agricultural products. Yet agricultural extension programs rarely reached them.
In Annie's Project, women meet in a classroom for six three-hour sessions during the winter, when farm work is lightest.
The $50 course gives them a general agricultural education in issues from financial management to hog marketing. They walk away with a notebook full of material and farm business software to help them create a business plan.
Often, the women also leave the class with lifetime friendships made with others who may come from different backgrounds but face similar challenges.
"You find out you're not the only one who has the same tribulations and trials and hecticness of trying to keep the family going - and ride a tractor," says Judy Beyers, of Odin, IL.
Beyers grew up on a farm, but she says she knew little about using a computer. Now, she says, she uses it every day to track her spending and even check the weather and decide whether it's a good day to plant.
Annie's Project has been so successful that Hambleton is developing a similar program, this one geared toward helping older men with farm business. She's calling it "Andy's Project."
The legions who have been inspired by her mother would make the real Annie proud, she says.
"She would feel like she was accomplishing something for somebody else," Hambleton says, "because she really did live for everybody else."
David Frey is a writer in Carbondale, CO.